It is with deep sadness that today we must announce that we are officially postponing the 2021 Gallifrey One convention to the first quarter of 2022, due to the ongoing worldwide COVID-19 pandemic emergency.
Gallifrey One has run successfully every year since our first event in 1990, and we've never intended to take a year off. But these are extraordinary times: infection rates are climbing, there are unknown factors regarding safety and community exposure, and there have been ongoing edicts from local and county officials in our area prohibiting all mass gatherings, so this news should come as no surprise to anyone. There is simply no way we can continue planning our event for next February with the same goals in mind, given that it's very likely our lives won't return to any semblance of normalcy until after a vaccine is proven effective and is widely circulated to the general population… which according to the medical community won't be happening until at least sometime in the middle of next year.
We do know this will still be a crushing disappointment to so many of you, especially those of you who held out such hope that we could avoid this, having just gotten through our last convention before the worldwide shutdown began. It is equally upsetting to all of us who organize and run this beloved event every year… the idea of a year without a Gallifrey One scarcely bears thinking about. By anyone.
But, together with our wonderful partners at the Marriott LAX Hotel, we've just worked out the details on postponing our event for a year and satisfying our contract obligations, and we have good news for those of you with hotel reservations made under the Gallifrey One discount block two months ago. We've also made decisions about tickets that we feel will address everyone's concerns.
So… our next convention will still be Gallifrey One: Thirty-Second to Midnight — but it'll take place in early 2022. But when, exactly? That's a little more complicated…
Convention Dates for 2022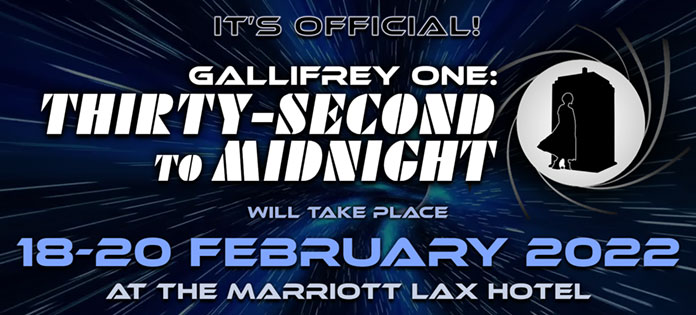 Our 2022 convention will take place February 18-20, 2022 at the Marriott Los Angeles Airport Hotel.
The following is language we originally reported in September 2020, but is no longer relevant:
February 2022 will be huge for Los Angeles: the NFL's Super Bowl LVI will be taking place that month at the brand new SoFi Stadium in Inglewood, just minutes away from where we throw our party every year. The Super Bowl usually takes place on the Sunday two weeks prior to Presidents' Day Weekend, and most everyone believes that this will be the case again: Sunday February 6. Unfortunately, the NFL itself hasn't confirmed the date, due to ongoing discussions about the length of the football season.
When the Super Bowl comes to any town, it's a big deal, and it means that most hotels in the area are fully booked out by NFL contractors for multiple weeks on either side of the event. That includes our host hotel, the Marriott LAX.
Because of this, the part of our contract that covers 2022 was written with two possible dates in mind, instead of one: either February 18-20, 2022 if the NFL releases that weekend, or March 4-6, 2022, our default weekend, if they don't (with our opening launch party taking place as usual on the Thursday night prior to either). That decision, unfortunately, is probably a few more months away. We simply can't confirm which of the two weekends we'll be on until that happens, when the NFL officially confirms its dates and the Marriott confirms it could accommodate us in February. Without both of those happening, we'd be on the first weekend in March.
We will, of course, update everyone as soon as we know. Remember that at minimum, our next convention is 17 months away, and we will definitely know exactly what our next dates are by very early next year, if not later this year, so we appreciate your patience. (Also, we will be back on our regular Presidents' Day Weekend schedule in 2023 and beyond.)
Update: For everyone with current tickets who received the email we sent this morning through EventBrite, you may notice that it shows the March dates at the bottom. That is our default at the moment; the EventBrite system requires a default date in order to function properly. As soon as we have a final answer on whether mid-February is open to us, we will confirm the dates through another email to our ticket holders, and of course broadcast it on our social media and this website.
Tickets, Refunds, and 2021 Commemorative Pin
By default, all tickets purchased for Gallifrey One 2021 have been automatically transferred to 2022. If you have already purchased your ticket, and intend to join us in 2022, you do not need to take any action at all; your full admission is guaranteed for our next convention.
However, because of the unique situation we find ourselves in, and as a token of good faith to our attendees, we are also announcing a limited-time refund option on 2021 tickets that were purchased on or before September 11, 2020, which includes a refund of both the ticket price as well as the EventBrite processing fee. If you purchased tickets before that date and would like your tickets refunded, simply go to the 2021 Ticket Refund Request page linked below and complete the form. (You'll need your EventBrite confirmation, but see that form for further details.) The deadline for all refund requests is Friday, October 9, 2020, using the form linked below, and we will process these refunds through EventBrite after the deadline only. There will be no refunds available for any tickets purchased on or after September 12, 2020, and the October 9, 2020 deadline for refund requests is final.
October 11 Update: All refunds that were requested up through October 9 have been fully processed by EventBrite. We will no longer accept any new requests for refunds.
For the rest of you, who purchased tickets prior to today's announcement and aren't requesting refunds, you'll be receiving a free gift when you pick up your badge in 2022: a commemorative 2021 Gallifrey One pin. This lapel pin, which will be designed in honor of the "Year Without a Gally," is our way of saying thanks for your early support of our 2021 plans, even as the pandemic unfolded across the world, and for your continued support into 2022.
For those of you who haven't yet purchased your tickets but would still like one of the commemorative pins, we'll have some available for purchase on-site at the 2022 convention (while supplies last) for a nominal fee… part of which will cover pin cost, with the remainder donated to that year's charity.
Meanwhile, we've updated our Convention Registration page to reflect the change to 2022; new tickets can be purchased there. All of the admission prices used for the 2021 convention remain exactly the same for 2022: $125 adult, $75 teen ages 12-16, $35 child 3-11, free for children under 3. Tickets will remain available until they sell out, and there are still plenty of tickets left for our next event in early 2022.
If you purchased a child ticket (3-11) or teen ticket (12-16) prior to September 12, 2020, and your child or teen will cross the age threshold due to the postponement (i.e. an 11 year old turns 12, or a 16 year old turns 17), please contact us with your specific details. We will be happy to upgrade them for this convention at no charge.
Marriott LAX Hotel Reservations Information
The past few days, we have been working on the last major detail with our partners at the Marriott LAX: the status of everyone's hard-fought hotel reservations for February 2021 that were made under the Gallifrey One discount block reservation code. Recognizing that we just put everyone through "hotel day" two months ago, this was something we really wanted to avoid a second time.
We are extraordinarily pleased to announce that the Marriott will be shifting all existing reservations made under the Gallifrey One 2021 discount block rate to 2022! Existing check-in and check-out days will correspond with the weekend like they do now… for example, a Wednesday-through-Monday reservation for 2021 will be a Wednesday-through-Monday one for 2022 instead. These reservations will be moved internally by the Marriott LAX management in the next few weeks to our default March 4-6, 2022 weekend… with the understanding that, if the NFL's decision enables the Marriott to welcome us back on our regular mid-February weekend, they'll be shifted again.
Again, this covers room reservations that were made under the Gallifrey One discount block only; these are the rooms that were reserved back in July, at $162/night, with our group code. We can confirm that, whichever weekend we end up on in 2022, the room rates under the Gallifrey One discount block will be the same as those reserved for 2021: $162/night plus tax (with wi-fi and the $15/night parking rate for one car only). The Gallifrey One discount block is currently no longer available.
As the move of our convention room block to 2022 will happen internally at the Marriott LAX, you may not receive confirmation for some time. Please do not contact Marriott Reservations, or the Marriott LAX Hotel directly, about rooms on the Gallifrey One discount block (that includes calls to request modifications); they will only be working with Gallifrey One directly on this process.
Please also note that we are unable to do anything with reservations that are not made using our group code; this includes reservations made at standard "rack" rates (i.e. not at $162/night), using other group discount codes (like AAA), or made through third-party vendors such as Expedia, Hotels.com, Booking.com and so forth. For these reservations, we recommend that you cancel them as soon as possible to avoid penalties, through either the Marriott or the same third-party vendor you used. Also, we cannot help you with any reservations made at other hotels.
For those of you with mixed reservations (some nights on the Gallifrey One discount block, others at rack rate), you'll need to cancel the nights that aren't on the Gallifrey One discount block yourselves… but please contact us by email about your particular situation; if we can help you at a later date, we will let you know.
If you are requesting a full refund of your ticket and you have hotel reservations, it is up to you to cancel them on your own, regardless of being on our convention block or not.
Finally, regardless of which weekend we end up on for 2022, we will be in touch with our partners at the Marriott about a date when (and if) remaining rooms will be made available, and we'll pass that info on to you here and on our social media… but that likely won't be until sometime next year.
Convention T-Shirt & Tote Bag Orders
All pre-orders received for Gallifrey One: Thirty-Second to Midnight convention T-shirts and tote bags have been automatically applied to the 2022 event. This merchandise can be picked up on site in 2022 as usual; if you've already made a purchase, there is no action needed on your part.
If you are requesting a ticket refund instead of deferring your ticket to to 2022, you have two options: we can offer you a full refund of your merchandise purchase, or you can request that someone else attending the 2022 convention pick them up for you. The Ticket Refund Request form linked in the section above has a field to indicate which option you select for your merchandise, and the deadline is that of the ticket refund request itself, October 9. We will not provide refunds on merchandise orders for anyone whose tickets have been moved to 2022, nor on any requests submitted after the October 9 deadline.
Our merchandise order form remains open and has been updated to 2022, and you can order items on the Add-Ons & Merchandise page on this website.
What about a virtual event?
At this time, we don't intend to host a virtual event in place of the 2021 convention.
We know that other conventions have chosen to present their events online, with live streaming guest chats and panels, and we think that's great. However, we feel very strongly that, as great as our guests and program have been over the years, that's been only one part of the experience. Gallifrey One is a community of nearly four thousand people, and there is no way to replace that community — the camaraderie, the joy of seeing friends every year, the shared experiences, the "lobby con" social atmosphere, the late night chatter, the parties, the cosplay, the photos and special moments — with a live-streamed event, panel or online chat.
That said, we know many of you will likely be in touch with friends on Zoom or other streaming services that weekend anyway, so we definitely encourage you to keep in touch with the people that make Gallifrey One special to you; hopefully that will tide you over until we can all be together again.
And Finally…
We'd like to thank our amazing partners at the Marriott LAX — including Karla, Ryan, Hilda, Romeo, Traci, Kate, and especially Jeff Hart, the hotel's general manager — who have worked with us throughout this process, as well as our wonderful and understanding sponsors, dealers and exhibitors, and of course, all of YOU for continuing to support our convention. We have every intention of returning in 2022, full speed ahead, with amazing guests, panels and so much more. A confirmation of our 2022 dates should be coming within the next few months; meanwhile, we'll begin to announce 2022 guests sometime next year. You can keep updated by following our Facebook page or Twitter feed, or checking back here on our website.
Once again… thank you all for your faith in us. We know this is a depressing situation, not just for Gallifrey One but for everyone, and 2022 seems like an eternity away. But we WILL be back, and we can't wait to resume the festivities with all of you. Stay safe, stay healthy, reach out to your friends and families, wear a mask, and keep hope alive.
"One day I shall come back. Yes, I shall come back.
Until then, there must be no regrets, no tears, no anxieties.
Just go forward in all your beliefs,
and prove to me that I am not mistaken in mine."
– The First Doctor, 1964