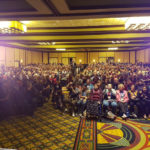 Gallifrey One: 28 Years Later, our 2017 convention, was a great success all around… click on some of the images on this page for just a small sampling! We welcomed 3,868 attendees, staff and guests, with no major last minute guest cancellations. Our 2017 Bob May Memorial Charity Auction raised a record $18,400 for the Denville Hall Trust on behalf of Lalla Ward (we've since made our donation and the charity has offered their profound thanks to everyone who contributed!)
This year we're happy to say we've faced nearly universal positive response from our attendees without incident. As we had almost no changes between the announced program and the final schedule, the program ran almost completely on time (with the exception of a delay in the video room schedule on Friday.) Though there were a number of requests to sell tickets at the last minute, we felt almost no actual hit on attendance at the convention. (We hope you agree!)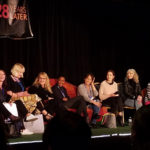 Photo JPGs: Convention Photo Shoots have now posted pictures from all of the photo ops taken in our photo studio; you can visit the Convention Photo Shoots Website (click on the day, photo op and your photo, then click on the "Download" link at top right and enter the password Gallifreyan to complete the download… make sure you type that exactly including the capital G.)
Post-Convention Feedback: If you'd like to let us know what you think, we welcome your feedback via email.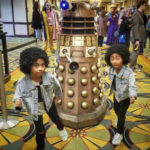 Pictures: We'd love to see your pictures of the convention! Send us email if you'd like to share them (either a link to your online album, or let us know you have some you'd like to send over and we'll give you an email address to mail them to!)
Our Thanks: As always, our convention never happens without tremendous hard work from our staff, all of whom we thank for their support and assistance both before and at the convention. Gallifrey One wishes to offer our very special thanks to Jason Joiner, Paul Jones, Gene Smith, Matt Dale, Matthew Campbell, Derek Maki, Paul Cornell, Lindsay Henderson, Philip Hinchcliffe, Piers Britton, Lisa Osmond, Dick Fiddy, Erik Engman, Laurence Wreford, Jason Haigh-Ellery, David Howe, Sam Stone, Chase Masterson, Bob Mitsch, Tony Lee, Mike Horner, Karen Baldwin, Craig Miller, Howard Hayes, Tillman Smoot, Giles Golding, Dominic Glynn, Jennifer Adams Kelley, Johanna Mead, Matt Evenden, Amanda Blackburn, Ben Paddon, Scott Handcock, Steven Warren Hill, Shad Gray, Mary Lee Holzheimer, Michael J. Kouri, Emily Danyel, Ken Deep, Billy Davis, Joshua Lou Friedman, Eric Hoffman and Gary Russell for their assistance with this year's guest lineup and program.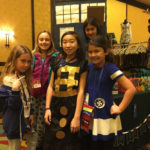 And of course, we'd like to thank our amazing guests in 2017: Paul McGann, Lalla Ward, Louise Jameson, Katy Manning, Anneke Wills, Frazer Hines, Philip Hinchcliffe, Peter Purves, Hattie Hayridge, Daphne Ashbrook, John Leeson, Gareth David-Lloyd, Naoko Mori, Catrin Stewart, Deep Roy, June Hudson, Howard Burden, Roger Murray-Leach, Mat Irvine, Danny Webb, Prentis Hancock, Simon Fisher-Becker, Jimmy Vee, Michael Troughton, Amy Pemberton, Nicholas Briggs, Nicholas Pegg, Barnaby Edwards, Rachael Stott, Nick Abadzis, Dominic Glynn, Sam Watts, Seán Carlsen, Christine Adams, Ryan Carnes, Anna Shaffer, Chase Masterson, Paul Cornell, John Peel, Gary Russell, Tony Lee, Jason Haigh-Ellery, Chris Thompson, Richard Dinnick, Scott Handcock, David J. Howe, Sam Stone, Christopher Jones, Usman Ally, Tim Abell, Dick Fiddy, Steve Roberts, David Gerrold, Barbara Hambly, Ian Sears, Richard Starkings, Nick Robatto, Javi Grillo-Marxuach, Scott Tipton, J.K. Woodward, Blair Shedd, Todd Nauck, Shawna Benson, Julie Benson, Erin Maher, Kay Reindl, Gillian Horvath, Robert Napton, Hayden Black, Travis Richey, Larry Nemecek, Arne Starr, David Wise, Joseph Scrimshaw, Lars Pearson, Grant & Mary Workman, Trina Ray, Kim Steadman, Scott Edgington, Anita Sengupta, Sarah Milkovich, Robert Smith? and Graeme Burk.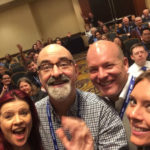 But most of all, thank you – all of our attendees, our cosplayers, our panelists, our tireless enthusiasts – for making this a year to remember!
Onward to Next Year: The countdown resets again! Gallifrey One Conventions cordially invites you to our next event, The 29 Voyages of Gallifrey One, February 16-18, 2018, at the Marriott Los Angeles Airport Hotel, with pre-convention events beginning at 8:00pm on Thursday, February 15. Guests will be announced starting this summer. Tickets for our 2017 convention will go on sale will go on sale on April 8 at 12:00pm Pacific time. As in the past two years, we are using EventBrite, which handled the ticket sales without incident and can deal with the heavy traffic. Also… hotel rooms at the Marriott will be available in early May.
What can you expect next year? Amazing new guests — we know who you want to see, trust us! — with more programming and panels, tons of great evening events, and so much more. We are just getting started, so be sure to be with us for the next Gallifrey One event… the next iteration of the world's largest, longest-running and most beloved Doctor Who celebration of them all. See you next time!