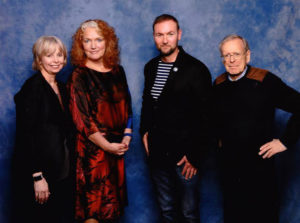 Convention Photo Shoots has released the high-quality digital prints of all of the photos taken during our 2017 photo studio. Digital copies of photos are included as part of the cost of photo ops.
Select the day you took your photo, the guest photo op, and then your individual photo(s) from the selection. To download the non-watermarked high resolution image, please then click on the "Download" link above and to the right of the photo and enter the password Gallifreyan (make certain you enter it exactly in that way, including the capitalized G).
IMPORTANT: Remember that downloads will only be available for a limited period of time and will likely be gone by summer, so make sure you download your photos!
Click on the button below to visit the 2017 photo ops website. Meanwhile, our very special thanks to photographer Giles Golding and Convention Photo Shoots/Showmasters Events for their support of our Photo Studio.
Click here to visit GilesG Photography: 2017 Gallifrey One Downloads