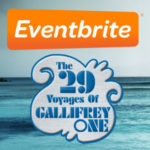 ​Gallifrey One has announced that ticket sales for our forthcoming 2018 convention, The 29 Voyages of Gallifrey One, will take place on Saturday, April 8, 2017 beginning at 12:00pm Pacific Daylight Time (3:00pm Eastern Daylight Time, 8:00pm UK time).
Tickets for 2018 will again run at $95.00 for adults (ages 17+), $50 for teens (ages 12-16) and $20 for children (ages 3-11). Children under 3 are admitted free. You should go by the age of the teen/child at the time of the convention, not at the time of sale. Tickets provide general admission for the entire weekend (we do not do single-day or dealers-room-only tickets, nor do we do reserved seating or other tier packages). You may purchase up to four (4) tickets in a transaction.
We are eliminating the "guest of" notation this year in favor of a much simpler system: If you are buying multiple tickets but cannot identify exactly who your additional tickets are for, put your own name (buyer's name) on them. Do not put "guest of" in the name field or on any other part of your registration. The named party on the ticket may then transfer (or initiate a name change) when transfers open later this year (see below).
Click on the green Registration button on the top right of the website and then click on Convention Registration, to review ticket information including pricing and terms/conditions. That page specifically has a link to the ticket purchase page on EventBrite, which is once again our vendor for general ticket sales. A link to that page will also be posted on our Facebook pages as well as Twitter very close to the ticket sale. We encourage you to bookmark the EventBrite page and keep refreshing on the day.
As in prior years, we plan to make over several thousand tickets available (the final number varies based upon teen and child ticket sales but usually comes out to somewhere around 3,400). For the past five years, Gallifrey One has sold out on the same day tickets go on sale, in a time period less than three hours. We strongly encourage you to be online at the time of sale if you wish to attend in 2018. We will not be adding more tickets in the future.
Tickets will once again be available for transfer to other parties if the buyer cannot attend, subject to restrictions. Transfers will open in the autumn. The transfers page will have complete information (but an important recap: you may not sell your ticket for any more than its original cost; tickets may only be transferred once; and tickets may not be sold on eBay or any other online vendor site.) The person whose name is currently on the ticket is the only person who can transfer the ticket to a new party.
Remember: you will not receive any tickets in the mail (they're virtual); simply refer to your EventBrite receipt as your confirmation of attendance. We will once again feature a list of all registrants soon after ticket sales are complete, which will be kept updated throughout the year (including after transfers take place).
Please direct any questions to us via email — thank you, and good luck!