​We're very happy today to finally unveil the brand new Gallifrey One website design! We think it'll be much easier to find the information you need about our next convention as well as details on our prior events. It's also very mobile friendly (for phones and tablets).
Our News page keeps a running record of all the latest announcements. Check the About pages for details about our history and our organization. The Guests page will start being updated when we announce our first guest block this summer. Find out more details about the Marriott, and how you can make your hotel reservations in May, in the Venue section. The Contact tab shows you how to get hold of us. And of course, under The Convention you'll find everything about our next event: the program & events and some of our special events like the Charity Auction and Masquerade; our fixed functions like our Dealers Room, Art Show and Photo Studio; and about the lively Gallifrey One social scene, cosplay and even those badge ribbons everyone loves!
Also… check out the photo gallery (located under the "About" section.) It's as it was before we took this brief hiatus for a few weeks… but we're trying to build up the picture pages for the following years: 2012, 2015, 2016 and 2017. If you have photos you'd like to send us so we can build up galleries for our 23rd, 26th, 27th and 28th events, please contact us and let us know!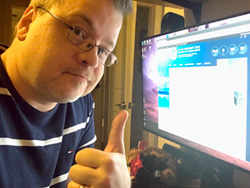 Our website is designed and edited by our program director & public relations lead, Shaun Lyon, who has wanted to take the convention site into the next generation for a while now (there was briefly a new design unveiled last spring, but we ran into some major compatibility issues with the content manager we used, so we reverted to the design we've had since 2012.) We hope you'll agree that it was worth the wait.
Have some feedback about our new site? Contact us and let us know… we'd love to know what you think, and how we can make it even better.