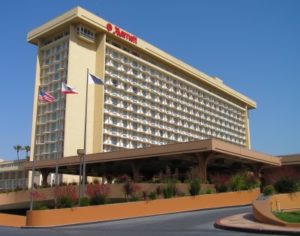 While we prepare for ticket sales for The 29 Voyages of Gallifrey One to take place on Saturday, April 8, we've also got another announcement today: hotel accommodations at the Marriott Los Angeles Airport Hotel will open on Monday, May 1 at 12:00pm (noon) Pacific time.
Hotel accommodations at the Marriott sell out immediately (see below) due to the vast number of people trying to get into the hotel, so we encourage you to be ready and available at that time. Rooms at the Marriott will only become available at that time; until then there are no room sales for our weeekend.
As we did in 2017, we will be posting a link to Marriott hotel reservations for this event exclusively on the Facebook Gallifrey One 2018 Event Wall. Because of the immediacy of the hotel room sellout, posting it in more than one place will invariably mean delays (we can only post things so quickly), so many people may miss out. Therefore, you will need to be able to view that page if you want a Marriott room. The reservations link will not be posted here on our website, on the main Facebook page or on our Twitter feed, so make absolutely certain you join the event page on Facebook (mark yourself as either "going" or "interested" so you can get updates).
Our discounted room block is a substantial number of hotel rooms (approximately 80% of the hotel); hotel rates for these rooms are $155/night for all occupancy levels (single through quad), plus 15% LA city tax. There is only one discount block, so be prepared by refreshing that event page on May 1 at noon. One the discount block is filled up, the remaining rooms at the Marriott will be at regular "rack rates" (and there will be no more discount rooms). Our discount room block includes free in-room WiFi and reduced rate parking of $15 per night (single car). Rooms at the Marriott do not open for anyone until May 1.
Please note that regular rack rate rooms do not include either free WiFi or the discounted parking rate, only the Gallifrey One block of rooms.
All suites at the Marriott are reserved for the convention.
We cannot get you the reduced discount rate at the hotel if you reserve a rack rate room, sorry.
As last year, there is no 'official' overflow hotel but there are rooms available at plenty of hotels beyond the Marriott; among the closest are the LAX Hilton, Four Points Sheraton, Renaissance LAX, Travelodge LAX, Residence Inn LAX, Crowne Plaza LAX and others. If you do not get a hotel room at the Marriott, try reserving via one of the online tools for a hotel in the area like Expedia. Note that there are other events in the area on Presidents' Day Weekend so reserve your hotel space early! Our Hotel Accommodations page has lots of info you'll want to check out.
Once our May 1 hotel room day passes, Gallifrey One will be taking some time off through the summer while our team rests & recharges. We will make some initial guest announcements sometime during the late spring summer (we've already got a pretty large "first block" of guests to announce!), and then begin ramping up convention plans around October.
Thanks for your continued support of Gallifrey One!