It's been a busy few weeks at Gallifrey One, and we'd intended this update more than a week ago… but we have more updates today for attendees of our forthcoming convention The 29 Voyages of Gallifrey One: the opening of ticket transfers; a word about panel submissions; and the opening of space reservations in our Art Show. But first, a very important announcement…
Regarding Pearl Mackie…
We know there is a big question on the minds of many Gallifrey One 2018 attendees right now who have heard the news: last week, it was announced that Pearl Mackie had scored a featured role in a new production of Harold Pinter's play The Birthday Party alongside former Doctor Who guest actors Toby Jones ("Amy's Choice") and Zoe Wanamaker ("The End of the World"), which opens in early January and runs through April… so, is Pearl still coming to the convention in February? We believe in being completely open with our attendees, and right now all we can say is this: we have not been notified of a change in her availability for our weekend as of yet. If her agent does indeed notify us that she will no longer be able to join us, we will absolutely let our attendees know as soon as we can.
Needless to say, although we would be disappointed that she wouldn't be able to make it, nobody could possibly be more excited about this career development for one of Doctor Who's most endearing cast members than we are! We will keep you posted.
… and About Len Wein
We'd also like to pay homage to a true legend in the world of comics, Len Wein, who passed away on September 10. Len, among whose works were the creation of such popular characters as Wolverine and Swamp Thing and whose contributions to X-Men and the Justice League are too numerous to detail, was not only a well-known personality in the convention scene in Southern California, but also a five-time Gallifrey One guest speaker, many times alongside his long-time writing partner Marv Wolfman. Len was a warm and very witty guy, a great convention speaker, and a good friend to many. Our deepest condolences and best wishes to his wife Christine and his family.
Our 2018 Charity: the Pop Culture Hero Coalition
For more than two decades, Gallifrey One's annual on-site charity event, the Bob May Memorial Charity Auction, has been raising money for some great causes: medical charities, disaster relief, veterans charities, children's charities and funds, animal welfare groups and even the elderly (as proved at last year's $18,000+ raised for Denville Hall — a record for our event!)
This year, we decided to go in a different direction. Bullying, hate crimes and harassment, both online and in person, is at epidemic proportions in America, and there's so much work that needs to be done. And there are very few organizations that can truly say they're determined to tackle the problem… especially organizations that work so close to home for Doctor Who and science fiction fans. One of them has become a mainstay at Gallifrey One, and this year, instead of just providing them with a table and panel, we've decided to throw the complete support of our charity auction behind them.
We are therefore pleased to announce that our 2018 charity is the Pop Culture Hero Coalition.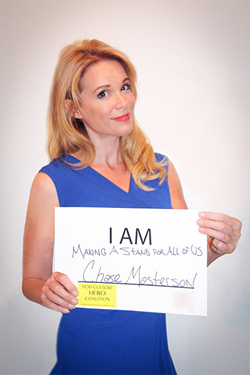 Founded in 2013, the Pop Culture Hero Coalition is the first-ever 501(c)(3) non-profit organization to use stories from TV, film & comics to make a stand for real-life heroism over bullying, racism, misogyny, LGBTQ-bullying, cyber-bullying, and other forms of hate. The PCHC works to educate and support children, teens and adults to overcome bullying and social injustice, and to transform their struggles into strengths, using stories and characters from pop culture TV, film, and comics. They "create, promote and foster a culture free from the injustice of bullying, cyberbullying, hate crimes, and inequality based on gender, race, religion, socioeconomic status, sexual identity or preference, physical disability, mental disability, learning disability, or any other perceived vulnerability."
At its heart is co-founder Chase Masterson. As Chase is a long-time friend of Gallifrey One, we have been incredibly impressed by the work she and her team has done over the years, and what they continue to do for awareness and action against bullying and harassment. From creating a crisis support network for children and teens, to creating research-based curriculum for schools, the PCHC has been making a difference. CBS News says, "They're changing fantasy into the real world with justice and heroism."
This year's annual Bob May Memorial Charity Auction will take place on the Sunday of The 29 Voyages of Gallifrey One at noon, and we invite all attendees to join us for what will undoubtedly be a very special event. As always, 100% of the proceeds of our charity auction go directly to the charity… and we look toward you, our attendees, for your donations of material for the auction. You can find out more about the auction and what we're looking for at the Charity Auction page.
Ticket Transfers Now Open
At long last, ticket transfers are opening today for Gallifrey One attendees. For those who have bought tickets and have found themselves unable to attend the convention, it's a way to give away your tickets to someone else who wants them… and for those who haven't, a way to get into the 2018 convention that was unavailable before.
For starters, it's important to remember: Gallifrey One is not selling any more tickets, and is not guaranteeing a ticket to those without. You are responsible for procuring a ticket to the convention, or selling yours if you cannot make it. There are very specific rules that must be followed. The convention stays out of private transactions, beyond warning that our rules must be followed (including a cap on the price; you can only sell a ticket for no more than what you paid for it.) All we are involved with is the notification process; the seller (not the buyer) must fill out our form on the Transfers page.
Gallifrey One has opened up our 2018 Facebook Transfer Event Page – which is the ONLY place on our social media that we will permit transfers to be discussed. Only sellers may create initial posts; buyers can contact them with replies and/or private messages.
For full details visit the Ticket Transfers page.
Art Show Reservations Now Open
We are happy to announce that space reservations in the Gallifrey One 2018 Art Show are now open!
Visit the Art Show page for full details, including a downloadable entry form and the complete rules and regulations of the Art Show for displaying artists. (Make sure you can read PDF files!) Further information is available in the Rules document including contact information.
Program Panel Submissions
We will be opening panel submissions for our discussion panel track, as well as taking suggestions on our 2018 programming, starting next week; check back on the website for details.
More soon, so stay tuned!