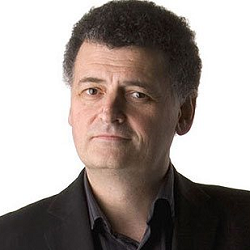 It is with great pleasure that we are finally able to announce that Steven Moffat will be making his long-awaited return to Gallifrey One, as we welcome him to our guest lineup for next February's The 29 Voyages of Gallifrey One.
Writer/producer Steven Moffat is recognized worldwide as the executive producer and show runner of Doctor Who for the past six seasons. He was responsible for the creation of the characters of the Eleventh and Twelfth Doctors and the casting of the two beloved actors in the roles, Matt Smith and Peter Capaldi. As a writer for the series from its debut season in 2005, Moffat has crafted such iconic episodes as "The Empty Child," "The Girl in the Fireplace," "Blink," "The Day of the Doctor," "The Time of the Doctor," "Listen," "Heaven Sent," "World Enough and Time" and 'The Doctor Falls" along with 38 other teleplays for the series. Throughout the past twelve years, he has been responsible for the creation of many of the series' most beloved characters and monsters, including Captain Jack Harkness, Professor River Song, Amy Pond and Rory Williams, the Paternoster Gang (Madame Vastra, Jenny Flint and Strax), the Weeping Angels, the Silence, Clara Oswald, Danny Pink, the War Doctor, Petronella Osgood, Ashildr, Nardole, Bill Potts, and Missy.
A winner of two Emmy Awards, five BAFTAs and four Hugos, Moffat is also well known as the creator of the drama series Press Gang and the comedy Coupling, as well as co-creating the popular series Sherlock with Mark Gatiss, starring Benedict Cumberbatch. Prior to the revival of Doctor Who in 2005, his first work in professional Doctor Who was as writer of the 1999 Comic Relief parody The Curse of Fatal Death featuring Rowan Atkinson, Julia Sawalha, Jonathan Pryce, Joanna Lumley and Hugh Grant, among others. His final Doctor Who story "Twice Upon a Time" will air this Christmas, after which Doctor Who will be handed off to its next showrunner, Chris Chibnall, and new lead actor Jodie Whittaker.
A three-time Gallifrey One guest in 2006, 2007 and 2008 — the only fan-run (non-BBC sponsored) Doctor Who event Steven has attended in North America — he has remained a good friend of our convention over the years (including sending both well wishes and even one video message to our attendees for our Closing Ceremonies), and we could not be more thrilled that he will be joining us in 2018, along with his wife Sue Vertue.
Click for Convention Photo Shoots: Steven Moffat Add-On Items
Steven is being partially sponsored by our good friends at Showmasters Events, and as such he will be participating in their autograph and photo sessions. Additionally, through their Convention Photo Shoots website at the blue link button above, they will be selling a special Diamond Pass that includes a very special event: an exclusive workshop on the writing and production of Steven Moffat's much-lauded Doctor Who serial "Blink," which will last 45 minutes and at which participants will receive a copy of the episode script which can be signed, as well as both a standard and green-screen photo shoot, an exclusive limited edition print and additional perks. Of course, Mr. Moffat will also be appearing throughout the convention weekend on our main stage (open to all attendees) in both a solo interview, a roundtable featuring other writers from the series, and much more!
We are so happy to bring back Steven to help us celebrate the era we all call the "Moffat Era" of Doctor Who and we're thrilled he's returning to L.A. in February to join us. Further details are coming when we start releasing our programming previews in early January, so stay tuned!