Happy New Year! We're now in January, which means the countdown is in full speed as we approach The 29 Voyages of Gallifrey One. Things will get very busy here on our website from here on out, and we're happy to announce that our big Gallifrey One 2018 Program Preview will be here on our website next week, featuring a huge list of programming beyond the panel discussions we've already announced: our daytime Q&As and interviews, featured presentations, science events, episode commentaries, evening programming and events and so much more.
But first, let's get started with a few announcements for today, and a preview of what you can expect in the remaining time before the convention launches…
New Guests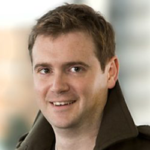 Gallifrey One is thrilled to announce that not one but two executive producers of Doctor Who will be joining us, alongside Steven Moffat, as we welcome BRIAN MINCHIN to our convention. Brian Minchin joined the series in 2007 as a script editor, doing so for multiple episodes of the Matt Smith era, before becoming co-executive producer on "The Time of the Doctor" and remaining as such throughout the entire Peter Capaldi era, supervising the series alongside executive producer (and Gallifrey One 2018 guest) Steven Moffat. Previously, he had been a producer on The Sarah Jane Adventures and assistant producer/producer on Torchwood; he also executive produced the recent spinoff Class. Minchin also served as a producer on Wizards vs. Aliens, Dirk Gently (2012) and Belonging, as well as the special The Five(ish) Doctors Reboot and Doctor Who at the BBC Proms. Prior to being Doctor Who's co-exec producer, Minchin had published The Forgotten Army, an Eleventh Doctor novel; The Return of the Vostok and Fated to Pretend, two Torchwood comic strips; and The Sin Eaters, a Torchwood audio drama. Minchin will be joining Mr. Moffat and the other behind-the-scenes guests for the weekend, to reminisce about the recent era of the series, and we're thrilled to have him.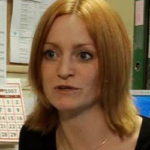 We are also pleased to welcome LINDSEY ALFORD, who was a Script Editor on two dozen episodes of Doctor Who from 2007 to 2010, and then became the series Script Executive for the sixth, ninth and tenth series. She has also served as script editor for the Torchwood television story "Adrift" and several episodes of The Sarah Jane Adventures, as well as script executive for Class. One of BBC Wales' most senior women in an editorial television role, we're happy to welcome Ms. Alford, joining her husband Brian Minchin on our guest lineup for this February to talk about the process of creating Doctor Who for TV.
And we're still hard at work… We are thrilled to welcome back some returning favorites and a few new additions, too. PETER ANGHELIDES, the Doctor Who novelist whose history with the show began back during the original BBC Books heyday with such novels as "Kursaal" and "The Ancestor Cell," and who later penned several Torchwood novels, short stories, and multiple audio adventures for Big Finish Productions including "The Four Doctors," "Ferril's Folly," "The Chaos Pool" and the Sarah Jane Smith audio "Mirror Signal Manoeuvre," joins us on the cusp of the upcoming release of the new BBC book "The Missy Chronicles." Writers BRITTANY AND BRIANNA WINNER, also known as the Winner Twins, join us after having visited the convention in the recent past; they're the national best-selling and award winning young adult SF writers who recently released their latest book," The Write Path: World Building," written with New York Times Bestselling author Todd McCaffrey (The Dragonriders of Pern). Comics writer SCOTT TIPTON ("Prisoners of Time") returns after a year's absence, as does comics illustrator/colorist CHARLIE KIRCHOFF (Doctor Who IDW Comics), and Big Finish audio writer CAROLINE SYMCOX ("The Council of Nicaea") makes a very long-awaited return to Gallifrey One with her husband Paul Cornell. Reeltime Pictures' KEITH BARNFATHER joins us again, and after an absence of many years, BILL BAGGS of BBV Productions returns to Gallifrey One – both will have tables in the Dealers Room.
We'll have more announcements next week (including some special signing guest appearances!)
Our 2018 Early Schedule
While it's still too early for our full schedule of events to be posted (that will be coming later in January), the following is our 2018 Tentative Schedule Outline, where you can find all of the major details you need in order to finalize your trip to the convention, starting with badge pickup (attendees with tickets pick up their badges at our Registration desk, which allows you entry into the convention):
Thursday, February 15, 2018

3:00pm — Early badge pick-up, open 3pm-6pm and 8pm-10pm
8:00pm — Gallifrey One 2018's Pre-Convention "Bon Voyage" Party, including our Thursday night Ice Cream Social party, the Gallifrey One 2018 disco dance, plus late night karaoke and a few other surprises (karaoke runs late; only those who can pick up badges during the above times are able to enter)

Friday, February 16, 2018

9:00am — Registration reopens for badge pickup (until 7:00pm)
10:00am — Main programming begins on the main stage; video program begins
11:00am — Dealers room opens (until 6:30pm); panel programming begins in Program B, C, D, E
Early Evening — Guest receptions (nominal charge)
8:00pm to after midnight — Evening events run (including main stage programming, karaoke, evening panels, fan mixer, late night program)

Saturday, February 17, 2018

9:00am — Registration reopens for badge pickup (until 7:00pm); video program continues
10:00am — All programming tracks open; dealers room open (until 6:00pm)
Early Evening — Guest receptions (nominal charge)
8:30pm — Evening events run (including the Masquerade, karaoke, evening programming)

Sunday, February 18, 2018

9:30am — Registration reopens for badge pickup (until 1:00pm); video program continues
10:00am — All programming tracks open (until 6:00pm); dealers room open (until 4:00pm or time approximate)
6:00pm — Closing Ceremonies (main ballroom)
Please note that the above times are subject to change and may be altered at any time in the near future, so please stay tuned for our full schedule later in January.
IMPORTANT NOTE ABOUT BADGE PICK-UP: Attendees can pick up their badges at any time our Registration Desk is open (Thursday 3pm-6pm & 8pm-10pm; Friday & Saturday 9am-7pm; Sunday 9am-1pm) for full access to the convention. If you would like to participate in our Thursday evening events, you must ensure your badge is picked up during these Thursday timeslots. We will not hold badges for you if you will be arriving after the times noted above.
Electronic Schedule Coming Soon
As we've done for the past several years, 2018 will also see a completely electronic version of our schedule courtesy the Sched application. You can expect that to go online in late January and we'll have full details soon.
Art Show Sold Out
The Gallifrey One 2018 Art Show is now sold out for space reservations for displaying artists. We are looking forward to a great show this year. The Art Show page has a full list of participating artists whose work will be on display for our attendees.
Important Seating Announcement
Gallifrey One is making a major change to our Saturday evening activities with this year… specifically, we will not be clearing the room prior to the Masquerade. As our main program will run until 7:30pm (the Murray Gold special event, that we'll have more details on soon), we've decided to allow people to keep their seats for the approximately one hour of down time while we reset for the Masquerade and evening presentation. We don't feel it fair to penalize those who remain in the room to enjoy our events only to give up their choice seats to people who choose to remain in a line.
As we also have continuous programming on Friday evening, the change to Saturday means that we will not entertain any lines for seating in the main auditorium except for the beginning of each day. We plan to open the main auditorium approximately 30 minutes before programming begins on Friday & Saturday (9:30am), and approximately 15 minutes before Sunday opening (9:45am).
T-Shirt Pre-Sales Begin January 20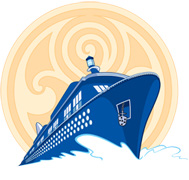 Pre-orders will open on January 20 for the Gallifrey One convention T-shirt. Gallifrey One T-shirts are very popular and tie into the year's theme, and this year we're delighted to announce that the back-of-shirt design is — by popular demand — the incredible TARDIS ship/Gallifrey seal sunset design created by artist Christopher Jones to be part of the Gallifrey One 2018 convention logo (a thumbnail of which is at right)! We will once again be selling T-shirts for pre-sale at the same costs as last year:
$17.00 per shirt for small, medium, large, XL
$19.00 per shirt for 2XL, 3XL, 4XL
Convention T-shirts can be picked up at the Gallifrey One convention sales table, immediately next to the convention registration desk, beginning early Friday afternoon and running during daytime hours until the table closes late Sunday afternoon. All pre-sold T-shirts MUST be picked up in person; if you cannot make it to pick up your shirt, please send someone who is attending the convention to pick it up for you (a printed email will suffice.) The convention sales table will also sell a limited number of T-shirts on site as well, while supplies last (until only pre-sold shirts are still left.) We therefore encourage you to pre-order if you would like a shirt this year. (Please note: there will be no shirts larger than 4X this year.)
Receptions, Science Workshop Sign-Ups Soon
Gallifrey One, and our partners Convention Photo Shoots, will soon be selling admission to the two major add-on events that are featured every year at our convention:
Our sponsored Evening Guest Receptions will soon be on sale on the Convention Photo Shoots website; we will announce the time and date they go on sale shortly. The guest receptions are very popular, limited-attendance events giving you a chance to mingle with a handful of our major guests in a suite near the top of the hotel, in small groups rotated between each guest; complementary wine is served by the sponsors (to visitors 21 & over only). These are special fee-based events sponsored by Showmasters Events (a convention ticket is also required). We'll have more details about them, including guests attending each event, when we announce the date sales will begin.
Our very successful Doctor Who themed science workshops for children will be returning this year. "The Science of Doctor Who: Third Semester — Seeing Beyond the Ordinary, Creating the Extraordinary" will take place in two installments on Saturday afternoon. Sign-ups are limited to teams of two only: one adult 18 or over and one child age 6-15, both of whom have tickets to the convention. (If your family has two children, each child must have a dedicated parent per session.) In order to make certain we have enough materials for everyone, there will be a nominal charge of $5 per child only (no charge to the adult). Workshop sign-ups will open on Saturday, January 20 at a time to be announced soon, so stay tuned!
Children's Programming
Gallifrey One's Children's Programming Room is for children aged 6 to 12 along with their parents, involving all kinds of activities for children to enjoy; there will always be something to do, and where kids will enjoy themselves and have fun! With programs ranging from making a Golden Snitch to creating their famous Frankenstuffies, our children's programming team is doing a fresh take this year by combining new and old, with fun and innovative activities that are sure to create a wonderful time for kids and adults alike. From making Rey's staff from Star Wars, to tie-dye "without the dye," making a Golden Snitch or a Pokeball, making your own galaxy in a bottle or creating sonic screwdrivers, your own fez, building a TARDIS or a Dalek from Lego or creating your own journal like River Song's, there will always be something to do.
The Gallifrey One Children's Program is not a child-minding service: it is programming for kids. The children's program will operate a sign-in facility for children who are convention ticketholders; they can be signed in for a maximum of four hours at a time (everyone needs a break!) allowing your child to have his/her own convention time. Younger children are welcome in the continual company of their parents.
If you have any questions, feel free to contact us!
Meet-Ups and Socials
Our meet-up/social event room will once again be on the main convention floor! We've already started scheduling some themed meet-ups, such as our cosplay groups and special interest groups but we have a few more slots available for local organizations or events. Please contact us immediately if your group is interested in using the meet-up room during the weekend, along with the day(s) and approximate times you're interested in; we'll try to fit you in. (Please note we cannot allow food or beverages to be served on the convention floor; also, the room seats approximately 50 people.)
If your group will be meeting elsewhere during the weekend, we want to know that as well! Please contact us so we can add your meet-up to our schedule.
Ad Reservations for 2018 Program Book
Space reservations for advertising in our Gallifrey One 2018 Program Book are about to close. We sell a limited number of ads in our booklet, which is distributed to every person who attends the convention (currently this would be over 3800 books!) Ads must be genre-specific: science fiction, fantasy & horror literature, media or comics, as well as conventions and events, fan clubs, or items of suitable interest to our attendees.
The specifications are as follows:
Ad space is full page only, digest sized: 5.5″ wide by 8.5″ high.
Camera-ready art must be 5″ wide by 8″ high, black and white only, in PDF, JPG, PNG or TIF format only (no Microsoft Word files!)
Rates are $150 USD for a full page (5.5″ x 8.5″) advert; we do not do half-page ads or smaller.
The theme of your advertisement must fall within our acceptable range of advertisers: Doctor Who, science fiction/fantasy or genre merchandise; fan events and/or conventions; fan organizations; or, books or periodicals germane to the SF/F community.
We must hear from you by the end of this Sunday, January 7, if you are interested in reserving space in our Program Book; please contact us (and please be prepared by letting us know exactly what it is you wish to advertise).
Ticket Transfers Reminder
As a reminder for those who hold tickets to the convention but cannot attend, ticket transfers are now open; please visit the Ticket Transfers page for full details about doing so. Online ticket transfers will close at 6:00pm on Wednesday February 6, and the only recourse you will have after that time is to transfer your ticket at the door (where the seller must be present to do so, no exceptions!)
New and Returning Attendees Guide Coming in Late January​
New to Gallifrey One? Or, have you been with us before but are still confused about some of the things at the convention? Well, we are here to help… later in January we'll be publishing our annual New and Returning Attendees Guide! This handy guide will answer many of your questions, including where to park, how to pick up your convention badge (which you wear to allow you entry to the event), what Kaffeeklatsches are, what the deal is about all these ribbons everyone keeps talking about, how autographs and photo ops work, how seating is done for our events, where to eat, where to seek assistance if you're confused, and many more topics.
Stay tuned for more news… and remember, next week is our Gallifrey One 2018 Program Preview!