Gallifrey One is thrilled to feature a special issue of the Twelfth Doctor Adventures comic series published by Titan Comics with a Gallifrey One convention-branded cover at this year's convention!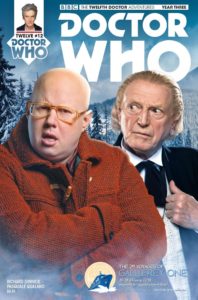 This special limited edition cover features Gallifrey One 2018 guests Matt Lucas (Nardole) and David Bradley (the First Doctor), written by our guest Richard Dinnick, illustrated by Pasquale Qualano and colored by Hi-Fi. Click on the thumbnail at right for a larger version!
Convention attendees can pre-order this comic by email! If you would like to reserve a copy of this limited edition comic, send email to sales@incognitocomics.co.uk with your name as it appears on your ticket, and your ticket number. (You can look up your information including ticket number on our Attendee Search page.) The cost is $6 payable when you pick up your comic at the event; please make sure to pick your comic book up no later than Saturday at the convention and have your money ready (please bring exact change!)
You'll also be able to purchase this special issue at the convention in multiple locations, including at the Gallifrey One Sales Table (where you buy/pick up con t-shirts) and at the Showmasters booth in the Dealers Room. Make sure to get a copy, especially if you want to get it signed. This will surely be a collector's item so don't miss out!
And of course, don't miss the Titan Comics booth in the Dealers Room… they're right in front as you walk in the door. The Titan Comics tables will host multiple signings with various guests who have worked on their books, and Titan Comics' own Chris Thompson will take the stage on Saturday at the convention with multiple guests to talk about all the latest developments in their ongoing Doctor Who comics series.