Guest Update
We've got a few brief guest additions to our 2018 lineup. Actor RICHARD ASHTON played "Friday" the Ice Warrior in Series Ten's "The Empress of Mars" and will be joining us for his first visit for autograph signings and participating in the program, including joining the live commentary of that episode on Sunday. Returning guest actor COLIN SPAULL will be in town for Gallifrey One 2018; he was with us a few years ago to talk about his work as one of the few people to guest star in both generations of the series, "Revelation of the Daleks" in the 1980s and "Rise of the Cybermen/The Age of Steel" in 2006 and we're happy to welcome him back. Finally, we welcome back writer MATTHEW JACOBS (who penned the screenplay for the 1996 Doctor Who TV movie with Paul McGann) and his colleague VANESSA YUILLE as they present a private test preview of their Doctor Who film "Doctor Who Am I" on Friday evening.
Evening Guest Receptions Reminder
As a reminder, Gallifrey One's Evening Guest Receptions are currently ON SALE… most currently about 75% sold out. These special, totally optional add-on events are a huge part of the Gallifrey One experience for many of our attendees, and we have five receptions over two days to pick from. For a nominal charge for each reception, you'll join us in our top-of-the-hotel lounge to mix and mingle with small groups and each of the attending guests in sequence over the course of an hour, with a selection of wines, soft drinks and snacks included. Each attendee at a reception will also include two autographed photos from guests not attending the convention this year.
You can visit the Convention Photo Shoots website (click that link or the button below) to purchase tickets to the following optional receptions (remember, all guests will still appear on stage at the convention during the day).
Note that the reception times are mostly final but could still slip depending on guest schedules, and other guests may join the receptions beyond the ones listed here:
Friday 6:30pm, cost $75: Sylvester McCoy, Sophie Aldred, Wendy Padbury, Terry Molloy, Jon Davey, Jessica Martin and Mike Tucker
Friday 8:00pm, cost $95: Steven Moffat, David Bradley, Jemma Redgrave, Camille Coduri, Rachel Talalay, Chase Masterson and Edward Russell
Saturday 4:00pm, cost $95: Matt Lucas, David Bradley, Rachel Talalay, Mike Tucker and Wendy Padbury
Saturday 5:30pm, cost $75: Sylvester McCoy, Sophie Aldred, Terry Molloy, Jessica Martin, Ricco Ross, Jon Davey
Saturday 7:30pm, cost $95: Steven Moffat, Matt Lucas, Jemma Redgrave, Camille Coduri, Edward Russell, Chase Masterson
As Matt Lucas is only appearing at Gallifrey One 2018 on Saturday & Sunday, he will only be at the two Saturday receptions (in addition to panel programming). Also, please note that we are currently expecting the Murray Gold live music event to take place at 6:15pm-7:30pm on Saturday; if you wish to attend the 5:30pm Saturday event note that you may miss the start of that performance.
All appearances are, as with the main convention, subject to work commitments and that there are not autograph or photo opportunities at the receptions. To purchase a reception ticket you must have a ticket to the convention (no exceptions). Full details and rules are at the website link above.
T-Shirt Sales This Saturday
Please note that pre-orders will open for the Gallifrey One convention T-shirt this SATURDAY JANUARY 20 at 12:00pm Noon, the same time as the science workshops.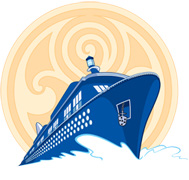 Gallifrey One T-shirts are very popular and tie into the year's theme, and as we noted before, that the back-of-shirt design is — by popular demand — the incredible TARDIS ship/Gallifrey seal sunset design created by artist Christopher Jones to be part of the Gallifrey One 2018 convention logo (a thumbnail of which is at right)! We will once again be selling T-shirts for pre-sale at the same costs as last year:
$17.00 per shirt for small, medium, large, XL
$19.00 per shirt for 2XL, 3XL, 4XL
Convention T-shirts can be picked up at the Gallifrey One convention sales table, immediately next to the convention registration desk, beginning early Friday afternoon and running during daytime hours until the table closes late Sunday afternoon. All pre-sold T-shirts MUST be picked up in person; if you cannot make it to pick up your shirt, please send someone who is attending the convention to pick it up for you (a printed email will suffice.) The convention sales table will also sell a limited number of T-shirts on site as well, while supplies last (until only pre-sold shirts are still left.) We therefore encourage you to pre-order if you would like a shirt this year. (Please note: there will be no shirts larger than 4X this year.)
Gallifrey One 2018 Program Preview
And now, today's main attraction. We're happy to present the Program Preview for our upcoming convention, The 29 Voyages of Gallifrey One in February! Gallifrey One is more than just a show with actors speaking on stage… it's a convention, with tons of content not just for spectators but for participants as well. Our program is what we think has kept many of our attendees coming back year after year since 1990, and we put a lot of work into it.
While we're still about week away from releasing the detailed schedule of events (the wheres and whens), the following are some (but certainly not all) of the amazing things you can look forward to at this year's convention.
Bon Voyage (of The Damned): The Gallifrey One 2018 Kickoff Party and Disco – Thursday night at 8:00pm, Gallifrey One 2018 begins with our special pre-convention lanch party; join your fellow attendees for a great ice cream social, take advantage of the cash bar on the convention floor, stick around to catch up wtih friends… and prepare for some great surprises! This year our convention disco takes place concurrently with the Launch Party and will start in the same space shortly after the party begins. Ticketholders can pick up their convention badge on Thursday (3pm-6pm or 8pm-10pm); you must have it to join us for the pre-convention events!
Main Stage Programming – Interviews, Q&A sessions, large group panels and special surprises: our main stage track features events with all of our major guests and runs all day each of the three days of the convention. Many people have enjoyed the convention by just staying put in the main program room… and this year we're once again putting on a show you'll enjoy all weekend long. Also, as we previously announced, we are not clearing the main auditorium at the end of the Friday & Saturday daytime programs, so you can stick around all day and evening!
Scoring the Doctor 101 – A Gallifrey One worldwide exclusive! Murray Gold, music composer and arranger for Doctor Who since its return in 2005, joins us Saturday late afternoon in our main auditorium for a live performance; using his own equipment, he will perform selections from his score for the series with narration and clips. An event that is not to be missed; the auditorium will fill to maximum capacity and there will be a short intermission before it starts for seating and setup. (Please note: Gallifrey One cannot seat all convention attendees – our auditorium seats about half the event – so if you want to see this, you will need to be there early.)
The Bob May Memorial Charity Auction – Gallifrey One's annual charity event, taking place starting Sunday at noon. This year, as we've announced, the charity auction – as always, named in honor of our dear friend Bob May from "Lost in Space" – will be benefitting the Pop Culture Hero Coalition; full details on our Charity Auction page. Donations for the auction are always accepted (see the Auction page for complete details on what we're looking for); you can drop off your donations at the first door down the Exhibitor Table hallway.
Gallifrey One's Live Episode Commentary Bonanza – This year we're going all-in on live commentaries of recent Doctor Who stories, with no less than seven scheduled for this year's convention, times and dates to be announced:
"The Zygon Invasion" with writer Peter Harness and actress Jemma Redgrave (Kate Stewart) (Friday)
"Thin Ice" with writer Sarah Dollard, costume designer Hayley Nebauer and model unit supervisor Mike Tucker (Friday evening)
"The Eaters of Light" with writer Rona Munro and executive producer Brian Minchin (Friday evening)
"Twice Upon a Time" with writer/producer Steven Moffat, director Rachel Talalay, executive producer Brian Minchin, and actor David Bradley (The First Doctor) (Saturday)
"Oxygen" with writer Jamie Mathieson and actor Matt Lucas (Nardole) (Sunday)
"The Empress of Mars" with director Wayne Yip, NASA Jet Propulsion Laboratory Mars scientists Kim Steadman and Sarah Milkovich, and actor Richard Ashton (Friday the Ice Warrior) (Sunday)
"The Pilot" with writer/producer Steven Moffat, director Lawrence Gough, script executive Lindsay Alford and concept artist Darren Fereday (Sunday)
Discussion Panel Track – As previously posted, we have a large and very eclectic list of panel discussions taking place all weekend at the convention, on various elements of Doctor Who, its spinoff series, and science fiction television, gaming, costuming and fandom. From Steven's Universe to Sylvester & the Bannermen, Celebrating the Heroines of Doctor Who to The Radiophonic Workshop at 60, Doctor Who Deathmatch: Seasons Edition to The Companions that Could Have Been, Is There Such a Thing as Too Much Star Wars to The Greatest Science Fiction Television Ever and a ton of panels on SF TV, film, comics, cosplay, fandom, collecting, props and more… we have almost 50 discussion panels over all three days (including a full track on Friday night! For a full list of panels on our discussion track being offered at Gallifrey One 2018, see the list here.
Radio Free Skaro and the Seven Keys to Doomsday – The now-traditional opening act of Gallifrey One's Friday programming (this year at 10:00am in the main auditorium) with a live show featuring our official podcast; join the Three Who Rule as they welcome Sylvester McCoy, director Lawrence Gough, classic series writers Stephen Wyatt and Philip Martin, classic & new series writer Rona Munro, and costume designer Hayley Nebauer.
Time Lord Timelines: An Academic Symposium – On Friday afternoon, Gallifrey One is proud to bring you our first-ever symposium on Doctor Who academic topics, a special presentation of short lectures by convention attendees on a variety of topics, selected by our own academic chairs Paul Booth and Joy Piedmont, including:
Keynote Address: "Aca-fans, Showrunner-fans and Actor-fans: Fan Experience as a Professional Resource?" by Matt Hills
Doctor Who in a Cultural Context:

"Tides of Time" by Paul Cornell
"We're All Stories in the End: Doctor Who Fandom on the Shelf" by Derek Kompare
"Understanding the Other" by Inna Kanevsky

Doctor Who and Issues of Identity

"The Last of the Time Lords and the Search for Self-Actualization" by Clay Dockery
"The Doctor: A Warrior, A Hero, A Peacemaker?" by Dustin Hausner
"The Secret Psychology of Series 10" by Heather Berberet
The McCoy Era In-Depth – This year we're featuring two no-holds-barred roundtable discussions looking at length into the making of two classic Doctor Who serials with the men and women who were there: "Circus Life: The Making of The Greatest Show in the Galaxy" with actors Sylvester McCoy, Sophie Aldred, Jessica Martin, Ricco Ross and Dee Sadler; writer Stephen Wyatt; script editor Andrew Cartmel; musician Mark Ayres; and effects supervisor Mike Tucker; and "Cat People: Remembering Survival" with McCoy, Aldred, Cartmel, Tucker, actress Lisa Bowerman, and writer Rona Munro.
Guest Panels – That's not all, our guests will take place in major discussion panels, too! You can look forward to "The Modern Business of Comics," a panel on "Working in British Television," a pair of workshops discussing "Comics Illustration" and "Comics Writing", a roundtable on "Writing for Television in the Streaming Era," a panel chat about "What's Next in Doctor Who Prose", a feature discussion about "The Legacy of Sherlock Holmes" and a panel chat featuring guests involved in the theatre we're calling "The Play's the Thing". We've also got "Laugh It Up Fuzzball: Writing Science Fiction Comedy" and a panel we're calling "The Sound of Drums," a look at humanism and social justice in Doctor Who and science fiction media.
More Guest Presentations – Many of our Doctor Who guests as well as other guests (both local and from abroad) will be taking place in several presentations in addition to the discussion track we've already announced. Hayley Nebauer presents a slideshow look at her fabulous costume designs for several years of Doctor Who on Sunday; also on Sunday, Jon Davey brings us a visual overview of his own work as a creature and monster performer, with some amazing behind-the-scenes photos from the series, and Mike Tucker, visual effects and model unit supervisor on two generations of Doctor Who, will present a look back at his own amazing work. Meanwhile, Chris Achilleos presents two slide shows of his illustrative work, including an extended timeslot on Friday for his fantasy illustration and a presentation on Saturday focusing on his Doctor Who book covers. Reeltime Pictures' Keith Barnfather, together with David Howe and Sam Stone, present a look at the independent Doctor Who spinoff film "The White Witch of Devil's End," while Frazer Hines once again presents his video odyssey "The Time Travelling Scot" on Saturday night.
Gallifrey Waits… No More – On the heels of last year's main stage panel, on Sunday afternoon we're diving deeper into the changing landscape of women in the media, in television, and in Doctor Who on a panel with many of our women guests of honor: how things have changed, especially over the past few years, but also how many things have changed, from pay gaps to a lack of representation behind the camera.
Science Programming – This year, our friends from NASA's Jet Propulsion Laboratory and elsewhere will bring us panel presentations about the end of the Cassini mission at Saturn, a status update on the Mars Rovers, an in-depth look at the forthcoming James Webb Space Telescope and the plans for the Hyperloop transportation system, Kevin Grazier once again talks about Hollyweird Science with insight into the film & TV industry and how they deal with science, and finally… a panel we're calling Screwball Science, a discussion about how Doctor Who inventions intersect the real world! (And don't forget, two of our science guests, Kim Steadman and Sarah Milkovich, are joining the "Empress of Mars" live commentary, too!)
Pop Culture Hero Coalition – Once again, Chase Masterson brings her popular panel to Gallifrey One, discussing the latest work of this important charity organization and how they are tackling the issues of bullying and harassment head on. We're also thrilled to be supporting them this year with the proceeds for our charity auction!
Star Trek Continues at Gallifrey One – Gallifrey One has been a huge supporter of the Star Trek Continues web series over the years; the 11-episode show starring Vic Mignogna as Captain Kirk during the last year of his five year mission recently concluded to much fanfare. Now, as a tribute to an incredible run, we're pleased to welcome cast and crew to our stage on Saturday at 1pm with participants including Todd Haberkorn (Spock) and Chris Doohan (Scotty), guest actors including Gigi Edgley, Michael Forest and Cas Anvar, and many more!
The Masquerade of Mandragora 2018, featuring Mysterious Theatre 337 – Our Saturday night showcase, once again hosted by Tony Lee: enjoy a procession of costumes from Doctor Who and the science fiction & fantasy world on our main stage, as costumers display their talents and compete for best-in-show and other awards. Then, while our judges go off to judge this year's entries, we're mixing it up a bit as we bring Mysterious Theatre 337 back as our 'half-time' event, in a live scripted performance riffing the David Tennant Doctor Who serial "42". All entrants displaying their costumes in the Masquerade this year must register on Friday at the Masquerade Desk in the Exhibitor Table Hallway; note that the mandatory meeting for Masquerade participants this year is on Saturday morning. See the Masquerade page for full details.
Gallifrey Squares – After the Masquerade on Saturday night, stick around in the main auditorium as The Coal Hill A/V Club bring you a very special late-night edition of "The Hollywood Squares" Gallifrey One-style with some of our convention guests and fan participants. (Note: this late-night performance will likely be somewhat off-color, and is for older teens and adults only.)
The Velveteen Band – On Friday night on the main stage, we're happy to welcome a new live band for your listening pleasure. The Velveteen Band is known for its performances at various Southern California conventions, and they'll take the stage right after our Friday evening live commentaries to perform their "puppet and Rabbit Steampunk Rock" show that you simply must see live! The band will also be selling copies of their CDs immediately after their Friday night performance.
The Idiot's Lantern – Capping our Friday night main stage events, we're happy to welcome back the annual Idiot's Lantern Sketch Show on our main stage. Please join us as we explore the comical side of Doctor Who and fandom through a number of different sketches and styles.
The Big Fat Timey Wimey Doctor Who Quiz of the Year – It's TIME to put on your thinking caps! Are you ready to put your knowledge of Doctor Who to the test? Join us for a fun, action-packed, and interactive take on the average "pub quiz". This quiz will test your knowledge of Classic and New Who, and beyond. Come out on top, and you and your team of 4-6 people will win prizes and bragging rights. Don't have a team? We can help match you up with other players to complement your expertise! Everyone who takes part will get an exclusive event ribbon to add to your collection; stick around after the quiz and mingle with other players! Brought to you by the Real Time Lords of Orange County, Allons-y! Los Angeles, Mile High Who, The Order of Gallifrey, Doctor Who Fans Unite Texas, and The Time Meddlers of Los Angeles.
This or That – Star Wars or Star Trek? The Beatles or the Stones? Get to know two of our guests on a new level as Kim Rogers and Sage Young of Head Over Feels bring their popular interview panel to Gallifrey One to administer the ultimate personality test to Camille Coduri and Jemma Redgrave.
The Expanse – Producer Naren Shankar and actor Cas Anvar answer questions on Saturday afternoon about the popular SyFy Channel science fiction series.
Greatest Shows – We're going to take an in-depth look at the DVD releases of the Sylvester McCoy era with Mark Ayres and Steve Roberts, discussing the episode transfers, the additional footage, the special features and much more.
Making a Monster: The Science of Creative Design – A scientist, an artist and the audience team up to discuss scientific accuracy in film and TV and then create plausible (yet often hilarious) aliens…
Stories from the American Trenches – While researching the new book Red White and Who, the comprehensive history of Doctor Who in America, the writers and their friends uncovered some fascinating stories about its broadcasts, its fandom and how America shaped the show's ultimate history. Come hear all about them!
Wendy Padbury: 50 Years of Doctor Who – 1968 marks actress Wendy Padbury's fiftieth anniversary as a part of the Doctor Who mythos. Who better to talk to her about those fifty magical years than her friend Frazer Hines? This will be a reminiscence to remember!
John Nathan-Turner and the Happiness Patrol – Andrew Cartmel, Stephen Wyatt, Philip Martin and Rona Munro talk about their experiences writing for Doctor Who during the 1980s and their memories of working with John Nathan-Turner.
The Making of a Big Finish Audio – We dig deep into the making of Big Finish audio serials from inception to release and uncover the secrets of making modern Doctor Who for the listening audience, featuring people who have been involved in many stages of production: Jason Haigh-Ellery, Sue Cowley, Lisa Bowerman, Karen Parks, John Dorney and Matt Fitton.
Would I Lie To You? – A lively Gallifrey One version of the popular UK game show where contestants have to bluff about their deepest secrets…the opposing team have to find out which ones are true.
Memories of Sydney Newman – Writer Graeme Burk is joined by Dick Fiddy and Alyssa Franke to talk about the legacy of one of Doctor Who's most important forefathers.
Doctor Who Am I – Documentary filmmaker Vanessa Yuille follows friend and cohort Matthew Jacobs, writer of the 1996 Doctor Who TV Movie, as he travels into a passionate fandom that'd castigated his script 20 years earlier. The journey not only becomes both hilarious and emotionally perilous for the duo but also reveals a touching and quirky portrait of the American Doctor Who fan. The film was partly shot at Gallifrey One in the past; come see the private test preview of their work-in-progress exclusively at this year's convention.
The Cornell Collective – Paul Cornell hosts another edition of his late night (Friday 11pm) raucous, 18-rated talk show about all things Who.
Everybody Loves Puppets! – It's true, they do… and we do too! Alisa Stern brings her popular Doctor Puppet web series to Gallifrey One for the first time on Friday morning, and of course we're once again featuring Mike Horner's very popular Timey Wimey Puppet Show on Saturday morning.
Titan Comics – The official Doctor Who comics publishers will be back this year, not only in the Dealers Room but also on our main stage late Saturday afternoon, talking about the latest news and developments. Chris Thompson from Titan hosts.
Time and Relative Blank in Space – Comedian Joseph Scrimshaw hosts a fast, fun, and absurd quiz show about our beloved Doctor Who television program, Saturday evening before the Masquerade.
Reality Bomb – The world's "most dangerous Doctor Who podcast" returns to Gallifrey One! The podcast Doctor Who Magazine calls "A show with aspirations towards the quality of National Public Radio" is hosting a live variety show filled interviews with special guests! music! comedy! trivia! and much much more, on Saturday night.
Verity! Podcast's "In Defense Of" – In this diabolical combination of "Just a Minute" and passionate fan opinion, volunteer panelists pulled from the audience will have 60 seconds to defend a topic, position, or character with the utmost positivity. Sound easy? Take your chances at this hilarious panel. Hosted by Deborah Stanish, Erika Ensign, Katrina Griffiths and L.M. Myles.
Arne Starr's Inside the Sci-Fi Universe – Arne Starr presents his annual look at the best of science fiction film trailers for current and future releases in a cinema near you!
Do You Believe In Ghosts? – Michael Kouri's very popular paranormal panel discussion returns to Gallifrey One again, and this year it's on Friday afternoon in a larger room (as it's always filled up to capacity in the past!)
Fan Video Happy Hour – YouTube has an endless array of fan-made music videos for every 'ship and character in the Doctor Who Universe. Join us for a showcase of the best Doctor Who fan videos on the internet. Bring your evening cocktails and come feel all the feels. You'll never listen to "A Whole New World" the same way again.
Karaoke Every Night – As we've done the past few years, we once again present no less than three nights of karaoke… join us for lots of fun that's been known to go all night long (dawn patrol, watch out!) Karaoke will take place in Program C all three nights, starting Thursday and Friday nights at 9:30pm, and Saturday night immediately after the Masquerade is over.
Is It Meglos – David Howe presents his Doctor Who quiz game "Is It Meglos?" on Sunday… join David for some fast-paced quiz fun!
"The Game of Rassilon" Returns – It's Dungeons & Dragons, but a little more timey-wimey… we've again gathered five very funny people to play the game for your amusement on Friday evening at 8:30pm! What misadventure will the Doctor and his (or her!) companions find themselves in this time, and how will they get out? It all depends on the dice…
Time And Relative Blank In Space: A Doctor Who Comedy Quiz – Comedian Joseph Scrimshaw hosts a fast, fun, and absurd quiz show about our beloved Doctor Who television program, featuring Paul Cornell, Christopher Jones and Riley Silverman.
The Year in Review: 2017 – Gallifrey One's annual event that finishes off the weekend, just before Closing Ceremonies: a look back at the last year of Doctor Who in the television press, with stuff from the UK never seen by most American fans – interviews, features and those special moments you won't want to miss.
The Science of Doctor Who: Seeing Beyond the Ordinary, Creating the Extraordinary – The third annual installment of our special workshop event for kids and teens and their families! It's a special event Saturday afternoon featuring convention safe and totally unconventional science experiments for the Doctor & Companion to blend every day science with the magic of Doctor Who. Sign-ups begin on January 20!
Meet-Ups – Program F will be full all weekend with meetups for clubs, organizations, podcasts, fan groups and more! We're mostly full now, but if your organization still would like one of the few time slots available, contact us.
Big Finish Talkback – An annual event with executive producer Jason Haigh-Ellery along with Matt Fitton and John Dorney, on Sunday; it's your chance to ask questions and provide feedback on the current slate of Doctor Who and other audio productions from Big Finish.
Eric Hoffman Presents – A 29-year old tradition at Gallifrey One, our own tribute master presents two video events at this year's convention, looking back at the bygone eras of early classic Doctor Who.
Dealers Room & Autograph Alley – Gallifrey One's Dealers Room is our cavalcade of the best Doctor Who and science fiction & fantasy merchandise, featuring over 35 dealers (including several of our sponsors) and many of our additional guests with their own tables; we've also added several additional dealers this year to our lineup including The Who Shop UK, Geeky Teas & Games, Reeltime Pictures, BBV/Bill Baggs, ATB Publishing/Red White & Who and more! Sponsor autographs will take place at the sponsors' tables; meanwhile, our non-sponsored guests and many local pros will have autograph sessions announced in our program at specified times (to be announced).
Art Show & Auction – Come and be dazzled by the best of Doctor Who, science fiction and fantasy illustration and creativity in the 29th annual Gallifrey One Art Show! The Art Show will be open on Friday and Saturday all day long for browsing and bidding on art pieces. Then on Sunday at 10:30am, we present the Art Show Auction, with pieces that have achieved a certain number of bids up for auction.
Kaffeeklatsches – Once again, Gallifrey One is pleased to present these intimate sessions with one or more guests and up to 12 participants, chatting over coffee about their work and their latest projects. From Doctor Who writers and production staff to science fiction legends and more, the Kaffeeklatsch sessions are hugely popular and many fill up early. Early sign-ups will take place exclusively online this year and will open shortly before the convention; keep an eye on this website for details. Sessions that don't fill up will be open again for sign-ups on Friday morning at 10am at the Kaffeeklatsch Desk, located right next to Member Services and next to the elevators on the convention floor.
Photo Studio – All weekend our Photo Studio will be open for photo ops with many of our guests. Photo op sales are now open at the Convention Photo Shoots website, and photo ops will also be available for purchase on site. (Note: we are still working on pre-sales with a few guests so keep checking the website for details.)
Gaming – Join us for board gaming, card games and other special gaming fun in our Gaming Suite, now located on the convention floor. The gaming schedule will be posted on the website soon.
Children's Programming – Our Children's Programming room features arts and crafts for youngsters, all in the spirit of Doctor Who fun – and parents are welcome too! We'll preview all the fun you can expect out of Children's Programming next week!
Video Room – Our annual video room will be back again and running all weekend (from 9am each day until late!)
TARDIS Photo Area – We are very happy to welcome back Tara Carstensen and her TARDIS for this year's convention. While our own TARDIS is on our main stage, stop by the TARDIS lounge to pose for and snap photos, in costume or street clothes. The TARDIS Lounge this year is once again inside the Dealers Room, and will again be accessible only during Dealers Room hours.
Costume Repair & Cosplay Backdrops – Once again, our cosplay backdrops will be located in the hallways and other areas (identified on the convention floor map in your program) for you to take your own photos. Also, if you're one of our many cosplayers, we have a costume repair station/workshop area outside the rear door to the Dealers Room.
Girl Scout Cookies! – Gallifrey One is happy to support the local community as we welcome back the Girl Scouts of Greater Los Angeles, who will have a table in our Dealers Room to sell these delectable treats to our attendees. Show your support for a good cause!
Additional Social Events at Gallifrey One 2018 – Gallifrey One is a huge social event spanning Doctor Who fandom across the country and around the world. Besides all of the events we have planned, there are many others: before the con starts, there's the annual In N' Out Burger Run; then, after things get started, you'll find lively gatherings in the newly refurbished Marriott lobby (which some folks still call 'Lobbycon'), meet-ups for cosplayers and organizations, and the Torchwood 4 Cabal's annual Friday night cocktail party in the rooms next to our Hospitality Suite (and this party is truly the stuff of legends!)
The complete Gallifrey One Schedule of Events with event times & locations, meet-ups, photo ops and more will be released very soon so stay tuned!