Today, Saturday January 20, we have Science Workshops and T-Shirt Pre-Orders on sale… plus reminders about our receptions, a new Diamond Pass, autograph presales and more. Read on…
Science of Doctor Who Workshops For Children/Families
UPDATE: Gallifrey One's "Science of Doctor Who Workshop" is now FULL for both sessions. If you were unable to sign up, please see the Member Services Desk at the convention to check if there are any last minute cancellations. Meanwhile, everyone who did sign up will get a confirmation email from us very soon with full details!
Gallifrey One's incredibly popular science workshops for children (and their parents) is making a return at this year's convention! "The Science of Doctor Who: Third Semester — Seeing Beyond the Ordinary, Creating the Extraordinary" will take place in two installments on Saturday afternoon, once again hosted by Lindsay Henderson. This special event is specifically for kids and tweens and their families, and features convention-safe and totally unconventional science experiments "for the Doctor & Companion" to blend every day science with the magic of Doctor Who – with some amazing projects to be announced! The workshops were a huge hit the past two years and we're thrilled to bring them back this year. Both are on Saturday February 17 in Program E; Session A takes place at 4:00pm (to 5:30pm), and Session B is at 6:00pm (to 7:30pm).
Sign-up are be limited to teams of two only: one adult 18 or over and one child age 6-15, both of whom have tickets to the convention. (If your family has two children, each child must have a dedicated parent per session.) In order to make certain we have enough materials for everyone, there will be a nominal charge of $5 per child only (no charge to the adult). (Please note: Session B will be at the same time as the Murray Gold show.)
Your reservation will be specifically for that session and cannot be changed as sessions are filled in advance. (Unfortunately, our full convention schedule will not be available until the following week, so please plan ahead.) Should the workshops not fill up ahead of time this year, additional sign-ups would be available when Member Services opens the Friday morning of the convention.
Please note: Session B will take place at the same time as the Murray Gold concert show. As we cannot seat everyone at the convention at the concert, Session B is a good way to avoid the crowding!
T-Shirt Pre-Orders
Pre-orders for the Gallifrey One 2018 Convention T-Shirt begin today as well!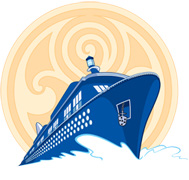 Gallifrey One T-shirts are very popular and tie into the year's theme, and as we noted before, that the back-of-shirt design is — by popular demand — the incredible TARDIS ship/Gallifrey seal sunset design created by artist Christopher Jones to be part of the Gallifrey One 2018 convention logo (a thumbnail of which is at right)! We will once again be selling T-shirts for pre-sale at the same costs as last year:
$17.00 per shirt for small, medium, large, XL
$19.00 per shirt for 2XL, 3XL, 4XL
Convention T-shirts can be picked up at the Gallifrey One convention sales table, immediately next to the convention registration desk, beginning early Friday afternoon and running during daytime hours until the table closes late Sunday afternoon. All pre-sold T-shirts MUST be picked up in person; if you cannot make it to pick up your shirt, please send someone who is attending the convention to pick it up for you (a printed email will suffice.) The convention sales table will also sell a limited number of T-shirts on site as well, while supplies last (until only pre-sold shirts are still left.) We therefore encourage you to pre-order if you would like a shirt this year. (Please note: there will be no shirts larger than 4X this year.)
Click Here to Pre-Order Gallifrey One 2018 T-Shirts
Reminder: Guest Receptions & Diamond Passes Now Available
We still have our Evening Guest Receptions on sale, as well as the TARDIS Tag (which includes private meet & greet events, autographs and much more). In addition, a new Diamond Pass for Jemma Redgrave has been added to the store, with the others (Steven Moffat, David Bradley, Matt Lucas) also still available. Click on the link below for more details or to purchase options.
Click Here for TARDIS Tags, Diamond Passes & Receptions