Two weeks and counting to The 29 Voyages of Gallifrey One and we have plenty to share today, plus a few important reminders… read on!
First… An Important Message about Marriott Hotel Reservations
Gallifrey One has been made aware of a situation in which an attendee of our event has been acquiring blocks of hotel room reservations for our weekend, then reselling them to friends and acquaintances at a substantial profit. Please note that any reselling of hotel rooms or acting as a non-licensed third party broker for accommodations is a serious violation of Marriott hotel policy, as well as a violation of our agreement with the Marriott LAX, and could subject the reseller to significant legal action. Gallifrey One is working closely with our partners at the Marriott on this particular situation, and we would be very interested in hearing from you if you have experienced this with our host hotel; if so, we encourage you to contact us.
We strongly encourage anyone wanting to stay at our host hotel to please book directly with the hotel or a reputable booking agency and not rely upon anyone offering to intermediate for you, as this may jeopardize your reservation. Thanks for your attention.
Final Attendee Database Online
The online database on our Attendee Search page is now available with ALL transfers processed for the 2018 convention… in other words, it's the database we are using for convention registration starting Thursday February 15.
If you submitted a transfer but it does not show up on this list, or if you bought tickets but do not see your name on the registrant list, please contact us immediately. We encourage you to include your purchase receipt or transfer email receipt to save time.
​Kaffeeklatsch Online Registration CLOSED
Online registration for our Kaffeeklatsch events took place on February 3 and are now CLOSED. The Kaffeeklatsches page at that link has a full list of participants who registered online and made the cut.
The Kaffeeklatsches desk at Gallifrey One will open on Friday morning, February 16 at 10:00am. At that time, starting with the first customer in line, we will sign people up for any remaining slots… both first-time sign-ups as well as second sign-ups for those who have already been assigned to one.
T-shirt Pre-Orders Close End of Today
As a reminder, pre-orders for the Gallifrey One 2018 convention T-shirt close at the end of the day today (6:00PM Pacific time). The shirts this year are navy blue and feature a large version of the TARDIS ship/Gallifrey Seal sun incorporated into the convention logo, designed by artist Christopher Jones. You can click here to pre-order a shirt and pick it up at Convention Registration after you pick up your badge or any time during the weekend before Sunday afternoon.
Update: T-shirt pre-orders are now closed. We will have a supply of shirts for sale at the convention, although please note that on-site sales of shirts usually don't last very long (at least, the popular sizes) so you'll want to pick one up early in the weekend.
Masquerade Participant Update
We have a couple of very important updates for people wanting to participate in our 2018 Masquerade of Mandragora costume show on Saturday night. Please note these apply onto to attendees who will be part of the show itself (as entrants/presenters of their costumes) and not members of the audience:
This year's Masquerade Registration Desk will be only be open for entrants to sign up on Friday. All participants must register by the close of the Desk on that day. The Masquerade Desk will be in the same place as last year: at the head of the Exhibitor Table Hallway near Member Services.
A mandatory Masquerade Participants Meeting will take place this year on

Saturday

at 10:00am

in Program F.
We have made a big change this year to Workmanship Judging (the examination of costumes/props by the judges, inspecting construction & detail work) which will now take place on Saturday from 11:00am to 12:30pm on the Convention Center Patio. Because this is in a public area, we encourage entrants

not

to wear their competition costumes for this process. (This is ONLY the behind-the-scenes up-close inspection being time shifted; it has no impact on the Masquerade event itself.)
We strongly encourage all entrants to check out the Masquerade page here on our website, which has further information about the big change to workmanship judging, as well as other rules and regulations. That page also now has a Masquerade Entrants Form to download (PDF), which you can fill out and bring with you to the convention, or simply fill one out at the Masquerade Desk on Friday.
Reminder: Charity Auction Donations Welcome!
We need YOU! Donations of goods to be auctioned at our 2018 Bob May Memorial Charity Auction are very welcome. We rely upon much-needed donations from our attendees to fill the auction with worthwhile material to be bid upon.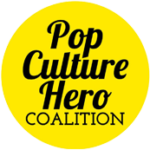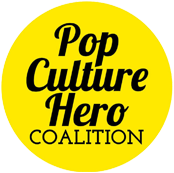 This year, as we've reported, our 2018 charity is the Pop Culture Hero Coalition. Founded in 2013, the Pop Culture Hero Coalition is the first-ever 501(c)(3) non-profit organization to use stories from TV, film & comics to make a stand for real-life heroism over bullying, racism, misogyny, LGBTQ-bullying, cyber-bullying, and other forms of hate. The PCHC works to educate and support children, teens and adults to overcome bullying and social injustice, and to transform their struggles into strengths, using stories and characters from pop culture TV, film, and comics. They "create, promote and foster a culture free from the injustice of bullying, cyberbullying, hate crimes, and inequality based on gender, race, religion, socioeconomic status, sexual identity or preference, physical disability, mental disability, learning disability, or any other perceived vulnerability."
Your donations are very much appreciated, as is your attendance at our Sunday auction!
How/where do I donate items for auction? Easy… bring your contributions to the Auction Donation Center, which is located behind Member Services, at the first door on your left in the Exhibitor Table Hallway. The Auction Donation Center will be open all day Friday & Saturday for contributions.
What are we looking for? In short: donations of science fiction, fantasy, comics, horror or genre related material, most especially Doctor Who and its spinoffs. This includes items from many different genres: a few examples include Torchwood, Star Wars, Star Trek, Harry Potter, Hitchhiker's Guide to the Galaxy, Supernatural, Game of Thrones, The Expanse, Stranger Things, Westworld, The Prisoner, Blake's 7, Outlander Buffy, Angel, Firefly, Stargate, Battlestar Galactica, Caprica, Red Dwarf and the myriad comics-related TV shows and films; as well as anything related to science fiction film and television, SF/fantasy literature, comic books, or collectibles. Anything that has a tangential relationship to the SF/fantasy/horror genre which is in at least very good condition. Autographed photos, commemorative items, one-time prints, illustrations, etc. are also welcome. If you find it to be a valuable collectible, chances are good that others will, too. Just be sure: this is not a disposal service for items you wish to throw away!
Recent Schedule Updates
Since our online schedule went live over a week ago, we've made numerous updates to it. Some of the highlights of the schedule updates have included the following:
Photo Ops have been added throughout the weekend.
Events have been added related to our primary guest sponsors, Showmasters Events, including: designated autograph times for all seven of their guests (Moffat, McCoy, Aldred, Coduri, Redgrave, Bradley and Lucas), and Diamond Pass and TARDIS Tag private meet & greet events.
Our complete Gaming and Children's Programming schedules have been added
Many additional meet-ups and social events have been added, including additional "ribbon exchange" events and multiple cosplay gatherings; please note that many of these events take place on the convention center patio, the hotel lobby or on the first floor poolside.
Additional program participants have been added to selected panels, and a few items have shifted times/locations.
The online schedule will be kept fully updated up to and even during the convention. We will once again have a "Changes Since Program Book" filter available to note anything that differs from the schedule in your convention Program Book (given to all attendees when picking up your badge).
Speaking of which… remember that the filters are a great way to make the online schedule more manageable. Use the Filter By Type option (the color-coded categories) to select a particular type of program event you're interested in. Or use the Filter By Venue drop-down… you can, for example, filter by venue and select "Program A" for only the events happening all weekend on our main stage.
Navigating Gallifrey One 2018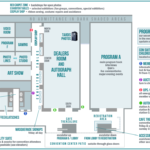 For those of you who have been with us in the past, please note that this year's convention will take place in nearly the exact same configuration as in 2017. For those that were not, or for interested parties, we're happy to feature our 2018 Convention Map; click on the thumbnail at right for a larger version.
The Convention Floor is the lowest level of the LAX Marriott. As of Friday morning, if you do not have your badge, please use the escalators — NOT the elevators — to reach the convention floor; you will not be able to get to the badge pick-up area using the elevator**. The down escalator from the lobby level will take you right to our Registration Desk, where you will pick up your badge(s) and program booklet. (For those joining us for early check-in on Thursday, the elevators are fine.) Picking up your badge is the first thing a ticketholder will do; your badge gets you into the convention proper.
** Exception: disabled attendees who have yet to pick up their badge may use the elevator to reach the convention floor; our Accessibility Services team will walk you from the elevator area to Convention Registration.
The following is a quick guide to where you'll find everything:
Convention Floor (Lower Level): Program Rooms A, C, D, E and F; Dealers Room; Art Show; Gaming Lounge; Video Room; Photo Studio; Exhibitor Tables; Kaffeeklatsch Room; and Auction Donation Center. The convention floor is also the location of our Registration, Member Services, Accessibility Services and T-Shirt Sales desks, as well as the "Cafe Trenzalore" food service counter (open 11am-6pm Friday & Saturday, 11am-2pm Sunday).
The Convention Floor Patio is on the convention floor, outside the large glass doors in the main foyer. Some social events, meet-ups and Masquerade workmanship judging will take place out here.
First Floor: Hospitality Suite ("Con Suite"); Children's Programming. The Torchwood Cabal party on Friday night (18+) is also located in one of the suites on the first floor. Additionally, some meet-ups/socials on the program will meet on this floor outside near the pool. You can reach the First Floor by elevator, or stairs down from the lobby level; however, please note that the escalators bypass this level.
Lobby Level (Second Floor): Program Room B, the door to which is in the northeast corner of the lobby area; as well as Marriott hotel registration/concierge, Starbucks, Hangar 18 Bar & Grille and JW's Steakhouse. This is the main entry level to the hotel from Century Blvd.
The 16th Floor is the location of the Concierge Lounge, immediately to your left as you exit the elevator lobby. Gallifrey One uses the 16th Floor Concierge Lounge for our Evening Guest Receptions as well as the sponsored meet-and-greet events (Diamond Pass and TARDIS Tag events).
You should have your convention badge on you at all times. A convention badge is required to access the convention floor (including the convention center patio); the hospitality suite and children's programming on the first floor; Program B on the lobby level; and the 16th floor Concierge Lounge.
A Few More Updates…
We've had numerous questions come up on our Facebook 2018 event page (click here); for those of you who aren't following that page, here are a few things from recent convention posts:
Evening Reception attire: We've spoken to the sponsors of the events and they're OK with people wearing costumes, provided that they are of general costume attire. So no masks or large headpieces, no prosthetics or large props, and don't come as a Dalek or a large monster, and you'll be fine!
Green Screen Photo Ops: For those wondering about these photo ops on our schedule… The "Two TARDIS" green screen photo op is you with "a shot of the two different TARDIS exteriors in the snow at the South Pole. It will be done with green screen so you will appear with the TARDISes in the background." The other, the "console green screen" shot, is you in the TARDIS with the console & console room from Series Ten behind you. These and all of our other photo ops are available on the pre-order page
Photo Op/Reception/Pass Purchase: All remaining scheduled photo ops (including the "Greatest Show in the Galaxy" cast photo op) have been included on the pre-order page… also, pre-orders are available for the evening receptions (several are very close to sell-out!), TARDIS Tags & Diamond Passes.
Is It Meglos? Contestant slots for David J Howe's "Is It Meglos?" game show are now full.
More coming soon!