One week and counting! Next Thursday, The 29 Voyages of Gallifrey One will begin as we open convention registration (for badge pickup) and officially get the party started with our 8:00pm "Bon Voyage (of the Damned)" Launch Party. It's an evening you won't want to miss… an ice cream social, mixer with both attendees and guests, and even dancing (which starts a bit later into the party). And that's just before the festivities begin Friday morning.
In the meanwhile, we have some late breaking updates to share…
Weather Outlook for Gallifrey One 2018
Not to jinx anything but… can you say beautiful?! Los Angeles is currently experiencing an extended warm/dry spell and the weather services are currently reporting that the outlook for the entirety of this year's convention is sunny, warm, no precipitation, highs in the mid 70s Fahrenheit with lows overnight in the mid 50s. (For you Celsius folks, highs in mid 20s, lows in low 10s). This should come as a nice change to those of you flying in from out of town!
Late Breaking Guest News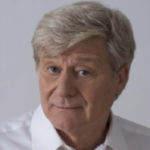 Courtesy our friends at Showmasters Events, we're happy to announce that actor MARTIN JARVIS will finally be coming to Gallifrey One this month! Previously confirmed at our 2015 event (but unfortunately having to withdraw due to a family illness), Mr. Jarvis is best known to Doctor Who fans from his appearance as the Governor in "Vengeance on Varos" and previous appearances in "Invasion of the Dinosaurs" and "The Web Planet," as well as his starring role as Nigel Rochester in the Big Finish audio "Jubilee," and for his extensive film & television work both as an actor and voiceover artist. Mr. Jarvis will be at Gallifrey One 2018 on Friday and will be signing autographs at the Showmasters tables in the Dealers Room, as well as a photo op in the afternoon; he will also appear at the Friday 6:30pm Evening Guest Reception exclusively (tickets are still available!) For those with TARDIS Tags, he is included in that package. Photo op pre-sales and tickets to the evening reception for Mr. Jarvis are available on the Convention Photo Shoots website.
Important: Double-Check Your Registration Status!
We encourage everyone planning to attend The 29 Voyages of Gallifrey One to ensure that your name features on our Attendee Search page, which was last updated on February 2 with our final pre-convention updates. If there is an error, such as a transfer that did not go through, please contact us (and be prepared with copies of your transfer email confirmation and other data so we can check it against our records.)
Please remember that THERE WILL BE NO TICKETS AVAILABLE AT THE DOOR and we will not give badges to anyone who is not on our registration list.
Remember also that we do not issue paper tickets. "Tickets" is the term we use for people who have passes to attend the convention; each ticket holder will check in at our convention registration desk and receive a badge – which you must wear at all times – as your credentials to enter the convention areas and enjoy the event. As a reminder, attendees can pick up their badges at any time Registration is open throughout the weekend: 3pm-6pm and 8pm-10pm Thursday, 9am-7pm Friday and Saturday, 9am-1pm Sunday. Please be prepared to show ID.
Also, you must remember to use the ESCALATORS if you have not yet checked in at the convention and picked up your badge. The down escalator can be accessed from the Marriott hotel lobby level, next to the outer doors closest to hotel registration. Starting Friday morning, the convention is secured, and there is a badge check at the elevators on the convention floor. If you do not have your badge and come down via elevator, you will be turned back to the hotel lobby level. (Our only exception to this rule: attendees with mobility/disability issues; the attendant at the elevator lobby badge check-in will have you escorted to Accessibility Services, who will assist you further.)
Finally, our facility does reserve the right to turn away people who do not have convention badges or reserved hotel rooms, including the hotel lobby and public areas, due to maximum capacity issues at any time. (We encourage those without tickets NOT to come to the Marriott during our weekend; you have been warned.)
Flu Season Reminder
Everyone should be aware that we are in the middle of a very nasty flu season… one that the CDC hasn't determined whether it's even peaked or not. We're asking all Gallifrey One attendees to please be prepared for flu season, and to be mindful of everyone attending this year's convention, by remembering the following:
Please be sure to wash your hands as often as possible and use hand sanitizer regularly
Getting a flu shot is highly recommended by the Centers for Disease Control
Please make certain to cover your mouth when you cough or sneeze, especially when you are around other people
Most importantly, if you get sick, please consider staying home, so as not to infect others
Gallifrey One, like any convention or large gathering, is a lot of people from all over the US as well as from over a dozen other countries, in a very small and relatively confined space. While we're very welcoming to everyone, we do encourage people to consider the health and well being of all of their fellow attendees when considering their options for attending this year… the convention appreciates it, your fellow attendees appreciate it, and we're sure the Doctor would too!
Reception/Photo Op Reminders
Although one of the five Evening Guest Receptions has sold out, there are still limited tickets available for the other four. (As stated above, Martin Jarvis will be attending the very first one on Friday evening and that reception has very few tickets left.) You can purchase tickets to the receptions at the Convention Photo Shoots EventBrite page.
Also still on sale are photo ops (at the same link). If you're interested in photos with guests or some of the "green screen" photo ops, save yourself some time and purchase in advance!
Dealers Room Update
Our Dealers Room is completely sold out this year! From Doctor Who licensed vendors to jewelry and handcrafted items, books, games, comics, collectables, costumes and prop replicas, guests with their own tables and much more… the Dealers Room is included in your admission and will be open Friday from 11:00am – 6:30pm, Saturday 10:00am – 6:30pm, and Sunday 10:00am to the late afternoon. Our Dealers Room is anchored in four corners by Showmasters Events, Alien Entertainment and The Who Shop UK, three major Doctor Who retailers; the fourth corner is our Autograph Alley and features Tara Carstensen's life-size TARDIS available for photo ops!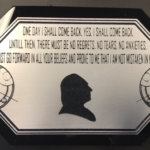 As an example of the many fine things you'll be able to buy in our Dealers Room this year is a special Gallifrey One Exclusive item, a joint production of Rubbertoe Replicas and Showmasters events: the plaque you can see by clicking on the image at left. They're limited to 100 items only and are available at both tables (and is great for getting autographed!) We also previously showed you Titan Comics' Twelfth Doctor comic with an exclusive Gallifrey One cover illustration. All the latest Doctor Who books, magazines and toys will be on hand to purchase.
We're also happy to announce that two of our long-time dealers of spinoff merchandise, Bill Baggs' BBV Productions and Keith Barnfather's Reeltime Pictures, are both back this year after an absence; and ATB Publishing's amazing new book Red White and Who: The Story of Doctor Who in America will be on sale at their own table. You will also want to seek out some of our wonderful guests in the Dealers Room… Frazer Hines, Jessica Martin, Christopher Jones, Andrew Cartmel and Blair Shedd, to name just a few. And don't forget to visit the very back of the room, where illustrator Chris Achilleos will be displaying many of his legendary Doctor Who cover illustrations!
One last thing: comic book artist Blair Shedd, who will be in our Dealers Room all weekend, is offering a limited number of pre-show commissions; you can email him for more info! (Here's a small sample of Blair's magnificent work at right; click for a larger version.)
Schedule Updates
As a reminder, we're keeping the Gallifrey One 2018 Online Schedule updated with changes as they happen… we will keep the schedule up to date throughout the weekend as well.
Also, since our 2018 convention Program Book has already gone to press, we've added the new filter "Changes/Additions Since Program Book". This was a tremendously successful filter that we first used last year… it consolidates everything that has changed since the book was printed into an easily readable form. So far, the only change since we sent the booklet to the printers is the addition of Martin Jarvis (see above) including his autographs & photo op.
Parking Update
Parking for Gallifrey One can often be problematic and expensive, especially for those attending on Saturday only. Be prepared… we have a Directions & Parking page here on our website that is updated with all the latest information, including parking for day-trippers as well as overnight guests.
We do strongly encourage you to use taxis, Uber or Lyft if at all possible… you'll save money and avoid headaches!
Food Service Update
We have a slight change to the food services at the Marriott we announced taking place during the convention:
The Cafe Trenzalore food service counter on the convention floor, which serves prepackaged cold sandwiches and salads, will be open slightly longer on Friday and Saturday: 11:00am to 7:00pm both days. Also, for the first time, this year Cafe Trenzalore will be open on Sunday, from 11:00am to 2:00pm. Cafe Trenzalore will be serving Caesar Salad, regular or with chicken; turkey and tuna sandwiches; vegetarian wraps; kettle chips; whole fruit; fruit juices; bottled water and assorted sodas.
Meanwhile, we've made arrangements for two food trucks per day, which will be parked right next to the downstairs Convention Center Patio. The two food trucks each day will serve from 1:00pm to 6:30pm on Friday and Saturday and includes the following:
Friday: "Green Truck," featuring Kale Yeah Bowl or Wrap; Super-Food Salad Bowl or Wrap; Southwest Chicken Wrap; Paleo Bowl; Sweet Potato Rounds
Friday: "Brew Wings," featuring Signature Chicken Wings with veggies; Signature Chicken Wings and Waffles; Kickin Chicken Sandwich with Tater Tots; Grilled Cheese with Tater Tots
Saturday: "Pink Taco" with two tacos in tortilla or lettuce wrap; Burrito bowl with 3 bean salad and protein options (chicken, shrimp, cauliflower al pastor, or sweet potato); chips & salsa; cilantro rice and bean salad
Saturday: "Okamoto Kitchen" with Miso Salmon Plate; Japan Fried Chicken Plate; Katsu Curry Sandwich; Beef & Rice Bowl; Spicy Tuna Stack; Cheese Mochi Sticks
After speaking with our partners at the Marriott, we realized they would have some trouble keeping a fresh supply of hot food on the convention level without significant delays, so we elected to go with the food truck option this year. It will also provide a great deal more variety of hot food items for Gallifrey One patrons (not to mention freshly prepared) and with the two options per day, they can accommodate vegetarians!
As previously announced, in light of the closure of the Latitudes coffee shop, the new Hangar 18 Bar & Grill on the lobby level will be open all day for meal service, and will include a breakfast buffet Friday through Sunday to compensate; also, J.W.'s Steakhouse will also be open nightly for fine dining (reservations required!) Hangar 18 is open daily during the convention from 6:00am to 1:00am… and the bar, being part of Hangar 18, is open all day.
Also, please remember… there are additional food options nearby! Burger King (just north of the hotel on Airport Blvd.), Carl's Jr (just east on Century) and Denny's Diner (a bit further than Carl's Jr) are all easily walked to in 5-10 minutes. Other hotels adjoining the Marriott have food options, too, including a Jersey Mike's Subs at the Residence Inn; 96th Street Bistro at the Renaissance; multiple options including 24 hour pizza at the LAX Hilton; and more!
Set-Up Help Wanted
Interested in helping out Gallifrey One for a few hours? The convention is just around the corner and we once again are asking for assistance both with our truck loading on Wednesday, and setting up on Thursday. We're looking for able-bodied individuals (with convention tickets; we are not offering admission, sorry!) and maybe that includes you!
First: on Wednesday February 14, we'll be packing up our truck at our two storage units; if you're not working that day and available to help us load, let us know! Then, on Thursday at the Marriott, we can always use assistance unloading the truck after 9:00am… if you're able to help lift some pipes and curtain, want to work with some of the people who help make the con happen (before they lose their minds from lack of sleep!) or just want to pitch in, we can always use the assistance. Also, our Art Show will require some assistance with setup on Thursday afternoon as well. Contact us and let us know and we'll put you in touch with the logistics and set-up team! (Please note: for liability reasons all volunteer help must be age 18 or over; thanks!)
Hospitality Suite
Remember that the Gallifrey One Hospitality Suite (also referred to as the "Con Suite") is on the first floor, accessible via elevator (one flight above the convention center, one floor down from the lobby level), stairs (from the hotel lobby) or via the doors onto the outer deck poolside. Our con suite has snacks and beverages all weekend long, free of charge to any badged attendee (note: badges must be worn), plus plenty of chat and conversation. Don't forget to stop by!
Panel Breaks
As a reminder, Gallifrey One provides breaks in between panel sessions for people to be able to leave the room and new people be able to come in and sit down. Please note that the following will be in effect; our programming coordinators will be ensuring that programs end on time (as much as they possibly can):
For 60 minute (hour) programming and panel blocks, the panels will be 55 minutes long, with a 5 minute break at the end of the hour.
For 45 minute programs (mostly interview sessions), the panels will be 40 minutes long, with a 5 minute break at the end.
For 30 minute programs (of which there is only one), the panel will run the full 30 minutes; this is the one item that will not have a break after.
Any panels or events longer than an hour will be at the discretion of programming operations but will likely have a 5-10 minute break at the end.
Panels that are the last panel of the day prior to a gap in the schedule or a closure of the room will be allowed to run until the very end of the panel block. (Note that this year, Program A will

not

be cleared after daytime programming ends.)
Video/Streaming & Photography Rules
Videotaping is NOT PERMITTED in Gallifrey One program rooms (that is, any of our six main program rooms, noted as Program A/B/C/D/E/F on site). This includes digital recording, live-streaming, Facetime, or other methods of recording events at the convention for playback or any live streaming of any kind… none of these are allowed! Gallifrey One has no contracted retransmission rights with our guests and therefore cannot allow our material to be recorded.
Failure to comply with the policy will result in your immediate ejection from the event, permanently. No exceptions.
Attendees are welcome to use their cameras and smartphones to take photos only.
Photography and videotaping of other activities outside of the six program rooms, including general cosplay, hallway interviews, great moments with your firends, personal photos/video with the TARDIS, etc., are acceptable provided that subjects being videotaped consent to it and provided that it does not disrupt events or the flow of foot traffic. Should any convention guest or staff member request that videotaping of a particular item (such as autograph sessions or photo ops) be discontinued, attendees must comply with this request immediately.
Cameras and camcorders/video recorders are not allowed in the Art Show. Photography of art, model, toy and collectibles displays may be allowed with the permission of the Art Show Coordinator and the artist; contact the Art Show Coordinator for more details.
Please note: we have two specific events this year whose participants have been granted audio recording privileges only: the Radio Free Skaro event on Friday, and the Reality Bomb show on Saturday. In both of these cases, audio recording privileges have been granted solely to the people running these events.
Courtesy Policies and Convention Policy
As a reminder to attendees, Gallifrey One's courtesy policy remains in force throughout the convention. Our courtesy policy includes the following:
Cellphones and other electronic devices must be silenced or turned off while attendees are in our programming and video rooms
Attendees must remain quiet during panels and not speak amongst themselves, except when participating in discussion with or called upon by the panel
Parents with small children who misbehave, cry or become noisy must depart the program roomthey are in immediately
Attendees wearing hats or tall costumes must remove them when sitting in a panel room so the view of other attendees is not blocked
When panel rooms have closed their doors due to hallway noise, attendees are asked to open and close the doors quietly
Attendees (including costumed attendees and attendees inside Daleks or other mechanical objects) immediately outside the doors to a programming room must keep their voices at a reasonable level so as not to disturb the programming
Attendees are asked to respect other attendees by not disrupting or intruding in their private conversations, videotaping/photography sessions, podcasting/recording sessions, or other activities
Additionally, we ask that attendees must respect personal boundaries of each of our guests, and are therefore asked to ensure the following:
Attendees may not monopolize the time of a particular guest, either in an autograph line or in any other setting
Attendees may not approach a guest for an autograph or photo outside of any autograph session or photo studio session
Attendees are asked to practice discretion when approaching a guest in a social setting (i.e. the bar/restaurants), so as to not intrude upon the guest's existing conversations or personal time (including dining)
Of note, Gallifrey One strictly enforces the policy that absolutely no autographs will be given anywhere except on the convention floor. Anyone who approaches a guest for an autograph on the hotel lobby level or other locations, including convention badge-holders and people who do not have a badge, will have their access removed by the convention.
Our guests and their agents & promoters require your cooperation in these matters. And our convention courtesy policy is to make Gallifrey One an enjoyable place for everyone — for our attendees as well as for our invited guests. Most importantly, our courtesy policy in our programming rooms is to maximize your enjoyment, and will be strictly enforced.
Thank you for your anticipated cooperation. Please visit our Convention Policies page for further details on all our policies.
Karaoke House Rules for 2018
Karaoke nights are open to all badged convention attendees throughout the weekend. However… In order to make sure that the maximum number of people get to sing throughout the evening, and avoid any appearance of favoritism, we have a very simple policy regarding karaoke participation:
You

must

be signed up in advance to take the stage and sing at any time, either solo or in a group
You may only be signed up for

ONE

item/song/performance at any time on our list
You may only sign up for another performance

after

you have appeared on stage
There are no exceptions to these rules. We no longer permit audience members to join a performance, either solo or group, without already having been signed up, and your name may only appear on our current and upcoming list once — so no stage rushing, no random joining a song, etc. Once your turn as a participant in ANY karaoke performance is done, you may sign up again.
This policy is enforced entirely so that everyone has a good time and that no one is perceived to appear during karaoke more than any other person. If you have questions, please contact us. Thanks for your cooperation.
Member Services is Here For YOU!
Our Member Services desk is open throughout the weekend to help our attendees: finding panels, autograph sessions or photo ops; claiming lost items (or turning in found items); getting advice on where to eat or how to plan your weekend; and much more. Also, during their business hours, Member Services can also assist you if you run into any problems.
Please remember to visit Member Services if you encounter ANY form of harassment. Our Member Services team will contact the convention's Ombudsperson assigned to help with issues of harassment. If Member Services is closed, a sign will be posted with a phone number you can call to speak with the Ombudsperson.
Member Services will be open on Friday from 9:00am to 7:00pm, Saturday from 9:00am to 7:00pm, and Sunday from 9:00am to 5:00pm, with additional operating hours as deemed prudent by the Member Services team. Member Services may also be open at select times on Thursday (to be announced).
We'll have a few final words in a news post on this website early next week, so STAY TUNED…