Greetings, Gallifrey One attendees and followers! We're back with a post-convention wrap-up, along with details about next year… it's a bit later than we expected, but our program director (who writes these updates) was laid up last week with an injury. Nevertheless, we have lots of details to share about this year's event, and some important information about tickets and plans for 2019. Read on!
29 Voyages: Facts and Figures
The 29 Voyages of Gallifrey One attracted a total of 3,954 people including all our attendees, our guests and their guests, and our staff (and less a few people who couldn't make it at the last minute).
We are also thrilled to announce that we raised a record $19,333 in this year's installment of our annual Bob May Charity Auction for the Pop Culture Hero Coalition… once again breaking our previous fundraising records! On behalf of the Coalition, its founder and our guest Chase Masterson has extended to us, and to all our attendees, her fondest wishes and thanks for making such a fantastic statement on behalf of the Coalition's work with anti-bullying campaigns and helping to impact education curriculum in California and nationwide.
Our program ran very smoothly, other than the one major hiccup on Saturday with the delay of the Murray Gold show (see separate story below). We had only a couple of last minute guest issues (Ricco Ross having to cancel the week of the convention, and Cas Anvar on the day) but otherwise our entire guest complement did a superb job, and we've heard from so many of you already that you enjoyed all of them. We've heard nothing but positive feedback on our panels and events, too, most especially the "Gallifrey Waits No More" panel on Sunday and the Steven Moffat interview Friday, both of which were very popular Twitter topics as they happened!
Feedback: If you'd like to let us know what you think, we welcome your feedback via email.
Pictures: We'd love to see your pictures of the convention! See "Have Photos To Share?" below.
Our Thanks: As always, our convention never happens without tremendous hard work from our staff, all of whom we thank for their support and assistance both before and at the convention. Gallifrey One also wishes to offer our very special thanks to Jason Joiner, Paul Jones, Matt Dale, Derek Maki, Paul Cornell, Stephen Webb, Matthew Campbell, Lindsay Henderson, Erik Engman, Piers Britton, Ken Deep, James Kerwin, Laurence Wreford, Steven Schapansky, Jason Haigh-Ellery, David J Howe, Sam Stone, Chase Masterson, Julian Owen, Bob Mitsch, Mike Horner, Deb Stanish, Tillman Smoot, Sage Young, Kim Rogers, Jennifer Adams Kelley, Giles Golding, Amanda Blackburn, Ben Paddon, Charlie Kirchoff, Graeme Burk, Karen Parks, Steve Roberts, Steven Warren Hill, Eric Hoffman, Daniel Flores, Richard Dinnick and Tony Lee for their assistance with this year's program, guest lineup and schedule.
And of course, we'd like to thank all our amazing guests that joined us this year… Steven Moffat, Sylvester McCoy, Matt Lucas, David Bradley, Jemma Redgrave, Sophie Aldred, Camille Coduri, Brian Minchin, Wendy Padbury, Frazer Hines, Terry Molloy, Lisa Bowerman, Murray Gold, Rona Munro, Martin Jarvis, Andrew Cartmel, Sarah Dollard, Jamie Mathieson, Peter Harness, Rachel Talalay, Lawrence Gough, Wayne Yip, Hayley Nebauer, Lindsey Alford, Jessica Martin, Stephen Wyatt, Philip Martin, Mike Tucker, Mark Ayres, Jenny Colgan, Chris Achilleos, Carrie Henn, Chase Masterson, Dee Sadler, Colin Spaull, Richard Ashton, Robert Shearman, Simon Fraser, George Mann, Cavan Scott, Jon Davey, John Dorney, Matt Fitton, Edward Russell, Gigi Edgley, Rekha Sharma, Todd Haberkorn, Michelle Specht, Peter Anghelides, Hayden Black, Graeme Burk, Cherry Chevapravatdumrong, Paul Cornell, Richard Dinnick, Scott Edgington, Jane Espenson, Dick Fiddy, David Gerrold, Javi Grillo-Marxuach, David J Howe, Jason Haigh-Ellery, Barbara Hambly, Gillian Horvath, Deric Hughes, Marv Wolfman, J.K. Woodward, Christopher Jones, Charlie Kirchoff, Tony Lee, Erin Maher, Kay Reindl, Karl Martin, Sarah Milkovich, Jody Houser, Daniel Keys Moran, Robert Napton, Trina Ray, Larry Nemecek, Steve Roberts, Charlie Ross, Joseph Scrimshaw, Blair Shedd, Anita Sengupta, Naren Shankar, Robert Smith?, Richard Starkings, Arne Starr, Kim Steadman, Sam Stone, Caroline Symcox, Chris Thompson, Sam Watts, David Tipton, Scott Tipton, Brianna & Brit Winner, David Wise, Matthew Jacobs & Vanessa Yuille, Cat Roberts, Nakia Burrise, Michael Forest, Adrienne Wilkinson, Beau Billingslea, Tiffany Brouwer, Amy Rydell, James Kerwin, Lisa Hansell, Ralph Miller, and Chris Doohan.
But most of all, thank you – all of our attendees, our panelists, our cosplayers, our dealers, our exhibitors, our tireless enthusiasts, our volunteers, and our friends – for making this an AMAZING year! We could NOT do this without all of you.
Now, a few important bits of business…
Photo Studio High-Res Photos Now Online!
The high-quality digital photos from our 2018 Photo Studio are now online and available for you to download! Click on the following link to download your photo(s):
Gallifrey One 2018 Photo Studio Photos
To download, find your day and guest/session, and browse through the collection… click the photo you want to download, then Download at top right, and when prompted for a password, use this: BeKind
About the Murray Gold Event…
Although most of the convention this year went off without a hitch, we had one (major) late-breaking change to our schedule: Murray Gold's incredible "Scoring the Doctor" presentation was delayed by 90 minutes for technical reasons. We wanted to say a few words about what happened and how amazing all our attendees can be…
We had been working with our guest for several months while he prepared the presentation he would be giving. Unfortunately, when he arrived at the convention, a slight mix-up (completely on our part, not his) meant that he would not be able to prepare and cue the presentation without the audience seeing bits of it – something that would have ruined a night of surprises. In the meanwhile, Gallifrey One had been advertising the fact that we would not be clearing the main hall before Murray Gold's presentation for two months, and we know so many of you had spent all day in there in the seats you had held.
We decided the best solution would be to empty the auditorium, but in doing so, we would need to promise all of you, our loyal attendees, that the seats you held at 6pm when the show was originally due to start would be your seats for the later performance — purely on the honor system. No mean feat, when emptying out a room seating over 1500 people!
Doing this would give Murray extra time to rehearse and make sure everything was working, and would allow our tech team to adjust the sound quality as well. Instead of following with an hour's break, we'd immediately roll into the Masquerade.
The reseating could have been a disaster, but the end result was anything but! Our faith in all of you was proven by the fact that the auditorium was re-sat shortly before 7:30 with almost no seating conflicts at all. Our ConOps (UNIT) team did a great job going up and down the line repeatedly making announcements about the seating guarantee, and when everyone entered, it was with minimum fuss and issue, with many people who didn't have seats at 6pm going to the side of the auditorium until the line had entered, and then taking remaining seating. We are so grateful to all of you for your patience and understanding, but especially for your cooperation and good will toward your fellow attendees. The show then went on for almost 90 minutes, before breaking to reset the stage for the Masquerade. (We know some of you wanted it to go on longer, but Mr. Gold had a specific time he wanted to end at.)
Unfortunately, there was one thing we couldn't fix: the 7:30pm evening guest reception could not be changed or delayed due to the schedules of the attending guests. We know a couple people who had seats all day long as well as reception tickets were disappointed by this; we've asked those people to contact us separately.
Everyone who was at the show will likely agree that it was a once-in-a-lifetime event, something that will likely never be seen again, and we're beyond honored that Murray Gold was so keen to do this event and so delightful to deal with. We are grateful to Murray and his family for being with us for that special moment (and are certainly thrilled that Murray then stayed up in the Hangar 18 bar meeting fans well past midnight), and are equally grateful to Tillman Smoot for helping us arrange Murray's visit. This will forever be remembered by us as one of Gallifrey One's best moments, and we hope for you as well.
Important Hotel Information & Updates
Gallifrey One works with the Marriott Los Angeles Airport Hotel in a close partnership, and we deal with problems as they happen. We'd like to make a few important announcements regarding future years:
Remodeling & Restaurants Update: Currently, the Marriott has no plans to remodel the downstairs convention center before next year's convention. They will have their new restaurant, Social Market, online for next year. We know that the lack of the now-closed Latitudes restaurant in the evenings caused a great deal of frustration from our attendees, who were forced to leave the hotel to dine elsewhere (as Hangar 18 and JW's ran well over an hour on wait times both evenings)… something that was avoided during the day with the patio lunch service and the food trucks. This is something we will be working with them on very closely.
Food Trucks: We also know the food trucks were tremendously popular this year, and we've heard from all of you very loudly and clearly that you want them back. Much as we'd love to promise we will have them back, we do have to work with our Marriott partners (as they were provided because of the lack of the extra restaurant) but rest assured it's on our agenda.
The "Reselling" Issue: As we mentioned last month, one of our attendees reserved a large block of rooms for this year, mostly at the regular Marriott "rack rate" (standard rate), and resold them to others while pocketing a "finders fee". We would like to remind our attendees that profiting in any way from the resale of rooms or space in rooms is a violation of Marriott corporate policies per their terms and conditions, which are agreed to by anyone reserving a hotel room in one of their hotels:
"You agree that you will make only legitimate reservations in good faith for use by you and your invited guests only, and not for other purposes, including without limitation, reselling, impermissibly assigning or posting on third party websites, or making speculative, false or fraudulent reservations, or any reservation in anticipation of demand."
Please note that while we have worked with the Marriott to ensure that said individual refunded everything to the people this person attempted to profit from and thereby aid him in avoiding legal action, we have banned him from attending our future conventions. We will cooperate with our host hotel in any matter involving our attendees and our convention under all circumstances, including restricting access to the convention to people who attempt any violations of the hotel policy.
Some Links From This Year
We'd like to share a few important links stemming from this year's convention:
Our 2018 Event Page – this page is being continually updated with user memories and photos
CNN Coverage – reporter Rick Damigella and cameraman Aaron Humphreys from CNN visited the convention on Saturday and filed this report
Whovian Feminism blog – the Whovian Feminism website did a terrific write-up on this year's "Gallifrey Waits No More" panel on Sunday
Radio Free Skaro – includes the RFS live show recorded on Friday morning on our main stage, along with coverage of the convention
Reality Bomb Podcast – includes the live show taped on Saturday evening at the convention
Important Note Regarding Video Recording
We've gotten many requests for video of several of our panels, from both attendees and non-attendees, specifically for the Murray Gold performance and the "Gallifrey Waits No More" panel. These are not available, nor will they be. Retransmission rights — specifically, rights to rebroadcast our guests either in streaming or online video capacity — are a very sticky business, and in one case in the recent past, we had issue with a guest whose panels were being put online who got very angry about it and threatened possible legal action (until he discovered it wasn't us doing it ourselves.) Simply put, our contracts with our guests do not allow us to retransmit/stream panels, not without a significant increase in costs.
Our "no videotaping in program rooms" policy has been in place on our Convention Policies page for several years. Any videotaping of any of the items in our six program rooms is grounds for immediate termination from the convention and a ban on future attendance. The retransmission issue is exactly the reason for this. Other conventions allow this to be done at their own peril, and is their business, not ours. And please note: ignorance of the policy does not exempt anyone from being bound by it; all convention attendees agree to follow the rules on our Convention Policies page when purchasing a ticket.
Furthermore, the convention itself does not record our panels. The cameras and display screen in Program A is for visual aid only. We don't take video recordings.
The only exception to this rule above is the audio recording of select podcast events (i.e. the Radio Free Skaro and Reality Bomb podcast shows); in those cases, they're audio recordings agreed to ahead of time and done specifically to be podcast recordings of live shows. We also do occasionally allow special events to make video recordings; this has included our "Idiot's Lantern" show and this year's Velveteen Band performance, because they specifically include content created by these performers.
We know this can be somewhat frustrating to some people, especially when so many people want to see these panels over and over again and share them with their friends… but Gallifrey One is also quite steadfast in our belief that the act of being in the room watching our panels is one of the many reasons why our convention is very special, and to be perfectly fair, our convention events are for those who actually attend the convention.
Have Photos to Share?
One of the things we'd like to do over the next few months is complete our photo album, which we've let slide (mostly because everyone shares their own photos on Twitter or Instagram, or on each year's Facebook event page). In addition to completing our 29 Voyages album, we'll be doing the same for years 23, 25, 26, 27 and 28. If you have photos that you would like to include, let us know via email.
Please note: we are mostly interested in good, high-quality photos of our guests, our discussion panels, and amazing cosplay; at this time we are not looking for photos of individual attendees posing with guests. Thanks!
And Now… Onward to 2019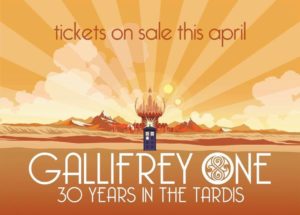 Gallifrey One Conventions is delighted to announce the next chapter in our ongoing saga… our 30th anniversary event!
Gallifrey One: 30 Years in the TARDIS, the 30th annual North American Doctor Who celebration, will take place on February 15-17, 2019 at the Marriott Los Angeles Airport Hotel. The convention will also once again begin on Thursday night (February 14) with our special pre-convention launch party. We certainly hope you can join us!
Tickets for the convention go on sale on SATURDAY APRIL 14 at 12:00pm (noon) Pacific Time (3:00pm Eastern, 8:00pm UK). California will be on Daylight Savings Time so please make sure to calculate the correct time for the area you live in, and to be online at that point. (We'd like to remind everyone that, while we did indeed sell out this year's convention, tickets were available for just over 25 hours, so we don't feel anyone who wants tickets should be concerned if they are online at the date and time above.)
During this year's Closing Ceremonies we did announce that ticket prices would be going up slightly for 2019. It's been several years since we increased our ticket price; since then, the cost of conventions doing business in today's age of large pop culture events has increased substantially. We feel that raising our ticket price by $15 per adult will allow us to up our game and do some even bigger things with our guest lineup (remember, we're a non-profit organization!) We also believe very strongly, with this year as a case in point, that the entertainment we provide over 3 1/2 days to ticketed attendees is worth the new admission cost.
At the same time, in order to avoid putting a larger financial burden on families with teens and children in attendance, we are keeping the teen & child prices exactly the same as they have been in recent years. The 2019 costs are therefore:
$110.00 Adult Full Weekend
$50.00 Teen Full Weekend (Ages 12-16)
$20.00 Child Full Weekend (Ages 3-11)
Once again, tickets for 2019 will be available for purchase through EventBrite. We will share the link for the ticket page a few weeks prior to the opening of ticket sales. The above prices do not include a small EventBrite processing fee, which will be added to each order.
Ticket transfers will be changing slightly going forward: because 95% of transfers are completed in December & January (and it was about 250, same as the previous year), for 2019 we will only allow transfers to be done in those two months, so the transfer system will open on December 1. We feel that opening transfers earlier makes people who missed out on tickets feel hopeless, whereas the closer we get to the convention, the more people know they cannot make the event and are willing to sell their tickets.
Hotel accommodations at the Marriott Los Angeles Airport Hotel on the Gallifrey One reduced rate block will open after tickets go on sale (it'll likely happen around the first week of May) so stay tuned! (General hotel accommodations at standard rates will also open at that time.)
We will open up our Facebook 2019 event page soon!
Next year, you can expect the same great programming from Gallifrey One, a large and robust guest lineup from all of the various diverse eras of Doctor Who, and special events to make your weekend memorable. And of course, we'll always have some special surprises in store! We hope to see you there.
Stay tuned for further updates in the weeks and months to come… and please pardon our dust as we gradually change over the theme & contents of this website toward our 30th convention!