Over the past thirty years, Gallifrey One has dedicated ourselves to both the community of fandom as well as some worthwhile charitable organizations, through the annual Bob May Memorial Charity Auction at our convention. We've supported a variety of different groups, from health and wellness charities to children's organizations, local animal sanctuaries and community support groups, veterans charities and retirement homes, and even our support last year for the Pop Culture Hero Coalition anti-bullying organization. Thanks to all of you, our attendees, who have both donated items for our auctions as well as bid on what's been offered, we've raised about $200,000… and we plan to continue that well into our future.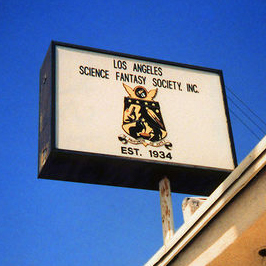 This February, as you know, we are marking the unprecedented thirtieth anniversary of Gallifrey One. We're going to be commemorating that event within our program, and we continue to work on some great names to be added to our guest list. But we've also decided that this year, in honor of our 30 years as the world's largest and longest-running annual Doctor Who event, we would like to do something different, something unique… to take the opportunity to give something back to the local fan community that helped define and make us what we are.
Though we have received support from far and wide, from the online Doctor Who fan community as well as fan clubs and organizations across the country and around the world, Gallifrey One also owes a very special debt of gratitude to one equally special and historic fan organization: the Los Angeles Science Fantasy Society, known as LASFS.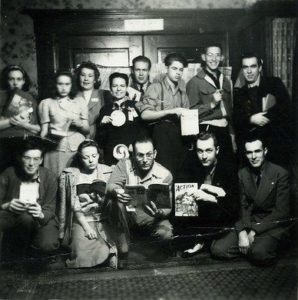 LASFS is the world's oldest science fiction fan organization, established in 1934 by some very familiar names in SF fandom: people like Forrest J. Ackerman and Ray Bradbury. Esteemed SF & fantasy creators, illustrators and promiment personalities have been vital parts of LASFS meetings over the years, such as Harlan Ellison, David Gerrold, Larry Niven, A.E. van Vogt, Bill Rotsler, Ray Harryhausen, Bjo Trimble, Alan Dean Foster, Norman Spinrad, John de Chancie and Jerry Pournelle. (At left: LASFS members, circa 1939.)
Over the years, the LASFS library has become one of the largest science fiction lending libraries in the world. Its annual Loscon convention, held every Thanksgiving weekend at the Marriott LAX Hotel (the same hotel as Gallifrey One), just celebrated its own milestone: its 45th anniversary. LASFS has been recognized for its service to fandom and its community, including its famed Recommended Reading List circulated to schools around the country. And its meeting space for many decades has been a crossroads of fandom… a place for many fans to find new friends, new family, and new social groups, to call their home away from home. (At right, below: the LASFS Library at the former Van Nuys clubhouse.)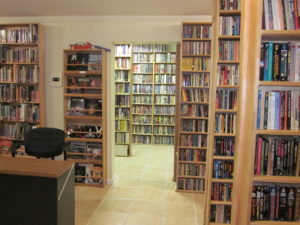 Many of this convention's founders and early attendees were members of LASFS, attending the meeting and social events every Thursday night, rain or shine, at its long-time clubhouse on Burbank Boulevard in North Hollywood. Many more came to the convention through joining our local Doctor Who fan organization, the Time Meddlers of Los Angeles, for which the LASFS Clubhouse was the monthly meeting place for two decades. Freehafer Hall and Building 4SJ, the twin buildings of the LASFS, would become a second home to many of us. From the borrowed art show pegboards and office supplies out of the old storage shed (affectionally nicknamed "Monstro") to long nights in the APA-L room running the pages of the Gallifrey One program book on their old Gestetner mimeograph machine, from Time Meddlers and L.A. Doctor Who Viewing Society video gatherings at the clubhouse to convention video projects, work parties and TARDIS load-outs… there are so many stories, so many memories, that tie Gallifrey One and LASFS together.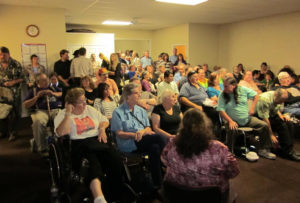 Several years ago, LASFS needed to leave its Burbank facilities due to the size of, and costs of maintaining, the two elderly buildings. LASFS moved to a new property in Van Nuys, which they fully renovated, but the property became unfeasible for longer term use due to significant changes in the neighborhood. Since leaving Van Nuys, LASFS has been using various temporary locations for its regular meetings, never once abandoning the "Thousands of Thursdays" mantra that its members know so well – but a migration that has disrupted the club nonetheless. The LASFS Building Fund was established to help the non-profit organization find a new and permanent home. (At left: a LASFS meeting circa 2016).
It is therefore with great pleasure that Gallifrey One has decided to celebrate our 30th anniversary, as a token of affection and gratitude to LASFS for its central place in our history, by dedicating the proceeds of our 2019 Bob May Memorial Charity Auction to helping the LASFS Building Fund. It is our fondest hope that through the Building Fund, the LASFS Clubhouse may once again be a home away from home for a new generation of fans, like so many of us before, to help them find their place in the world.
And that's not all… For this year (and for subsequent years), we're going to be doing this a bit differently… not only will we have the usual Bob May Memorial Charity Auction on the Sunday of Gallifrey One: 30 Years in the TARDIS at noon, but we'll also be unveiling full details in January about a new Silent Bid auction. This will allow our attendees to see some of what's available on Friday & Saturday and place bids on select items before the auction (possibly even allowing some items to be purchased before it goes to the auction itself).
As always, 100% of the proceeds of our charity auction (and silent bid auction) go directly to the organization… and we look toward you, our attendees, for your donations of material for the auction. You can find out more about the auction and what we're looking for at the Charity Auction page, and we hope you'll consider donating!
More convention updates soon!