Happy new year, Gallifrey One attendees! Now that it's January, you can expect a constant barrage of news updates and information about next month's convention… starting with today's guest update, so read on!
IMPORTANT: Our guest list is NOT FINISHED! We've been hard at work behind the scenes with several major guests, and we hope to have updates for you in the next couple weeks, on both those negotiations as well as others. We know many of you are wondering about TARDIS Tags, Diamond passes and receptions; we'll have details about those as soon as we finalize the rest of our lineup. Unfortunately the new reality of some of the major guests is that they cannot confirm until immediately prior to the convention, so we appreciate your patience!
Joining us for our February 2019 are the following new guests:
Wayne Yip
​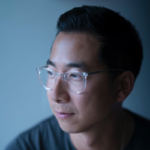 Wayne Yip began his career initially with music videos, then the short film Happy Birthday Grandad which won the BAFTA "60 Seconds of Fame" competition. Since then, he has gone on to direct the fourth series of Secret Diary of a Call Girl with Billie Piper, Misfits series three, Utopia, series three of Salem and Bravo's dark comedy Imposters. More recently, Yip directed two episodes of Class, "Detained" and "The Metaphysical Engine, or What Quill Did," before going on to direct two episodes of Series Ten of Doctor Who, "The Lie of the Land" and "The Empress of Mars" that aired during the summer of 2017. Most recently, Wayne directed the 2019 New Years Day special "Resolution". We are happy to welcome him back to Gallifrey One for his second visit.
Sophie Hopkins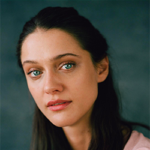 Actress Sophie Hopkins played Coal Hill School student April MacLean in the BBC Three Doctor Who spinoff series Class, a role she recently returned to for six Class audio dramas produced by Big Finish Productions. Sophie grew up in the East Riding of Yorkshire, attending York College (City of York) where she studied Performing Arts and Musical Theatre. Sophie moved to London in 2010 to train with Repertory Theatre company Fourth Monkey. She has also appeared in Doctors, Brackenmore, This Beautiful Fantastic, Dark Matters: Twisted But True and Britain's Secret Homes.
Sarah Dollard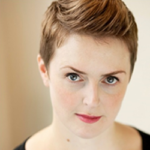 Australian screenwriter Sarah Dollard joins us for a return visit this year! She penned the script for the acclaimed "Face the Raven," the tenth episode of Series Nine of Doctor Who, the second of two female writers for the season, and returned to the program for its tenth series, writing the period drama "Thin Ice". Dollard wrote for the popular series Neighbours and the children's show The Saddle Club in Australia and moved to the UK in 2008, where she has worked on Merlin, Primeval, Being Human, The Game as well as her own romantic comedy series Cara Fi for Welsh broadcaster S4C. More recent work includes You, Me and the Apocalypse, The Halcyon, and Cuckoo Song, adapting the British Fantasy Award-winning novel.
Jordan Renzo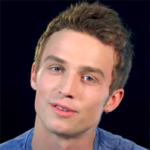 British-born American actor Jordan Renzo portrayed Coal Hill student Matteusz Andrzejewski in the BBC Doctor Who spinoff series Class, a role he reprised in the new audio adventures series from Big Finish Productions. More recently, he was cast as Charles Brandon, 1st Duke of Suffolk, for the upcoming Starz original series The Spanish Princess set during the era of Catherine of Aragon. Jordan will be joining us for a special Saturday panel discussing the making of Class with co-stars Fady Elsayed and Sophie Hopkins.
Rachel Talalay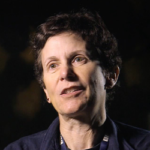 ​Rachel Talalay is a celebrated and successful producer and director who made her film directoral debut in 1991 on the final Nightmare on Elm Street film Freddy's Dead: The Final Nightmare. In addition to directing films such as Tank Girl and Ghost in the Machine, Rachel has become a prolific television director as well, including becoming Doctor Who's first female director in four years, helming the Series Eight two-part finale "Dark Water" and "Death in Heaven," Series Nine's acclaimed "Heaven Sent" and "Hell Bent," the final two episodes of Series Ten, "World Enough and Time" and "The Doctor Falls," and the much-heralded Peter Capaldi swansong, "Twice Upon a Time". She's also directed episodes of Sherlock, The Flash, Supergirl, Reign, Legends of Tomorrow, Kyle XY, Boston Public, Ally MacBeal, Haven, Cold Case and The Dead Zone, and teaches film studies at the University of British Columbia in Vancouver, Canada. A fan favorite at Gallifrey One, we are thrilled to welcome her back this year.
Lisa McMullin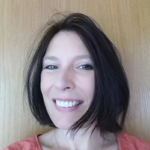 Lisa McMullin is a relatively new playwright and screenwriter who also writes audio drama for Big Finish Productions; she has written for their Survivors range and across various Doctor Who universes including Gallifrey: Time War, UNIT, Torchwood, Emancipation (a special production for International Women's Day) and the new Rose Tyler: Dimension Cannon. Outside the world of Doctor Who, Lisa writes for Doctors and EastEnders on BBC One and has a number of original television projects in development. Recently produced plays include Siren Song (Lion and Unicorn Theatre), Rapture (Etcetera Theatre) and Priceless (Matchstick Theatre). You can follow Lisa on Twitter: @lisamcmullin
Mickey Lewis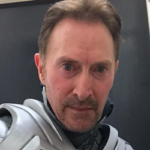 Mickey Lewis is currently a background performer with an extensive repetoire of Doctor Who appearances, mostly as a Dalek operator starting in 2012's "Asylum of the Daleks" and later in "Into the Dalek" and "The Magician's Apprentice/The Witch's Familiar". He also appeared as aliens, Cybermen and other roles in the two-part Zygon story in 2015, "Oxygen," "The Rings of Akhaten," "The Lie of the Land," "The Doctor Falls" and "Twice Upon a Time" as well as the Third Doctor in "Day of the Doctor". Lewis has also appeared in films including Rogue One, The Last Jedi, Dumbo, Overlord, The Force Awakens, Fantastic Beasts and Where To Find Them and The Huntsman: Winter's War. In years past, Lewis penned two Doctor Who novels for BBC Books (under the name Mick Lewis), the Third Doctor novel "Rags" and the Second Doctor novel "Combat Rock". We are happy to have Mickey join us this year, courtesy Showmasters Events, to discuss his writing and his behind-the-scenes work on Doctor Who.
Nick Robatto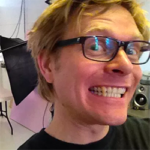 Nick Robatto is currently the Specialist Prop Maker on Doctor Who. He was the props maker for the series beginning with the second series in 2006 all the way through the 2011 Christmas special "The Doctor, The Witch and the Wardrobe," creating the iconic sonic screwdrivers and other props. Robatto left the production in 2011 to create Rubbertoe Props, which then continued to supply Doctor Who with props throughout the Matt Smith era, including as a major part of the team that built the series 7 TARDIS console room. In 2013, Robatto established Rubbertoe Replicas, BBC Worldwide's licensed premium replica prop house. His work returned to the series for Jodie Whittaker's first series. As in the past several years, Nick will not only be a guest, but his company Rubbertoe will be vendors in our Dealers Room.
Chris Chapman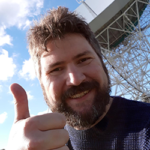 Chris Chapman is an award-winning documentary-maker and writer who currently works on the BBC's Doctor Who blu-ray range, as well as penning adventures for Big Finish. Chris was a regular producer of 'Special Features' during the Who DVD era, contributing 40 films across the range, including the acclaimed 'Looking for Peter', 'Living with Levene', 'Who Peter' and 'Hadoke vs Havoc'. He co-produced the Ice Warriors animated episodes, and was responsible for many of the VT films seen in BBC3's 'Doctor Who: The Afterparty'. With the BBC now looking to release all of classic Doctor Who on blu-ray box sets, Chris has returned to create new documentary content, which recently included 'Turbulence: the Making of Time-Flight' on the Season 19 set, as well as the new films 'A Weekend with Waterhouse', 'The Writers' Room' and 'Brendan & Company' on the upcoming Season 18 set. Since 2017, Chris has also written scripts for Big Finish, including 'The Memory Bank' with Peter Davison, 'The Middle' and 'Iron Bright' with Colin Baker and 'Hosts of the Wirrn' for the UNIT series. This is Chris' first American convention and he is a little bit excited.
Stuart Manning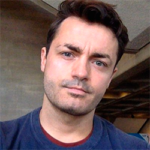 Illustrator Stuart Manning is a London-based graphic designer, specialising in digital illustration and photographic art direction. Doctor Who fans know him from his extensive work in creating promotional illustrations and retro-style posters of recent seasons and classic serials. He has also recently art directed Jodie Whittaker and the TARDIS team for Radio Times spreads, designed title graphics for Doctor Who blu-ray special features and cover art for other British TV releases (including Quatermass and the Pit). Stuart will be in our Dealers Room during the weekend with many of his Doctor Who retro posters.
Rob Ritchie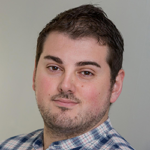 Rob Ritchie is an animator and graphic designer, best known for his work on the BBC Doctor Who missing episode animations. He began his career by recreating the iconic Dad's Army title sequence for the missing story "A Stripe for Frazer." He was then approached to create a proof of concept animation which would lead to the commission of the lost Doctor Who serial The Power of the Daleks. He went on to work on completing the unfinished 1979 story Shada and more recently he has animated and produced a special 10 minute edit of The Wheel in Space episode 1 as well as animating The Macra Terror due for release March 2019. You can follow Rob on Twitter: @Robritchie409
Rosie Jane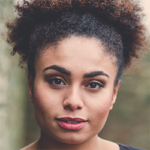 Rosie Jane played companion Bill Potts' mother in the tenth series of Doctor Who. Before this, she made her Doctor Who debut as a member of the High Council in 2013's 50th Anniversary special "The Day of the Doctor." More recently, she starred in the short film Free Bird. Fresh from an appearance at our sister convention Chicago TARDIS in November, we are happy to bring her to this year's Gallifrey One courtesy Alien Entertaiment.
And More Coming Soon…
As stated above, we are still working to bring additional guests to our lineup, from the top down. Stay tuned for more updates in the days to come!
Please note: previously announced guests Nev Fountain and Jeff Cummins have sadly had to withdraw this year due to new work commitments. We hope to have them with us at a future Gallifrey One convention.