Tate & Barrowman "Mirror Sessions"
As we've done in the past with major celebrity appearances, Gallifrey One is once again presenting "mirror sessions," or two versions of the same panel mirrored over two days with the same general content, for two of our headliner guests this year, Catherine Tate and John Barrowman.
Since our main auditorium seats just over half of the convention at any given time, we strategically book these dual sessions alongside the rest of our program, so our audience can split down the middle and everyone can enjoy. Because of your cooperation, we have never had to take it to the next level of ticketing individual sessions (because we have the best convention attendees in the world!)
Catherine Tate and John Barrowman will appear once each on two subsequent days, for a solo panel/Q&A session, and we ask that you choose ONE appearance for Tate and ONE for Barrowman, and NOT attend both for each guest. Tate will appear both Friday and Saturday at 5pm, while Barrowman will appear Saturday at 4pm and Sunday at 1pm. We recommend choosing either the back-to-back Saturday sessions; or, better, the Friday/Sunday sessions, which we know from past experience will be easier to find seating. That way, everyone will be able to see these guests on stage. (Please note: Pearl Mackie will be appearing all three days of the convention, both solo and as part of group panels, so we are not mirroring her appearance.)
And remember: Gallifrey One has a very extensive program. There are six tracks on Friday & Saturday, and five on Sunday, with so many great things to do throughout the weekend. This includes some really great programming opposite the Tate & Barrowman panels that you'll also want to see, so the panel mirroring also benefits you!
A preview of all our programming — roundtables, guest interviews on our upstairs 'second stage' in Program B, presentations, game events, kaffeeklatsches, autograph sessions, photo ops and so much more — will be on this website very soon, and we can't wait to tell you all about it!
Brief Guest Update
Finally, we're happy to welcome two more guests to our lineup this year… or rather, welcome them both back from their appearances last year! Both Jon and Richard will appear during the convention courtesy our friends at Alien Entertainment:
Richard Ashton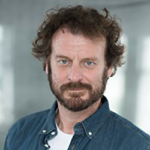 Richard Ashton played Friday, the Ice Warrior at the center of the Doctor Who story "Empress of Mars" written by Mark Gatiss (and directed by our guest Wayne Yip). He's best known for his portrayal of Little John in The New Adventures of Robin Hood (1997-1999), as well as appearances in Monster Cafe, Vikings, Outlander, Keeping Up Appearances, Don't Tell Father, Space Precinct and The Fifth Element, and recently he played Mr. Little in the Netflix movie A Christmas Prince. He was recently cast in The Outpost, a series for Arrowstorm Entertainment.
Jon Davey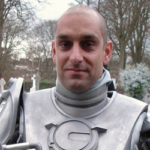 ​Jon Davey is a long-time background performer/artist and creature performer who has worked on Doctor Who since 2006, bringing to life such creations as the Judoon, Ood, Cybermen, Daleks, the Mire, Heavenly Host, Vigil, and the Whispermen. He has performed live at many events including "The Doctor Who Proms" and "Doctor Who Live" and "Doctor Who Symphonic Spectacular" in Australia and New Zealand, as well as showing his face as a UNIT soldier in Doctor Who and was seen in The Sarah Jane Adventures as the Shansheeth. Jon is also a photographer, video producer and cameraman who has worked with Radiohead and Scissor Sisters and commercials for Samsung, Waitrose and Orange.
More news updates soon!