UPDATE, JANUARY 20: Merchandise pre-orders are now open (as well as guest receptions, which opened on January 19)… this includes T-shirt pre-orders and now, for the first time ever, tote bag pre-orders! Details on merchandise pre-orders below the reception section.
Evening Guest Receptions!
This year's Gallifrey One Evening Guest Receptions are now on sale! These special, totally optional add-on events are a huge part of the Gallifrey One experience for many of our attendees, and we have six receptions over two days to pick from. For a nominal charge per reception, you'll join us in our top-of-the-hotel lounge to mix and mingle with small groups and each of the attending guests in sequence over the course of an hour, with a selection of wines, soft drinks and snacks included. Each attendee at a reception will also include two autographed photos from guests not attending the convention this year.
You can now visit the Convention Photo Shoots website (click that link or the button below) to purchase tickets to the following optional receptions (remember, all guests will still appear on stage at the convention during the day).
Note that other guests may be added to the receptions beyond the guests listed here:
Friday 5:00pm, cost $85: Colin Baker, Pearl Mackie, Nicola Bryant, Blair Mowat, Lisa Greenwood, Rosie Jane, Tony Lee, Jon Davey
Friday 6:30pm, cost $95: John Barrowman, Carole Ann Ford, Yasmin Bannerman, Nicholas Briggs, Rusty Goffe, Michael Jayston, Tim Treloar, Jon Davey
Friday 8:00pm, cost $95: Catherine Tate, Katy Manning, Richard Franklin, Fady Elsayed, Sophie Hopkins, Mickey Lewis, Edward Russell, Rusty Goffe, Richard Ashton
Saturday 5:00pm, cost $85: Colin Baker, Pearl Mackie, Nicola Bryant, Jordan Renzo, Lisa Greenwood, Wayne Yip, Rosie Jane, Richard Ashton
Saturday 6:30pm, cost $95: John Barrowman, Carole Ann Ford, Yasmin Bannerman, Richard Franklin, Nicholas Briggs, Sophie Hopkins, Fady Elsayed, Rusty Goffe, Jon Davey
Saturday 8:00pm, cost $95: Catherine Tate, Tim Treloar, Michael Jayston, Mickey Lewis, Edward Russell, Blair Mowat, Rusty Goffe
Note: While John Barrowman is only slated to appear on our stage, sign autographs and do photo ops on Saturday and Sunday, he will also be doing the receptions on both Friday & Saturday evenings.
All appearances are, as with the main convention, subject to work commitments and that there are not autograph or photo opportunities at the receptions. To purchase a reception ticket you must have a ticket to the convention (no exceptions). Full details and rules are at the website link below.
Click Here to order Reception Tickets (at Convention Photo Shoots)
Convention T-Shirt & Tote Bag Pre-Orders Open
As of January 20, we have now opened our pre-order page for convention merchandise. For the first time, in addition to our regular convention T-shirt pre-orders, we have also put up convention tote bags for pre-order!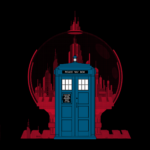 Gallifrey One T-shirts are very popular and tie into the year's theme. The convention logo is on the front lapel; on the back, a beautiful Gallifrey Citadel with TARDIS design (at right). T-shirts will be black this year with the designs stencilled in ink. We have revised our T-shirt prices from last year to allow pre-orders to receive better pricing.
In addition, we will be pre-selling tote bags. Last year's tote bags were incredibly popular and we know many of you wanted to order them in advance. These bags are perfect for carrying around your program book and other personal items.
| | |
| --- | --- |
| PRE-ORDER PRICING | AT-CONVENTION PRICING |
| $15.00 – Small | $18.00 – Small |
| $16.00 – Medium, Large | $20.00 – Medium, Large |
| $17.00 – XL, 2XL | $22.00 – XL, 2XL |
| $18.00 – 3XL, 4XL | $25.00 – 3XL, 4XL |
| $7.00 – Tote Bag | $10.00 – Tote Bag |
Convention T-shirts and Tote Bags can be picked up at the Gallifrey One convention sales table, immediately next to the convention registration desk, beginning early Friday afternoon and running during daytime hours until the table closes late Sunday afternoon. All pre-sold T-shirts MUST be picked up in person; if you cannot make it to pick up your shirt, please send someone who is attending the convention to pick it up for you (a printed email will suffice.)
The convention sales table will also sell a limited number of T-shirts on site as well, while supplies last (until only pre-sold shirts are still left.) We therefore encourage you to pre-order if you would like a shirt this year, especially with the better pricing. (Please note: there are no shirts larger than 4X.)