We're just over a week away from Gallifrey One: 30 Years in the TARDIS and we can't wait to bring this year's convention to you! There's been so much going on, and we still have lots to share with you, so we've broken up this week's announcements into two batches… Part 1 is today, featuring our final guest updates and other important information; with Part 2 coming by the end of the week.
Remember: the New & Returning Attendee Guide is now available! It's a handy guide to everything Gallifrey One, from to getting to the convention to how to get started, covering many topics such as parking, badge pickup, dining, seating, special events and much more! Click the big box at right for the Attendee Guide!
New Guests
As we announced a few days ago, Pearl Mackie had to withdraw from this year's convention, along with Class actors Fady Elsayed and Jordan Renzo, all due to new work obligations. However, we're happy to announce a few more guests joining us this year:
Tony Curran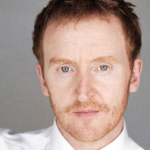 Tony Curran is best known to Doctor Who fans for playing Vincent van Gogh in the episode "Vincent and the Doctor," as well as featuring in SyFy's Defiance as main character Datak Tarr. Tony rose to fame in the BBC television series This Life and has appeared The League of Extraordinary Gentlemen, Thor: The Dark World, Mary Queen of Scots, The Advenutres of TinTIn: Secret of the Unicorn, Miami Vice, The Presence, The Lazarus Project, Corrado, Beowolf & Grendel, Sons of Anarchy, Elementary, Hawaii Five-0, CSI: Crime Scene Investigation and Boardwalk Empire. He joins us this year for a Saturday appearance courtesy Alien Entertainment.
Caitlin Blackwood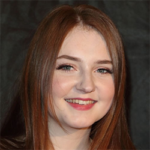 Actress Caitlin Blackwood appeared as Amelia Pond (the young version of her cousin Karen Gillan's character Amy Pond) in five episodes of Doctor Who starring Matt Smith, "The Eleventh Hour," "The Big Bang," "Let's Kill Hitler," "The God Complex" and "The Angels Take Manhattan". She has also appeared in Sundown, Cops and Monsters and Journey Bound. She's now an adult, and has traveled the world, including "one of her favourite destinations America," where she has made numerous convention appearances while she continues pursuing an acting career. Last with us in 2012 (!!), we are happy to welcome her back this year courtesy Showmasters Events.
Anne Lockhart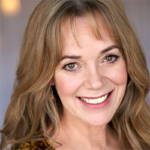 We are also thrilled to welcome another special signing guest for the weekend: Anne Lockhart, a long time friend of Gallifrey One, best known for her role as Lieutenant Sheba on the original Battlestar Galactica and now a recurring player on the NBC series Chicago Fire, will be in town during our weekend. Anne will have a table in our Dealers Room, and will be participating in photo ops on Saturday & Sunday, as well as one of the evening receptions. Stop by her table throughout the weekend and and say hello!
Receptions, Photo Ops & More Still On Sale
As a reminder, tickets for our Evening Guest Receptions and photo ops, as well as the Diamond Pass & TARDIS Tag packages, are still available:
Photo Ops: Pre-orders will be available for photo ops all the way up to the day of the photo shoot; there is no danger of any photo op selling out. If necessary, you can pay for photo ops on site as well.

IMPORTANT: For every photo op you are planning to attend, please make certain you are there at the photo studio no more than 5 minutes in advance, and no later than the start of the photo op. Our photo lines move very quickly and there is absolutely no reason to line up well in advance because you will get through the line immediately.

Evening Guest Receptions: There are still a limited number of tickets for five of the six receptions (one is sold out). Tickets for the receptions will also be on sale at the Showmasters Events tables in the Dealers Room on the day of the event.
Diamond Pass & TARDIS Tag: The receptions for each of these events have been scheduled (note that the John Barrowman Diamond Pass event was delayed to a bit later in the day after the "Heaven Sent" panel on Sunday). These are also still available for pre-order.
To purchase any of these options, visit the Convention Photo Shoots site by clicking on this button:
Click Here to order Reception Tickets (at Convention Photo Shoots)
Program Update: New Items & Program Grids
We've been updating the Gallifrey One 2019 Electronic Schedule nonstop since it was released, and as of February 6, we've locked everything in. Going forward, all new updates will differ from what has been printed in the convention's program booklet.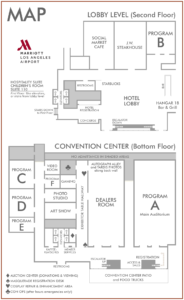 At right: the map of Gallifrey One 2019; click for a larger version!
Photo ops, autograph sessions (including sponsored autograph sessions) and some of our evening and TARDIS Tag/Diamond Pass receptions have all been updated. We've also added some brand new program items; since all of these are new events from when the schedule was originally released, we wanted to share some details about them.
The Musical Universe of Doctor Who: Blair Mowat, previous musical arranger on Doctor Who and composer of spin-offs Class (TV) and Torchwood (Big Finish Series), takes you on a musical journey through the Whoniverse including examples of his work. Audience members will also be given a chance to show off their musical 'Who' knowledge to win exclusive prizes. Sunday 1:00pm.
Space Command: Pilot Screening and Q&A: Join us as longtime SF/fantasy writer/producer Marc Scott Zicree presents the first hour of the pilot episode of his forthcoming series Space Command starring Doug Jones (Star Trek Discovery), Robert Picardo (Star Trek Voyager), Mira Furlan, Bill Mumy and Bruce Boxleitner (Babylon 5) and many others. After the pilot is aired, stick around for a panel discussion. Saturday 6:00pm.
Shared Realities: Writing Tie-In Fiction: Whatever the genre, be it Doctor Who, Star Wars, Star Trek or anything else, a writer must recognize they're playing in someone else's sandbox, with all the restrictions and caveats that entails. Our panel will chat about the nature of writing in a shared universe; reflect on their experiences writing for novels, comics or audio; and share tips on the best way to get into the game. Friday 12:00pm.
Putting the SCI in Sci-Fi: Are you a writer or an artist? Do you want to learn to create realistic science fiction? Join us for a workshop on how to write (and draw) for sci-fi. Bring along your own work to get your questions answered! Saturday 10:00am.
Surge of Power – Doctor Who Tribute: In honor of over 50 years of Doctor Who, we celebrate Surge-style. Watch and laugh as our superhero, Surge, flies around fighting Daleks and has a mini adventure in the TARDIS, featuring cameos of six Doctor Who actors: Peter Davison (The 5th Doctor), Colin Baker (The 6th Doctor), Paul McGann (The 8th Doctor), Eric Roberts (The Master), John Barrowman (Captain Jack) and David Bradley (The 1st Doctor recast). This short film runs 6-minutes and is a fan-film style Surge movie, outside of the continuity of the regular Surge of Power movies. Prizes and Q&A with the producer afterward, with a sneak peek, exclusive to Gallifrey One, of the next Surge of Power film. Friday 9:00pm.
Here Come the Ghosts: Steampunk Ghost Hunting: While Doctor Who has dealt with ghosts on the show, join long-time Gallifrey One panelist Michael J. Kouri, a real psychic medium who investigates haunted sites & talks with the dead. During this panel, he will demonstrate his investigative psychic abilities "seance style"… perhaps he'll have a message for you from a spirit on the "Other Side." Saturday 8:00pm.
New Social Events: We've added a number of new social events onto the calendar, including a TARDIS Cosplayer Meet-Up on Saturday at 1:30pm, and River Song Cosplayers Meet-Up Friday at 4:00pm, as well as Shabbat Shalom ("A short non-denominational service to welcome in the sabbath") on Friday at 9:00pm.
You Are The Master Photo Op: "A chance for you to have your photo taken with the John Simm Master… or is it Mr. Saxon?" A green-screen photo op with a twist! Saturday 10:50am
Kaffeeklatsch Time Shifts: In addition, we've moved a few kaffeeklatsches to better accommodate our guests. If you're a scheduled participant in any of these sessions, please check the calendar for new times: Lance Parkin & Lars Pearson; Barbara Hambly; Nicholas Briggs; Jamie Childs; and Sarah Dollard & Rachel Talalay.
Meanwhile, below are the program grids for all three days of the convention, as well as feature grids for everything from meetups & social events to kaffeeklatsches, autographs, photo ops, gaming, children's programming and more! Click on each for a display version. (All of these grids, plus the convention map, are featured in your Gallifrey One 2019 Program Book, distributed to every convention attendee.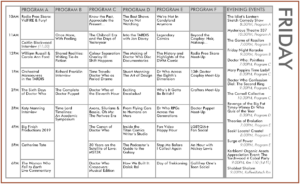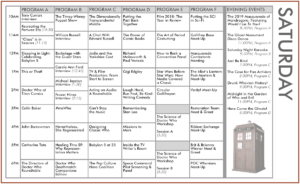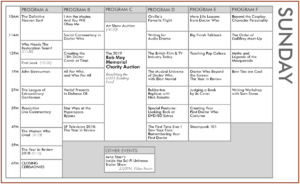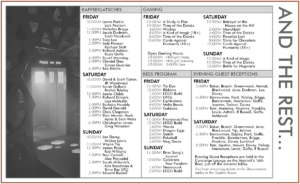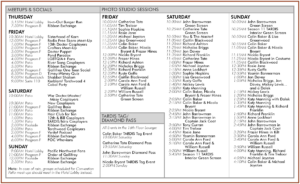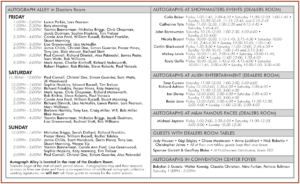 Time Lord Timelines Abstracts Now Available
We're really looking forward to the second 'season' of Time Lord Timelines: An Academic Symposium as part of this year's program. Now available are the abstracts for all of the presentations during the Friday 3:00pm-7:00pm event; click on the link below to download and enjoy!
Time Lord Timelines Academic Symposium Abstracts
Doctor Who Pointless Contestants Wanted
Paul Cornell's game show
Doctor Who Pointless
seeks teams of two people who know each other, who'd like to test their
Doctor Who
knowledge, classic and modern. You have to be available from 7:00pm-8.30pm on the Friday of the convention (note: this is before the start of the Timey Wimey Fan Social & Quiz Party, which is a different event.) Sign up with both people's given names only, please… teams will be chosen at random, and those chosen to play the game show will be notified on the Facebook event page. To sign up, send email to
contactus@gallifreyone.com
with the subject header "Pointless Contestants".
Charity Auction Updates
We need YOU! Donations of goods to be auctioned at our 2019 Bob May Memorial Charity Auction are very welcome. We rely upon much-needed donations from our attendees to fill the auction with worthwhile material to be bid upon. Your donations are very much appreciated, as is your attendance at our Sunday auction!
Silent Auction & Viewing Room
To improve everyone's charity auction experience, this year we're going to try a new silent auction system leading to voice auction.
The doors to the Charity Auction Donation Room (off the Exhibitor Table hallway, first door on the left) will be fully opened this time; you can come in and donate to the table at the back and then browse the items on display that have already been donated.
Each item displayed will have a bid sheet with four spaces in which to put bids. Any item that receives four bids will go automatically to the voice auction on Sunday; items with fewer bids will be automatically purchased by the highest bidder on the sheet. If you decide to bid, we will need you to supply your contact information to the control desk in the room: name, email, phone, and badge number (which will be on your badge). Any item with no bids will either be combined with other items lacking bids to make a "Deal Box" in the voice auction or will be held over until 2020's auction.
Our hope is that this will give everyone at the convention time to see at least some of what will be for auction and to possibly gain an item without having to wait out the entire auction. However, please note, if yours is the last bid on the sheet and no one outbids you at the voice auction, you will still be responsible for that item and any payment required as a result.
Donations
How/where do I donate items for auction? Easy… bring your contributions to the Auction Donation Center, which is located behind Member Services, at the first door on your left in the Exhibitor Table Hallway. The Auction Donation Center will be open all day Friday & Saturday for contributions.
What are we looking for? In short: donations of science fiction, fantasy, comics, horror or genre related material, most especially Doctor Who and its spinoffs. This includes items from many different genres: a few examples include Torchwood, Star Wars, Star Trek, Harry Potter, Hitchhiker's Guide to the Galaxy, Supernatural, Game of Thrones, The Expanse, Stranger Things, Westworld, The Prisoner, Blake's 7, Outlander Buffy, Angel, Firefly, Stargate, Battlestar Galactica, Caprica, Red Dwarf and the myriad comics-related TV shows and films; as well as anything related to science fiction film and television, SF/fantasy literature, comic books, or collectibles. Anything that has a tangential relationship to the SF/fantasy/horror genre which is in at least very good condition. Autographed photos, commemorative items, one-time prints, illustrations, etc. are also welcome. If you find it to be a valuable collectible, chances are good that others will, too. Just be sure: this is not a disposal service for items you wish to throw away.
Name That Alien!
For many years, Gallifrey One has featured a convention-wide scavenger hunt game… and this year is no exception. It's NAME THAT ALIEN! Scattered through out the convention floor, there are 30 pictures of alien life forms through-out the history of Doctor Who. Find and identify all 30 and your name will be placed in the fish bowl! One winning name is drawn from the fish bowl during Closing Ceremonies, and the winner receives a free ticket to the 2020 Gallifrey One convention. Participants will also receive special ribbons.
Pick up your game card from Member Services during the convention. Happy hunting!
Set-Up Help Wanted
Interested in helping out Gallifrey One for a few hours? The convention is just around the corner and we once again are asking for assistance both with our truck loading on Wednesday, and setting up on Thursday. We're looking for able-bodied individuals (with convention tickets; we are not offering admission, sorry!) and maybe that includes you!
First: on Wednesday February 13, we'll be packing up our truck at our two storage units; if you're not working that day and available to help us load, let us know! Then, on Thursday at the Marriott, we can always use assistance unloading the truck after 10:00am… if you're able to help lift some pipes and curtain, want to work with some of the people who help make the con happen (before they lose their minds from lack of sleep!) or just want to pitch in, we can always use the assistance. Also, our Art Show will require some assistance with setup on Thursday afternoon as well as our Hospitality Suite.
Send email to contactus@gallifreyone.com with the subject header "Setup Help" and let us know and we'll put you in touch with the logistics and set-up team! (Please note: for liability reasons all volunteer help must be age 18 or over; thank you!)