And so, it begins… Gallifrey One is thrilled to finally present our 30th annual convention, GALLIFREY ONE: 30 YEARS IN THE TARDIS this weekend at the Marriott Los Angeles Airport Hotel. We are looking forward to a great weekend with some great guests and a lot of fun, starting Thursday at 8:00pm and running through Sunday at 7:00pm.
In addition to the information below, plese sure you check out these pages before you arrive, especially if you're new:
Our New & Returning Attendee Guide for lots of helpful hints about the convention, from parking to picking up your badge and navigating the entire event.
Gallifrey One's Convention Policies page… we

strictly

enforce our policies, including anti-harassment and courtesy policies.
Our Directions and Parking page has some tips on how & where to park or get to the event.
Program Changes Page on Schedule
Due to a change in the way our Sched electronic schedule system now works, we are unable to keep a filter active on any program changes since our program book went to press. Instead, we have created a "Program Changes" page there, with a running list of all changes made since we printed our program booklet; click here to visit it (you can also find the Program Changes link right under the convention logo at the top of the page):
Important Info about Tickets & Registration
Remember: Gallifrey One: 30 Years in the TARDIS is a completely sold out convention. There are NO tickets available for purchase on site. We cannot provide you any help at this time to find tickets or transfer yours.
We do not issue paper tickets. "Tickets" is the term we use for people who have passes to attend the convention; each ticket holder will check in at our convention registration desk and receive a badge – which you must wear at all times – as your credentials to enter the convention areas and enjoy the event. Attendees may pick up their badges at any time Registration is open throughout the weekend: Thursday from 3:00-6:00pm and 8:00-10:00pm; Friday and Saturday 9:00am-7:00pm; and Sunday 9:00am-1:00pm. Please be prepared to show ID.
As of Friday morning, please do not use the elevator to the convention floor if you haven't yet picked up your badge; you must instead use the escalator. If you do not have your badge and come down via elevator, you will be turned back to the hotel lobby level. (Our only exception to this rule: attendees with mobility/disability issues; the attendant at the elevator lobby badge check-in will have you escorted to Accessibility Services, who will assist you further.)
If you are a visitor with accessibility issues (mobility issues, visual or hearing impairment, etc.) make sure you check in at the Accessibility Services desk, which is immediately past Convention Registration on your left, next to the glass doors.
Directions and Parking
Our Directions and Parking page can show you how to get to the convention, and give you insight on where to park. Parking at Gallifrey One after mid-day Friday (and especially on Saturday) can be seriously frustrating — there is also a gaming convention at the Hilton, airport parking in the general area, and of course nearly 4,000 people at our event — so you'll want to be sure to take a look.
Weather Update
We're a bit more optimistic than last week: the current weather outlook for Gallifrey One 2019 is currently high 50s/low 60s Fahrenheit, but possibly not raining by Friday (forecasts still show rain on Wednesday & Thursday, however). If there is no rain, everything on the schedule is business as usual; if it does, we'll be moving our convention patio social meet-ups to the hotel lobby, and ask your cooperation as we route our autograph lines indoors.
Member Services is Here To Help!
Have questions on site? Not sure how to find a program item? Looking for the best place to eat? The Member Services desk is here to help you! Member Services is located in one of the two kiosks (the other is the Kaffeeklatsch Desk) right next to the elevator lobby on the convention floor, adjacent to the center Exhibitor Table hallway. Stop by if you have questions or need assistance.
Member Services is also the home base for this year's scavenger hunt game, Name That Alien! Scattered through out the convention floor, there are 30 pictures of alien life forms through-out the history of Doctor Who. Find and identify all 30 and your name will be placed in the fish bowl! One winning name is drawn from the fish bowl during Closing Ceremonies, and the winner receives a free ticket to the 2020 Gallifrey One convention. Participants will also receive special ribbons. Pick up your game card from Member Services during the convention.
Charity Auction Donations Welcome!
We need YOU! Donations of goods to be auctioned at our 2019 Bob May Memorial Charity Auction are very welcome. We rely upon much-needed donations from our attendees to fill the auction with worthwhile material to be bid upon. Your donations are very much appreciated, as is your attendance at our Sunday auction!
Also remember, this year we'll be doing silent auction bidding on charity auction donations. The doors to the Charity Auction Donation Room (off the Exhibitor Table hallway, first door on the left) will be fully opened this time; you can come in and donate to the table at the back and then browse the items on display that have already been donated.
T-Shirt/Tote Bag and Exclusive Comic Pickups
If you pre-ordered one of our 2019 convention T-shirts or tote bags, you can pick them up at the Convention Sales desk, which is immediately past Convention Registration (where you pick up your badge) on the left, next to the glass doors and across from the Accessibility Desk. Gallifrey One Convention Sales will have additional stock of both items to sell, as well as some past Gallifrey One T-shirts, while supplies last.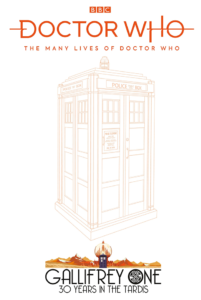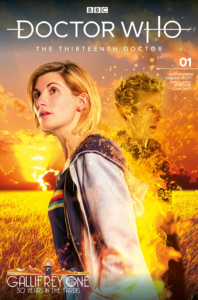 Also, there are two Gallifrey One-branded exclusive covers of Titan Comics Doctor Who range, the Issue #0 special and Issue #1 of their Thirteenth Doctor series! You can purchase copies while supplies last at the Showmasters booth in the Dealers Room, as well as pick up your copies if you reserved them in early January! Please remember that we will not be mailing copies out, and any copies not picked up by Saturday mid-day will be available for sale the rest of the weekend.
Photo Ops and Reception Tickets
Convention Photo Shoots is still pre-selling tickets to the evening guest receptions as well as all photo ops scheduled throughout the weekend, and will be doing so up until the day of the event. You may also purchase reception tickets at the Showmasters tables in the Dealers Room, as well as photo ops at the Photo Studio.
Click Here to purchase Receptions, Photo Ops, Diamond Passes & TARDIS Tags
If you have a ticket to a reception, or one of the TARDIS Tag/Diamond Pass events, simply show up 5-10 minutes before the event; these are located on the 16th Floor in the Concierge Lounge, right off the main elevator lobby.
Kaffeeklatsches
For those of you who signed up in advance, see this page for a list of kaffeeklatsch attendee assignments. If you are on that list, show up to the Kaffeeklatsches room — right next to the elevators on the convention floor — five minutes prior to the event you're scheduled for.
The Kaffeeklatsches Desk will open at 9:30am on Friday morning for any changes, cancellations, or additional slots open for participants (first come, first served!)
Doctor Who Pointless
Paul Cornell's game show Doctor Who Pointless is still seeking teams of two people who know each other, who'd like to test their Doctor Who knowledge, classic and modern. You have to be available from 7:00pm-8.30pm on the Friday of the convention (note: this is before the start of the Timey Wimey Fan Social & Quiz Party, which is a different event.) Sign up with both people's given names only, please… teams will be chosen at random, and those chosen to play the game show will be notified. To sign up, send email to contactus@gallifreyone.com with the subject header "Pointless Contestants" no later than 6:00pm PST on Tuesday February 12.
Science Workshops
Gallifrey One's two Science Workshops for children and their parents are on Saturday, 3:30pm-5:00pm (Session A) or 5:30pm-7:00pm (Session B). If you registered for one of them, please bring yourself and your child to Program E approximately 5 minutes before the start of your session. There are a couple slots left for Session B; you can register here to join (note: $5 fee per team for supplies.) If you cannot make your session, please see the Member Services desk.
A Few Helpful "Don't Forget"s…
For those new to Gallifrey One – and those who'd just like a handy reminder – we have a few things we want to make sure to remind you of:
As noted above, don't forget to take a look at our Convention Policies page, specifically about harassment (we take this very seriously) and our courtesy policy (also strictly enforced to make sure everyone has a great time!) And also please remember that we

do not

allow videotaping/streaming/live broadcasting in any program room… failure to comply will mean immediate removal from the convention.
Bring cash if you want autographs or purchases. While many of our vendors take credit cards, others take cash only, and that also goes for most of our autographing guests. While there are two ATMs in the Marriott lobby, they usually run out of cash very early each day, so you may have a long walk to get more.
Cash is also very much advised for the food trucks we have each day, as well as the Cafe Trenzalore convention center level lunch counter option. (If you're interested in finding out what the food trucks are selling each day, or about your dining options in general, see our update here.)
Don't forget to join us Thursday night at 8:00pm for our special pre-convention launch party on the ground floor, featuring an ice cream social with lots of friendly faces (including many of our guests)… and, later in the evening, karaoke! It's a great way for new people to get to know everyone and join in the fun. (Note: both events

will

have badge checks!)
Don't forget that badge ribbons are something optional and fun and entirely created by attendees… they're not an official thing at our convention, but something very popular at many events. Also don't forget that, as a result, people pay their own money to make their ribbons; some people like to trade instead of offer for free. Don't forget that there are four ribbon trading meet-ups scheduled for each of the four days (see the Social Events & Meet-Ups list on the electronic schedule.)
Speaking of which, don't forget we have a ton of meet-ups scheduled; you can find them all in the Meet-Ups & Socials category of the electronic schedule.
Don't forget to bookmark the electronic schedule on your phone or tablet! We will keep the electronic schedule updated throughout the weekend.
There are a couple of kaffeeklatsch spots left for a few sessions; if you didn't get a chance to sign up and would like to participate, make sure you're in line Friday morning by 9:30am as it will be first-come first-served on the remaining slots.
Don't forget to HAVE FUN. Gallifrey One is about fun, family, friends both new and old, and celebrating being a fan of Doctor Who and sci-fi TV & film.
The Last Word…
This is the final website update we'll publish prior to the start of this weekend's festivities, barring any last minute important breaking news. (We do post the occasional Facebook or Twitter update, but you'll next year from us after we're back from the convention.)
Email sent to the convention as of today will likely not be replied to until after February 24.
For those that can't join us this year, keep an eye on our website shortly after the convention, where we'll announce the exact time and date tickets go on sale for our 2020 event.
Gallifrey One is a labor of love. It's a passion that has kept so many of us going for decades… and for some of us, since a cold rainy night in January 1989 when we decided it was time to bring an annual Doctor Who event to our home here in Los Angeles. But it's not just what we do… it's our amazing attendees who make it truly special. We think this year's convention will be awesome, and we can't wait to show you what we've been up to!
See you this weekend at Gallifrey One: 30 Years in the TARDIS… the thirtieth anniversary of the best Doctor Who convention of them all.