Hello to all Gallifrey One attendees and followers! We're back from this year's convention, and from every indication, Gallifrey One: 30 Years in the TARDIS was a massive success… with 3,827 total attendees, guests and staff. The program ran virtually without a hitch; we did notice a drop-off in the evenings in our program rooms, although it was still pretty full (and of course, the bar was packed each night!)
The clock now resets again, as we begin the countdown to next year! We are pleased to announce The 31 Flavours of Gallifrey One, to take place February 14-16, 2020 (with our launch party again held the evening of February 13). Everything you love about Gallifrey One will be back: great guests, panels, interviews, special events, dealers, the art show, badge ribbons… all the fun that has become an annual tradition.
We're also happy to confirm the important dates for 2020's convention as follows:
Tickets for 2020 on sale SATURDAY APRIL 13
12:00pm Pacific / 3:00pm Eastern / 8:00pm UK
Marriott Convention Room Block open FRIDAY APRIL 26
12:00pm Pacific / 3:00pm Eastern / 8:00pm UK
Tickets to Gallifrey One 2020 will once again be made available through EventBrite, as in our past several years of conventions, with links both here on our website as well as our social media accounts. As a reminder, tickets for 2019 sold out in just over 51 hours (or, just over two full days); be online at or shortly after tickets go on sale on Saturday April 13 and you are almost certain to be able to purchase as many tickets as you like! Ticket prices for adults will remain the same as in 2019, with a slight increase in pricing for teens and children:
$110.00 Adult Full Weekend
$60.00 Teen Full Weekend (Ages 12-16)
$30.00 Child Full Weekend (Ages 3-11)
The above prices do not include a small EventBrite processing fee, which will be added to each order.
Meanwhile, hotel accommodations at the Marriott LAX Airport Hotel will open up on Friday April 26 at noon Pacific time, and will be available via a special link/code that will be posted only on our Facebook event page. The reason we do this is simple: as hotel rooms on our discount block sell out almost instantaneously, we want to make certain everyone has an equal chance. Twitter does not populate for everyone at the same time, and our website can be overloaded with constant refreshes; Facebook is the only place that allows us this flexibility, and it's the only time we rely solely upon our Facebook account.
Next year, you can expect the same great programming from Gallifrey One, a large and robust guest lineup from all of the various diverse eras of Doctor Who, and special events to make your weekend memorable. And of course, we'll always have some special surprises in store! We hope to see you there.
Meanwhile, there are some important points about next year's convention, specifically about tickets but also about a few other items, that you'll want to read below. But first…
Wrapping Up Our 2019 Convention…
Feedback: If you'd like to let us know what you think, we welcome your feedback via email.
Pictures: We'd love to see your pictures of the convention! See "Have Photos To Share?" below.
Charity: At this year's Bob May Memorial Charity Auction, we raised nearly $9000 for the LASFS Building Fund (the exact amount will be posted soon… we're still working on the last few silent auction items!) We're also pleased to note that we raised an additional $1050 on one item donated for auction by Janet Fielding, to benefit her Project Motorhouse charity in the UK.
Our Thanks: As always, our convention never happens without tremendous hard work from our staff, all of whom we thank for their support and assistance both before and at the convention. They're all listed on the Our Team page. Gallifrey One also wishes to offer our very special thanks to Jason Joiner, Paul Jones, Matt Dale, Paul Cornell, Matthew Campbell, Tony Lee, Rob Craine, Gene Smith, Lindsay Henderson, Erik Engman, Ken Deep, Laurence Wreford, Steven Schapansky, Jason Haigh-Ellery, Chase Masterson, Bob Mitsch, Mike Horner, Sage Young, Kim Rogers, Joy Piedmont, Paul Booth, Jennifer Adams Kelley, Giles Golding, Amanda Blackburn, Ben Paddon, Steve Roberts, Steven Warren Hill, Eric Hoffman, Shawn Crosby, Bill Pugin, Aungelique Scott, Alisa Stern, Lars Pearson, Scott Handcock, Dave Finn, Julie & Shawna Benson, Zach McGinnis, Edward Russell, Chris Thompson, Richard Dinnick and Gary Russell for their assistance with this year's guest lineup, events and program.
And of course, we'd like to thank all our amazing guests that joined us this year… Colin Baker, Catherine Tate, John Barrowman, William Russell, Carole Ann Ford, Nicola Bryant, Katy Manning, Frazer Hines, Richard Franklin, Walter Koenig, Michael Jayston, Tony Curran, Caitlin Blackwood, Jamie Childs, Rachel Talalay, Wayne Yip, Nicholas Briggs, Ben Wheatley, Bruce Boxleitner, Mira Furlan, Claudia Christian, Patricia Tallman, Gigi Edgley, Yasmin Bannerman, Lisa Greenwood, Sophie Hopkins, Blair Mowat, Tim Treloar, Sarah Dollard, Paul Cornell, Lisa McMullin, Mickey Lewis, Jon Davey, Rusty Goffe, Rachael Stott, Jody Houser, James Peaty, Rob Williams, Lance Parkin, Alex Paknadel, Jacob Dudman, Simon Guerrier, Tony Lee, Richard Dinnick, Nick Robatto, Mark Ayres, Steve Roberts, Paul Vanezis, Richard Molesworth, Stuart Manning, Chris Chapman, Rob Ritchie, Rosie Jane, Christopher Jones, Christel Dee, Chase Masterson, Anne Lockhart, Edward Russell, Jason Haigh-Ellery, Geoffrey Blake, David Gerrold, Marv Wolfman, Cherry Chevapravatdumrong, Javi Grillo-Marxuach, Barbara Hambly, Greg Weisman, Brittany Winner, Brianna Winner, Erin Maher, Kay Reindl, Marc Scott Zicree, Sam Watts, Gillian Horvath, Lars Pearson, Julie Benson, Shawna Benson, Dan Peck, Lilla Zuckerman, Nora Zuckerman, Kim Shumway, Rebecca Kirsch, Sam Stone, Karl Martin, Daniel Keys Moran, Darin Henry, JK Woodward, Scott Tipton, David Tipton, Craig Miller, David Wise, Bob Miller, Charlie Kirchoff, Hayden Black, Trina Ray, Anita Sengupta, Kim Steadman, Sarah Milkovich, Larry Nemecek, Arne Starr, Travis Richey, Robert Napton, Joseph Scrimshaw and Chris Thompson.
But most of all, thank you – all of our attendees, our panelists, our cosplayers, our dealers, our exhibitors, our tireless enthusiasts, our volunteers, and our friends – for making this an AMAZING year! We could NOT do this without all of you.
…and Moving On to 2020!
We are changing a few things up for 2020, and have the following important information to share.
Ticket "Resales" and the Online Attendee List
In order to alleviate some confusion regarding ticket transfers, we're making a change in terminology: resales is the term we will be using going forward for all attendees selling their tickets to other recipients, instead of the word "transfers".
Ticket resales will begin sometime in the autumn of 2019 (likely around October); this will enable people with tickets who no longer are able to attend, to instead resell their tickets to others at the same price they paid for them. The Resale Form will be online at that time; as always, individuals will conduct their own transaction, and the current ticket holder will fill out the Resale Form initiating the change of ownership.
The Attendee List will be back online this year. To address our attendees' privacy concerns, as well as acknowledge that our resale process is incredibly difficult for us to manage without the attendee list, we've created a simple compromise: during the purchase of your convention ticket on EventBrite, you will be allowed to OPT OUT of having your name on our attendee list, at the cost of your ticket being ineligible for resale prior to the convention. You will still be able to reassign it to another person (or even to sell it to another attendee) at the convention as always, subject to the long-time rule that you must be physically present in order to initiate the transfer.
Why is the attendee list necessary? First, some history. Our convention Attendee List (which is searchable) has been on our website for many years and serves several purposes. As we sell out ten months prior to the convention, it serves as a reminder for attendees who wonder if they have tickets (which they may have forgotten about, or have simply misplaced their receipts). For prospective recipients of ticket resales, it is proof that tickets do exist to be resold to them, and confirmation that the names on them have been transferred when purchased. (This became an even greater problem when, for 2019, we faced our first instance of someone attempting to make money from ticket sales that did not exist.)
We know our attendees have legitimate concerns about privacy; we certainly share them. However, the lesson we learned from this past year (when we had to remove the list for the duration) is that the attendee list is a vital part of the open resale/transfer process. Allowing attendees to opt out of the list, with the caveat that tickets cannot be resold before the convention, solves both the privacy and resale problem. For the vast majority of our attendees (over 3,000 of you) this won't be an issue.
Upcoming Convention Changes
While everyone had an amazing time (by all indications) at our 2019 convention, there are some changes we'd like to make, and a few things we'd like to do in a different manner, based upon attendee and staff feedback. This is just the start of our planning cycle, and we will have details on much of this closer to the convention.
Programming
We are going to adjust the start and end times for daytime programming: Friday's events will run from 11:00am to 6:00pm, Saturday from 10:00am to 6:00pm, and Sunday from 10:00am to 6:00pm (with Closing Ceremonies at 6pm). We feel that programming our event to 7:00pm on Friday and Saturday has prevented attendees from sensible dinner options, leading to a bit of a decline in evening event participation in the main hall.
Additionally, we now expect to start our Friday and Saturday evening programming at 8:00pm, meaning you now have a full two-hour break for dinner. (There will still be a few panel and program options from 6:00pm-8:00pm, just not in the main auditorium.)
We feel that there is simply one program track too many, so we will now feature four main program tracks (Program A, B, C and D) instead of five.
We will retain our Meet-Up Lounge program in Program E, which is a larger space than the Program F meet-up lounge has been the past several years; this will allow us to welcome more participants for the major meet-up gatherings.
We are going to reduce our Discussion Panel track a bit… there was just too much of it the past few years. We will be prioritizing Doctor Who themed discussions, although there will still be genre discussions, social topics and cosplay panels too. This will also allow us to add a few things we weren't able to do this year (like more science programming.) We will also still welcome local guest speakers to participate in panels as well.
Convention Features
Our Children's Programming room will be moving to the main convention center level for 2020.
After thirty years, we feel the time has come to eliminate the convention's Video Room. The world is a far different place than it was 30 years ago, and the availability of streaming video on computers and mobile devices has mostly eliminated the need for this. We will still feature a few video-specific events (and our Program E meet-up lounge may have a few video-related events in the evenings) but there will no longer be a dedicated room for video.
The Gallifrey One Charity Auction Room will be located where the Video Room used to be; this will allow us to do a proper silent auction and allow viewing of donated items throughout the weekend.
Gallifrey One's Dealers Room will adjust its hours to match the new program schedule times: it will now be open Friday 11:00am to 6:00pm, Saturday 10:00am to 6:00pm, and Sunday 10:00am to 4:00pm (closing time approximate).
Our Accessibility Services Desk will now be operated out of Member Services; there will be no separate table for them near Registration. Instead, simply visit Member Services during operating hours to register for accessibility services (they will have information for you there about where to gather for seating, etc.)
Finally, we will be working with the Marriott on adjustments to our dining options. We would love your feedback on what you think did and did not work this year; contact us and let us know!
Website and Social Media Changes
Although Gallifrey One strives to be the most transparent convention possible when it comes to information about our yearly event, we know that this transparency tends to make it overwhelming, especially to new attendees. We want to rectify that with a number of changes we will be making throughout the year.
We have streamlined our website a bit, putting all of the menus and submenus together in an easier-to-navigate format. Going forward, news updates will point toward specific pages on the website, rather than expecting our attendees to gather up all of their convention information by going through past news updates.
Our Attendee Guide, which we have traditionally published shortly before the convention (and was titled "New & Returning Attendee Guide"), will now be featured on the website throughout the year and kept updated. The Attendee Guide will be your one-page summary and source of general information about every facet of the convention; the rest of the website will go into detail on each topic. We have also incorporated our earlier Frequently Asked Questions page into the Attendee Guide.
Closer to the convention, when there are multiple dates to keep track of (science workshops, receptions, kaffeeklatsches, etc.) we will feature a calendar on the front page of the website and on the top of the Attendee Guide.
We are currently reexamining the way Gallifrey One deals with its social media communication (primarily Facebook, but also Twitter to a lesser extent). We know many of you appreciate the news bulletins shared on social media, which will continue… however, the two-way communication has become very overwhelming in recent years and we feel pulling back on that a bit is necessary (especially when attendees reply to old Facebook posts expecting responses!) We will share a clearer picture of this later in 2019.
That said, we've now opened our Facebook Event Page for Gallifrey One 2020, which is where we will be conducting business for 2020's convention going forward.
And Finally…
Photo Studio High-Res Photos Coming
The high-quality digital photos from our 2019 Photo Studio should be available in the next few days; we'll update this page and our Facebook event page for 2019 when the photos are online.
Have Photos to Share?
Our 2019 Facebook Event Page will remain online indefinitely and is a great place to share your photos of this year's convention! Meanwhile, if you wish to submit photos for our online photo album (which we promise we'll be updating this summer, for both 30 Years as well as the prior years' conventions that aren't online, namely 23 and 25-29), let us know via email. For the website gallery, we are mostly interested in good, high-quality photos of our guests, our discussion panels, and amazing cosplay; at this time we are not looking for photos of individual attendees posing with guests.
And Finally… In Memoriam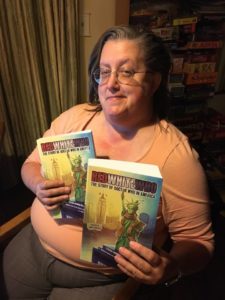 All of us at Gallifrey One are mourning the loss of our dear friend, and our long-time Masquerade director, Jennifer Adams Kelley, who passed away on February 26 at home after a short but fierce battle with cancer.
Jennifer was a titan of American Doctor Who fandom, both locally in the Chicago area and across the country: as former program director & stage manager of our sister events Visions and ChicagoTARDIS; her decades-long involvement in Chicago area Doctor Who fandom, including her participation in the local fan group The Federation since the 1980s (where they created many well-known fan videos such as "Doctor Who and Holy Grail" and "S-A-V-E-W-H-O"); co-author of ATB Publishing's landmark tome "Red White and Who: The Story of Doctor Who in America"; staff member of the Outpost Gallifrey and Gallifrey Base fan forums (the latter of which she co-founded); and countless contributions to fan communities and publications across America. She was also very active in costuming fandom, participating in and running masquerades and convention events nationwide. She was unable to join us to run our Masquerade this year due to her illness, leading to a last-minute group effort she actively contributed to, to make certain the show would go on.
Our entire fan community has been enriched by Jennifer, and her loss is devastating to so many of us who have called her friend for so long. . Our thoughts and sympathies are with her husband Philip, her daughter Valerie, and their family. We will be dedicating next year's Gallifrey One convention to her memory.
Stay tuned for further updates in the weeks and months to come… and please pardon our dust as we gradually change over the theme & contents of this website toward our 30th convention!