Greetings, Gallifrey One attendees and prospectives! We've at last begun work on our 2020 convention (after taking a very restful and recharging spring/summer holiday) and we've already got some important things we're prepared to announce. Of course, we'd like to remind you that it's still very early in the process, so we'll have a few more announcements to make over the next couple months, with more regular updates beginning around November.
Our First Guest Announcements Soon!
We've been taking our time with our first major guest block, working with some terrific guests from both the Classic and Modern Doctor Who eras to make our first announcement as diverse and interesting as possible. The fruits of those labors will be announced in the next couple of weeks, so stay tuned to our social media accounts or this website for the first confirmations. We also expect to be able to announce at least one of our Showmasters Events-sponsored Doctor Who modern era guests within a month or two!
The 2020 Programming Questionnaire
Gallifrey One's 2020 program, including attendee participation in our Discussion Panel track, is going to be done differently this year. Unlike in years past, where we've put out a general call for program ideas, a separate sign-up process for panels, and a solicitation for academic track participation, we're doing everything at once this time!
Our Program Questionnaire and Panelist Form is now online; click on the button below to be taken to the form. In order to participate in any part of our 2020 program — discussion panels, special events, the academic program (now called the TARDIS Talks) or otherwise — you must complete this form. This is also your opportunity to suggest program ideas for panels or special events… even if you wish to just be a spectator. Input from our attendees is very welcome!
In order to participate on the form, you must provide your name (either your legal name, or the name you use in everyday life… please no Twitter handles or nom de plumes!) and a valid email address. We will use this email to contact you directly regarding participating in programming, so please make sure it's your active email address; we will not hunt you down on social media to find you if your email doesn't work! Furthermore, we will only accept input from those with a current valid convention ticket; if your ticket was purchased by someone else and has not yet had your name put on it, you'll be able to provide that information as well. Other entries will be discarded.
Gallifrey One would like to remind our attendees that, although we very much appreciate the input and enthusiasm of our attendees, participation on our program is a privilege, not a right. Your convention ticket provides all attendees with the opportunity to view all of our programming as a spectator, and that is the only guarantee. All decisions about panels, events, functions, mixers, meet-ups, workshops, interviews or any other type of programming, and all panelists and program participants at the convention, are made by our Program Director.
All programming suggestions may be utilized at the next Gallifrey One convention, or at one of our future events. Also, all data submitted on this page is CONFIDENTIAL and only shared with Gallifrey One's Program Director and our Board of Directors.
The final deadline for all submissions on this form is October 31, 2019. If you are selected to participate, we will be in touch with you via email. If we run short and require specific volunteers for certain events, we will make note of it on our website and social media at that time. Thank you in advance for your submissions!
Click here for our 2020 Programming Questionnaire/Panelist Form
Hotel Renovations Continue
Over the past few years, the Marriott Los Angeles Airport Hotel has successfully completed two stages of a remodel plan: first, the hotel rooms and suites; then, the lobby, restaurants and common areas. We're happy to say that the third stage — the long-awaited convention center update — has been in process for the past several months, and is on target to be completed sometime prior to the World Fantasy Convention this October.
Gallifrey One is tremendously excited to see this remodel come to fruition for many reasons, including increased security for rooms on the ballroom level and technology upgrades… not to mention, the end of the "Gallifrey Yellow Glare" on photos taken in the rooms and hallways. Of course, we also recognize that many of our attendees grew quite fond of the carpet (!!!) and we know it'll be a little… traumatic!
The Marriott itself put out a video about their remodel process, which you can view in its entirety by clicking here; meanwhile, we've pulled out a few select images from the video, two before shots and three "after" mock-ups. (Note that the "after" set are not photographs, but rather artist's conceptions of what it will likely look like.)
Dealers Room and Art Show Update
Space reservations for the Gallifrey One 2020 Art Show will be opening in the next few weeks. We'll have the rules and regulations document and the entry form available at that time, so keep watching our social media for the announcement.
Gallifrey One's Dealers Room is full and there is currently no available vendor space. Prospective vendors can contact us if they would like to be added to the waiting list. However, please note that we give priority to vendors who have been with us the past year, and all of our vendors from 2019 are returning for 2020, so we don't anticipate any openings for 2020. Sorry!
Changes Coming for 2020
Though the old adage if it ain't broke, don't fix it rings true with a lot of what we do, specifically the quality of our program, for our 2020 convention, we've decided to make some major changes… a few of which we'd like to share with you in this update. Everything noted below will be expanded upon as we get closer to the event, so don't worry if you have additional questions – we'll get to them as we can!
Program Tracks Changes
As we alluded to some months ago, we've decided to reduce the number of program tracks from six to five (or, five to four, when you exclude the meet-ups & small functions.) For the past few years, we've had so much programming to schedule that it became not only unwieldy for us, but confusing for our attendees as well. Going forward, we will have four dedicated tracks of Q&As, interviews, panels and events, all scheduled in our Program A-D rooms. The fifth track, taking place in Program E, will be for everything else: our group meet-ups, the science workshops, small program items, and in the evenings, video programming.
One of the major reasons for, and benefits of, this change is that we will be able to streamline our program offerings into four categories: main stage events in Program A; "second stage" interviews and major guest panels in Program B; our discussion panel track in Program C; and our alternative program track in Program D. Among the offerings in this "alternative track" program are guest roundtable discussions, more science programming than we've ever offered before, and other fun and unique program items we'd like to try out for 2020.
Updated Program Schedule
The amount of programming we've featured the past several years, taking us well into the dinner hour, meant a reduction in the number of people attending our evening functions, and quite a few skipping out early to enjoy dinner. We want to change that with 2020, so we're making a few big changes: we're cutting off main programming at 6:00pm instead of 7:00pm, starting our evening events at 8:00pm, and building in a two-hour dinner break. To summarize:
Thursday, February 13: No major changes. Registration will be open in the afternoon for badge pickup, and our annual Launch Party will take place at 8:00pm. Our first night of karaoke will follow at approximately 9:00pm.
Friday, February 14: Main programming tracks open at 11:00am (Dealers Room opens at 11:30am) and run until 6:00pm. Evening events begin at 8:00pm, including the Idiot's Lantern variety show, the annual fan mixer and evening panel program track. Karaoke at 9:00pm.
Saturday, February 15: Main programming tracks run, and Dealers Room open, 10:00am to 6:00pm. Evening events begin at 8:00pm, including the Masquerade and, afterward, our dance. Karaoke opens by the end of the Masquerade.
Sunday, February 16: Main programming tracks run 10:00am to 5:00pm (Dealers Room opens at 10:00am and runs until mid-afternoon), with end-of-convention events (our "Year In Review" and Closing Ceremony) beginning at 5:00pm.
Note that there will be very limited programming on Friday & Saturday during the 6:00-8:00pm dinner hours (at least one track of panels, and possibly one or two other related events) for those who wish to keep the party going.
The Hangar 18, J.W. Marriott and Social Market Cafe restaurants will be in full operation during the dinner hours, and the food trucks and Marriott quick-grab food counter on the convention level will all be returning as well.
Layout and Event Changes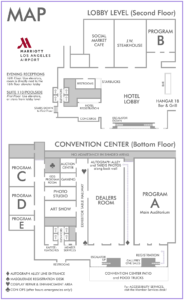 We're also switching things up this year, in honor of the brand new function space soon to be on display!
Click on the image at right for our new 2020 convention layout map!
Meet-ups and scheduled social gatherings are being moved into the larger Program E room, to take advantage of increased capacity. We will still be running our science workshops for kids (and their parents) though we're investigating potentially splitting them over two days instead of both on one day.
As we mentioned a few months ago, we have decided to shutter our video room, though we're going to be maintaining some of its function in Program E (the meet-up/small event room) in the evenings on Friday and Saturday, including the Fan Video Happy Hour and select video events to be announced. After a long run at the convention, we are also eliminating our sparsely-used hospitality suite (better known as the Con Suite). Though we've loved both of these functions, we feel they persisted as vanities from our days as a much smaller event, and have run their course. There is plenty of social space around the Marriott to replace the con suite, including the convention center patio.
Our Children's Programming room will be moving downstairs to the main convention level, for added convenience of parents who wish to utilize the room for fun activities for kids. We're also expanding the auction donation space, which was located in the back of our Member Services office, to a full room, which will aid our plans for silent auctions; you'll be able to stop in at any time on Friday & Saturday to check out what's on offer (both for the silent auction and the main Sunday auction), and buy raffle tickets for our Marriott Carpet Swatch Raffle. Yes, we're raffling off a couple of the (pristine and untrodden) swatches of the former iconic Marriott carpet to benefit our 2020 target charity, which we'll be announcing in the months to come.
ASL Interpreters & Accessibility Services
We are once again potentially offering sign language interpretation for all daytime events in the Program A ballroom for our 2020 convention. As we use professional interpreters, this is a fairly big expense on our budget, so we need to know early if we need to budget for it (as we must arrange interpreters in advance.) Therefore, if you require ASL interpreters for your enjoyment of our main stage program, please contact us before October 31, 2019 to let us know; you must have a valid ticket to the convention to request interpretation.
Please note that for those with hearing impairment, we are able to provide written documents to assist you for our evening shows in Program A (including the running order of the Masquerade and, in certain circumstances, the scripts for main stage shows.) For our discussion panel rooms (B, C and D), we can provide front row seating for you, but this must also be reserved in advance for specific sessions (closer to the event, not by October 31). We invite you to check out our Accessibility Services page for more information!
Regarding Ticket Resales…
…also previously known as ticket transfers. Gallifrey One will be offering the resale/transfer service, but not until after our 2020 convention sells out. We expect to sell out after we start announcing major guests (we've sold over 90% of our 2020 tickets already) so stay tuned for further details at a later date.
For Your Enjoyment Before Gallifrey One…
Finally… we wanted to mention that you don't have to wait until February for convention fun, because there are three events taking place at the Marriott Los Angeles Airport Hotel in the meanwhile! All three events are highly recommended by us, so please check them out!
World Fantasy Convention 2019: Los Angeles is host to the annual World Fantasy symposium over the October 31-November 3 weekend. Themed as "Fantasy Noir," it's an event hosted by the Southern California Institute for Fan Interests (SCIFI), Inc., one of the long-time supporters of Gallifrey One Conventions, with lots of writers slated to be in attendance.
Loscon 46: The annual convention event of the Los Angeles Science Fantasy Society (LASFS), without whom Gallifrey One would not exist. (We raised money for the LASFS Building Fund for our 2019 charity event.) Loscon is November 29 to December 1; guests included Howard Waldrop, Edie Stern and Moshe Feder, plus many SF & fantasy personalities in the L.A. area.
Empire Con LA: An independent Star Wars themed convention organized by Showmasters Events, our long-time guest sponsors. It's December 6-8 at the Marriott, with lots of Star Wars props, guest speakers (including many you've likely never met before!) and tons of fun – don't miss it!
More news soon!