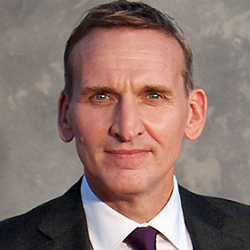 Gallifrey One is thrilled to announce the confirmation of CHRISTOPHER ECCLESTON, the Ninth Doctor, as our featured headline guest — and our very first new series Doctor — for our next convention, The 31 Flavours of Gallifrey One in February.
Mr. Eccleston will be appearing in partnership with our friends at Showmasters Events, who are sponsoring his visit.
Christopher Eccleston garnered attention for his roles in Let Him Have It and Shallow Grave and the series Cracker and Hillsborough. His BAFTA-nominated performance in the BBC miniseries Our Friends in the North (1996) established Eccleston as a household name in the UK; he followed the serial with film roles in Jude, A Price Above Rubies, Elizabeth, eXistenZ, Gone in 60 Seconds, The Invisible Circus, The Others, 24 Hour Party People and 28 Days Later and TV roles including Clocking Off and a BAFTA-nominated performance in the ITV drama serial The Second Coming.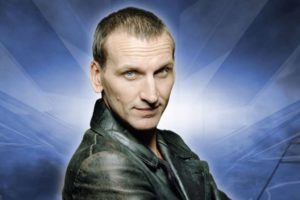 Eccleston garnered widespread attention and acclaim for portraying the ninth incarnation of the Doctor in the 2005 revival of Doctor Who, becoming the first to play the role since 1996, winning a National Television Award and receiving Broadcasting Press Guild Award and BAFTA Cymru Award nominations for his performance. Eccleston has since appeared in the television series Heroes, The Shadow Line, Blackout, Lucan, The Leftovers, Safe House, Fortitude and The A Word and films including G.I. Joe: The Rise of Cobra, Thor: The Dark World and Legend. He won an International Emmy Award for his performance in an episode of the anthology series Accused. Onstage, Eccleston has played the title roles in productions of Hamlet and Macbeth as well as starring in productions of Miss Julie, A Doll's House and Antigone. Since 2017, Eccleston has narrated the documentary series Ambulance, and his autobiography "I Love The Bones Of You" is now in wide release.
Mr. Eccleston will be with us on Saturday and Sunday at the convention. He will appear on our main stage once each day; as in prior years with our featured headliners, we will be asking our attendees to pick one of the two panels to attend, not both; full details on how that will work will be featured on our website closer to the event.
Eccleston will also be signing autographs and greeting fans both days, as well as participating in photo ops in our Photo Studio, appearing at one of our evening receptions on Saturday night, and participating in a special private "VIP talk" session on Sunday morning that will include a script reading. Additionally, Showmasters Events will feature the Christopher Eccleston Diamond Pass for the convention weekend, including two photoshoots, autographs and much more, detailed at the bottom of this post.
Pre-purchase of photo ops, the VIP talk and the Diamond Pass are now available at the link below. Saturday evening reception tickets (and the annual "TARDIS Tag" package) will be available closer to the convention. There are no pre-orders available for autographs, except as part of a package; however, autographs and photo ops will be available for purchase during the convention.
Click Here for Convention Photo Shoots Pre-Orders
Although Mr. Eccleston has now done several large-scale media events in the US, this will be his very first appearance at a Doctor Who convention in North America. Our partners Jason Joiner and Paul Jones at Showmasters Events have been working on this appearance for more than a year (in fact, we were very close to having him this past February, until his film schedule intervened) and we are overjoyed to be able to bring our very first new series Doctor to you, our loyal attendees. We truly hope to make this year's convention one to remember!
Tickets to the 2020 Gallifrey One convention are still available! Purchase yours by clicking on the REGISTRATION button above… we have VERY limited supplies left and expect to sell out very soon! Also, please note that additional hotel rooms on the convention discount block go on sale tomorrow (Friday September 27) at noon Pacific time; details in the previous news story!
Christopher Eccleston Diamond Pass Details
The Christopher Eccleston Diamond Pass for Gallifrey One 2020 features the following items, and is available on the Convention Photo Shoots pre-order page linked above:
One in-person Autograph from Christopher Eccleston
One standard professional photoshoot with you and Christopher Eccleston
One greenscreen/prop photoshoot with Christopher Eccleston (subject to be confirmed ahead of the convention)
One exclusive, 16" x 12" limited edition print
One 10 x 8 photo previously signed by Billie Piper
A Diamond Pass Dog Tag which gives priority access to autograph and photoshoot queues for Christopher Eccleston.
A gift exclusive to Christopher Eccleston Diamond Pass Holders