We are thrilled to announce the addition of MICHELLE RYAN, best known to our audience as Lady Christina de Souza, to our guest lineup for 2020. This will be her first appearance at a Doctor Who convention outside the UK!
Michelle Ryan
"Lady Christina de Souza"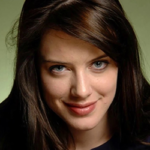 Michelle Ryan is best known to Doctor Who fans for playing the one-episode companion Lady Christina de Souza opposite David Tennant in the 2009 episode "Planet of the Dead," a role she recently reprised for Big Finish Productions for their "Lady Christina" audio series. Ryan became a household name in the UK for playing the role of Zoe Slater on the BBC soap opera EastEnders, then later achieved fame in the US as the title character in NBC's short-lived Bionic Woman as well as playing the evil sorceress Nimueh in the series Merlin. She's also appeared in Mansfield Park (opposite Billie Piper), Jekyll, Flick, Mister Eleven, 4.3.2.1, Cockneys vs Zombies, The Worst Witch, Agatha Christie's Marple, Covert Affairs, True Horror and The Last Photograph. Ms. Ryan joins us on Saturday and Sunday, in an appearance sponsored by Showmasters Events.
Photo op tickets for Michelle Ryan, along with other photo ops & packages, are now available for pre-order at the Convention Photo Shoots website!