About Gallifrey One
… wall to wall awesome. – Nerdist.com
… precisely how these things should be done! – Behind the Sofa
Gallifrey One is the world's largest and longest-running annual fan-run Doctor Who convention.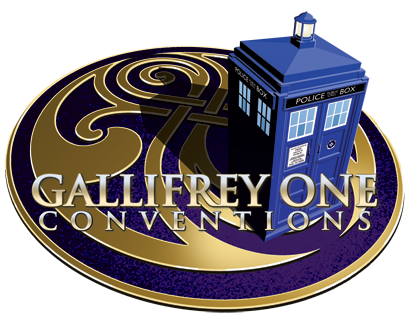 Founded in 1989 by active fans in local Los Angeles science fiction fandom, Gallifrey One Conventions has run an event every year since 1990 (all but the first two occurring in February), and has over time become one of the world's most popular fan-run themed events devoted to the Doctor Who classic and new television series, and its spinoffs, Torchwood and The Sarah Jane Adventures.
Why should you come to Gallifrey One?
Click here and we'll tell you!
While very much a modern celebrity-driven convention, Gallifrey One stays extremely close to its roots in "old school" fandom: one admission cost for nearly everything at the event, with no preferred seating or tier packages, where pros and fans alike mix throughout the day. Our convention still boasts a classic-style art show, a hospitality suite (or "con suite") with free snacks for convention members, a supervised children's program room, hallway fan tables available for free to clubs and conventions, and specialized costuming events, as well as a dealers room, video program and special themed events. Plus, unlike other celebrity shows, our event goes well into the evening on Friday and Saturday nights with extensive evening programming, dances and karaoke, and a fully judged Masquerade.
Click here for a list of our previous events
Each year on the Sunday of the convention, we are proud to host the Bob May Memorial Charity Auction (named for the late cast member of the 1960s series Lost In Space), our annual fundraising event, which over the years has raised over $120,000 for a variety of local, national and international charities including the Foundation for the Study of Infant Death, the Downs Syndrome Association, the American Red Cross, the Dyslexia Scholarship Fund, the Hurricane Mitch Disaster Relief Fund, the War Child Charity, the Afghan Women's Mission, the Pediatric AIDS Foundation, the Juvenile Diabetes Association, the Starlight/Starbright Foundation, the American Heart Association, Actors and Others For Animals, the American Cancer Society, Direct Relief International, Pet Orphans of Southern California, Students Run LA, the Alex's Lemonade Stand Foundation for Childhood Cancer, the Aimee Hoff Memorial Scholarship Fund, the Wounded Warrior Project, and in 2016, the LUMOS foundation. Our 2017 charity is the Denville Hall actors' home in the UK.
With over 400 guests spanning twenty-eight years, Gallifrey One has welcomed nearly every living principal cast member of Doctor Who, as well as many behind-the-scenes guests, from the classic series and the 1996 TV movie, including Carole Ann Ford, William Russell, Maureen O'Brien, Waris Hussein, Peter Purves, Anneke Wills, Michael Craze, Frazer Hines, Deborah Watling, Wendy Padbury, Derrick Sherwin, Dick Mills, Terrance Dicks, Barry Letts, Jon Pertwee, Caroline John, Nicholas Courtney, John Levene, Richard Franklin, Katy Manning, Elisabeth Sladen, Philip Hinchcliffe, Louise Jameson, Mary Tamm, John Leeson, June Hudson, Stephen Thorne, Julian Glover, Geoffrey Beevers, John Nathan-Turner, Peter Davison, Matthew Waterhouse, Sarah Sutton, Janet Fielding, Mark Strickson, Graeme Harper, Colin Baker, Nicola Bryant, Bonnie Langford, Dominic Glynn, Michael Jayston, Sylvester McCoy, Sophie Aldred, Andrew Cartmel, Patricia Quinn, Jessica Martin, Terry Molloy, Paul McGann, Philip Segal, Daphne Ashbrook, Yee Jee Tso and Eric Roberts.
We have also hosted dozens of guests from the 2005 revival of Doctor Who, both from on screen as well as behind the camera, including Sir John Hurt, Billie Piper, John Barrowman, Arthur Darvill, Freema Agyeman, Michelle Gomez, Ingrid Oliver, Steven Moffat, Camille Coduri, Noel Clarke, Samuel Anderson, Mark Sheppard, Phil Collinson, Annette Badland, Tracie Simpson, Ian McNeice, Neve McIntosh, Dan Starkey, Frances Barber, Clare Higgins, Tony Curran, Simon Fisher-Becker, Ellis George, Adjoa Andoh, Shaun Dingwall, Caitlin Blackwood, Georgia Moffatt, Louise Page, Velile Tshabalala, Lachele Carl, Stuart Milligan, Tracey Childs, Sonita Henry, Will Thorp, Jami Reid-Quarrell, Matthew Doman, Emma Campbell-Jones, Andy Pryor, Mark Gatiss, Arwel Wyn Jones, Claire Pritchard, Danny Hargreaves, Paul Cornell, Jamie Mathieson, Sarah Dollard, Tom MacRae, Andrew Hayden-Smith, Robert Shearman, James Moran, Nicholas Briggs, Richard Hope, Paul Kasey, Nina Toussaint-White, Toby Haynes, Richard Senior, Steve Hughes, Saul Metzstein, Douglas MacKinnon and Ben Browder.
We have additionally welcomed guests from the Doctor Who spinoff series Torchwood and The Sarah Jane Adventures, with guests such as Eve Myles, Burn Gorman, Tommy Knight, Anjli Mohindra, Gareth David-Lloyd, Kai Owen, Naoko Mori, Tom Price, Gareth Thomas, Cush Jumbo, John de Lancie, Finn Jones, Paul Marc Davis, Daniele Favilli and Phil Ford; as well as popular guests from a variety of genre television series such as Babylon 5, Battlestar Galactica, Star Trek, Farscape, Crusade, Buffy the Vampire Slayer, Angel, AlienNation and Lost in Space. Gallifrey One has also become an international event, hosting hundreds of fans from outside the US, as well as attracting dozens of writers of Doctor Who fact and fiction and many science fiction, fantasy and horror producers, writers and technical wizards.
Gallifrey One is presented by Gallifrey One Conventions, a subsidiary of The Institute for Specialized Literature, Inc. (ISL), a California 501(c)(3) not-for-profit organization. The five-member Board of Directors of Gallifrey One Conventions is Robbie Bourget (Chairman & Logistics Director), Shaun Lyon (Vice Chair & Program Director), Joyce Lloyd (Vice Chair & Facilities Director), Dan Sandifer (Operations & Daytime Events Director) and Cathy Johnson (Technical & Evening Events Director). Elayne Pelz is the Executive Secretary of ISL, Inc., and serves as the Treasurer of Gallifrey One Conventions.
The Gallifrey One website is created and edited by Shaun Lyon and hosted by A Small Orange Web Hosting.
The Gallifrey One convention logo was created by Christopher Jones.