Gallifrey One's Attendee Guide is a quick-reference manual summarizing everything you need to know to enjoy our convention… whether you're a seasoned "Gally expert" or an anxious first-timer, or anywhere in between. You can find more detailed information on the pages of this website.
Don't see an answer? Let us know and we'll add it to the list!
Where and when is the next convention?
The 31 Flavours of Gallifrey One takes place February 14-16, 2020 at the Marriott Los Angeles Airport Hotel, 5855 West Century Boulevard, just east of Los Angeles International Airport. We also have a special pre-convention launch party on Thursday night, February 13 starting at 8:00pm, open to all convention attendees.
How can I purchase tickets?
Tickets to The 31 Flavours of Gallifrey One go on sale on Saturday April 13, 2019 at 12:00pm Pacific Time (3:00pm Eastern, 8:00pm UK). Click on our Registration page to purchase tickets.
Who are the guests for Gallifrey One 2020?
We will begin to announce guests for the 2020 Gallifrey One convention during the summer of 2019.
What are the general convention Hours of Operation?
We will be publishing the electronic version of our schedule (we use an app called Sched) in the weeks prior to the event. In the meanwhile, our hours of operation are as follows:
Thursday, February 13, 2020

Afternoon — Early badge pick-up; specific registration hours to be announced
8:00pm — Gallifrey One 2020's Pre-Convention Launch Party and Ice Cream Social, plus our first night of karaoke

Friday, February 14, 2020

9:00am — Registration reopens for badge pickup
11:00am — Main programming begins; Dealers room opens (until 6:00pm)
Early Evening — Guest receptions (nominal charge)
8:00pm to after midnight — Evening events run (including main stage programming, karaoke, evening panels, fan mixer, late night program)

Saturday, February 15, 2020

9:00am — Registration reopens for badge pickup
10:00am — All programming tracks open; dealers room open (until 6:00pm)
Early Evening — Guest receptions (nominal charge)
8:00pm — Evening events run (including the Masquerade, karaoke, evening programming)

Sunday, February 16, 2020

9:00am — Registration reopens for badge pickup (until 1:00pm)
10:00am — All programming tracks open (until 6:00pm); dealers room open (until 4:00pm or time approximate)
6:00pm — Closing Ceremonies (main ballroom)
Please note that the above times are subject to change and may be altered at any time in the near future.
What is the schedule of events for the convention?
Our complete schedule of events will be found at our electronic schedule website, which will be published shortly prior to the convention. We use the Sched online schedule system (a web-based application). The schedule contains nearly everything happening at the convention... all the programming, interviews, Q&As, panels, meet-ups, special events, autograph sessions, receptions, photo ops, kaffeeklatsches, and much more. It also includes all of the scheduled events in our Gaming Lounge and the events in our Children's Programming room.
If you don't have a mobile phone, or don't have wireless access at all during the weekend (the Marriott convention center is notorious for being a cell dead zone), fear not… every Gallifrey One attendee is provided a convention souvenir program book which has a map of the convention, our complete schedule, guest biographies, detailed grids of the entire schedule, and more.
Where are my tickets?
Gallifrey One does NOT use printed tickets; you will not receive anything in the mail! Instead, like many other fan conventions, we use a badge system; you pick up your badge upon arrival at the convention, and all you'll need to claim your badge is your photo ID. You must wear the badge all weekend for access to the convention floor and all convention-related areas. The convention registration area is on the lower floor of the hotel; take the escalator down from the main lobby. You can pick up your badge beginning Thursday at the convention.
How do I check in/register at the convention?
Gallifrey One is located on the lower level of the Marriott in their convention center. When you arrive at the Marriott, to access the convention, it's very easy: there is an escalator going down from the hotel lobby level. At the bottom of the escalator, you will be guided by a member of our UNIT Team to the Convention Registration line to pick up your badge.
NOTE: After the event starts on Friday morning, DO NOT use the elevators if you have not yet picked up your badge; the elevator lobby on the convention floor is gated to badged attendees only, meaning that if you do not have your badge, you will be directed to return to the elevators and back up to the lobby level to use the escalator. (An exception is made for those attendees who must use elevators, such as disabled attendees with wheelchairs or other mobility needs.)
At Convention Registration, show your ID and you will receive your convention badge. Your badge is on a lanyard and must be worn around your neck at all times that you are at the convention. The convention badge is your credential to access everything the convention has to offer.
Our Registration Desk is open for badge pick up at the following days and times; stop by any time during these windows to pick up your badge. Tickets are good for the weekend and therefore your badge can be picked up at any time during the weekend, as follows:
Convention Registration (Badge Pick-Up) Hours
Thursday 3:00pm-6:00pm and 8:00pm-10:00pm
Friday 9:00am-7:00pm
Saturday 9:00am-7:00pm
Sunday 9:00am-1:00pm
You must have a badge on to enjoy our pre-convention events on Thursday night, so please be sure to pick yours up during the times noted above. Note that the hotel may require people hanging out in the lobby to have a convention badge or reservations at the hotel on Thursday night, so please do not show up for the social events some people refer to as "lobby con" if you are not a ticketholder (there are maximum capacity issues, after all!)
I have a ticket in my name for someone else… what do I do?
Before the convention, you will be able to change the name on the ticket using our Resale Form (which is used for both ticket resales as well as name changes). The form will be online beginning in October 2019 and will close in mid-January 2020.
After that form closes, if a convention ticket is in your name and you want it to be changed to another person's name (a friend, family member, etc.), you can change it at the convention Registration desk starting Thursday afternoon. Please note that the person whose name is currently on the ticket MUST be physically present to make the change. If you don't have a ticket currently in your name and are not present with the person who currently has it, we won't issue you your badge until they arrive with you.
If I want to see everything, when should I arrive (and leave)?
For most fans with flexibility in their travel plans, to get the most out of Gallifrey One we suggest arriving no later than mid-day Thursday, and departing no earlier than Monday morning. We now have a pre-convention party/mixer on Thursday evening beginning at 8:00pm, with karaoke happening that night as well. Besides the scheduled events, we have a very lively social atmosphere, with literally hundreds of attendees participating in the hotel lobby social scene on Thursday and Sunday nights (something many of our attendees refer to as "lobby con," although please note that this is not a convention function.) By Thursday evening, our hotel lobby and bar area is completely full of people, with many podcasters doing live recordings and lots of socializing; at 8:00 pm many of them come down for the opening party. The convention proper begins at 10:00 am on Friday morning and runs through Sunday evening.
Where do I park?
Parking at the Marriott LAX after Friday morning can be a huge hassle because of the number of people who attend, and because there are other events in the surrounding areas (including the Strategicon gaming convention next door at the Hilton at the same time as Gallifrey One), it's often difficult to park. The Marriott lot can and will fill up quickly, but there are many options around the area. We have prepared a Directions and Parking guide to help you find the best place to park and how to get to the hotel thereafter: local parking structures and hotels as well as parking at Los Angeles International itself. The Directions and Parking guide also has information about how much you'll pay, and also handy directions how to get to the hotel.
Do parents have to accompany children?
Gallifrey One requires all children under 17 at our convention to be accompanied by a paid adult.
What are my options for hotel accommodations?
Hotel accommodations at the Marriott Los Angeles Airport for our 2020 convention will be made available on Friday April 26, 2019 at 12:00pm Pacific time.
There are a wide variety of options within an easy 5 minute walk and our attendees are usually spread out over many of them. See our Hotel Accommodations page for info.
I'm flying in; how do I get to the Marriott?
We have published a guide For Air Travelers to help you get from your terminal to the Marriott hotel. The Marriott LAX courtesy van runs every 20-30 minutes, but please be advised that the shuttle can run very slowly at peak times, and has occasionally been known to bypass the higher-number terminals if it is full (usually because of airline personnel staying at the hotel). Taxis might be your best option when the airport is very busy.
How do I find everything at the convention?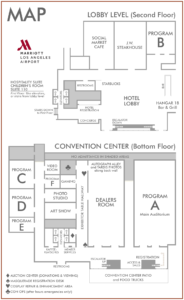 The Gallifrey One convention is mostly in the convention center, though we technically have items spread out between four separate floors of the hotel.
Click on our Convention Map at right for a larger version, referring to the following locations:
Convention Center (lower floor): Program Rooms A, C, D, E and F; Dealers Room; Art Show; Video Room; Photo Studio; Kaffeeklatsches; Exhibits; Autograph Alley and TARDIS photo area (back of Dealers Room); Exhibitor Tables; Costume Repair Shop; Auction Donation & Viewing Room; Gaming Lounge. Also, our Convention Registration, Accessibility Services and Convention Sales (T-shirt/tote bag pickup) are all located together, and our Member Services Desk is next to the elevators for all your information needs.
First Floor/Pool Deck: Hospitality Suite; Torchwood 4 Cabal party (Friday evening); Children's Programming; plus the hotel pool (where many attendees congregate)
Hotel Lobby Level (second floor): Program Room B (a.k.a. the Meridian Ballroom); hotel amenities (hotel lobby, Hangar 18 bar/restaurant, Starbucks, J.W.'s Steakhouse, Social Market Cafe)
16th Floor Concierge Lounge: Evening Receptions room
The up/down escalators are direct access between the hotel lobby (second floor) and convention center (bottom floor); they bypass the first floor entirely. To access the first floor/pool deck, you may use the elevators, or the stairs that lead down from the lobby level (the stairs are located immediately past hotel registration).
Please note: the convention map may change closer to the event for our 2020 convention; at that time we will update the map with the new information.
Does my badge include everything at the convention?
The convention itself, yes; that is, all six programming tracks, access to all of our daytime & evening functions, our Dealers Room, Art Show, video room, hospitality suite and more. All of our guests appearing on panels and Q&As, interviews, discussion panels, video presentations, live commentaries, social events, evening events… all are included in the price you paid for your ticket.
However, there are only a few special add-on items that are NOT covered in the cost of your admission:
Evening guest receptions with a selection of convention guests
TARDIS Tag & Diamond Pass events (small group meet & greets)
Photo ops with selected guests in our Convention Photo Studio
Autographs (see below)
For prices of or to purchase tickets for the evening receptions, TARDIS Tags, Diamond Passes and photo ops, you can visit the Convention Photo Shoots website beginning in the autumn of 2019. Photo op pre-orders are sold as a courtesy and are nearly always available on site (though we can only sell enough photo ops up to the time limit for each guest; a sell-out hasn't happened on photo ops yet, but it's technically possible.) The evening receptions are also on sale (times have been announced and are on the electronic schedule) and may sell out prior to the convention.
You can also purchase tickets for the evening receptions and photo ops while supplies last on Thursday at the convention during Registration hour (3-6pm and 8-10pm), or starting Friday morning at the Showmasters tables in the Dealers Room.
IMPORTANT: Gallifrey One does NOT sell out on photo ops before or during the convention! You do NOT have to pre-order photo ops; they are available up to the day and time of the event. We do ask, however, that you pre-order if at all possible, as it significantly reduces the amount of on-site paperwork done by our photographer (Giles G Photography) and our sponsors.
How is seating handled for the programming sessions & events?
Gallifrey One provides open seating for all of our program rooms; we do not sell reserved seating, and we do not clear rooms between each daytime or evening session. If you want to sit in the front row of Program A all day long, get their early and claim your seat! That said, we do have a couple of important things to keep in mind.
The Program A room will open on Friday, Saturday and Sunday mornings at 9:30am for general seating; the program begins in each room at 10:00am. Although it may first appear that seating is light, we ask you to please fill in all available seats.
You MUST fill in all available seats when asked by a Gallifrey One staff member. We reserve the right to restrict the ability in Program A to save seats for others who are not present at any time.
Reserve seating is held in Program A/B/C/D/E for attendees with special needs (who have registered at the Accessibility Services desk). This includes front row seating specifically reserved for hearing and vision impaired attendees. We ask that you please pay attention to reserved seating signs and do not sit in these spaces if you have not been instructed to do so. (See the Accessibility section later in this article.)
On Friday and Saturday evenings, Program A is closed for setup for our stage events The Idiot's Lantern and The Masquerade of Mandragora, respectively. Lines usually begin to form after the end of daytime events, so if you want a great seat, we encourage you to join the line at that time. Attendees should never hold places in line for parties larger than four. Attendees who have registered with Accessibility Services will be instructed to meet at our Access Point for Program A, which is located just down the hallway between Program A and the Dealers Room; you will be seated prior to opening the doors for general seating.
In our other program rooms (Program B/C/D/E), please do not save seats for others as these rooms have limited seating.
While you're in our programming rooms, we ask that you follow our Courtesy Policy toward other guests. Please take a minute to check out the Courtesy Policy and understand how we handle our event to make it pleasurable for everyone in attendance.
Are there breaks between panels and events?
Yes… Gallifrey One provides breaks in between panel sessions for people to be able to leave the room and new people be able to come in and sit down. Please note that the following will be in effect; our programming coordinators will be ensuring that programs end on time (as much as they possibly can):
For 60 minute (hour) programming and panel blocks, the panels will be 55 minutes long, with a 5 minute break at the end of the hour.
For 45 minute programs (mostly interview sessions), the panels will be 40 minutes long, with a 5 minute break at the end.
For 30 minute programs (currently only one), the panel will run the full 30 minutes; this is the one item that will not have a break after.
Any panels or events longer than an hour will be at the discretion of programming operations but will likely have a 5-10 minute break at the end.
Panels that are the last panel of the day prior to a gap in the schedule or a closure of the room will be allowed to run until the very end of the panel block.
Tell me about the Masquerade of Mandragora…
The centerpiece of the Gallifrey One convention is the Masquerade of Mandragora, our annual Saturday night costume competition and fashion show. For over two decades, Gallifrey One has featured the best and brightest from the world of costuming on our main stage, which also features a live "half-time" presentation (while the judges go about their deliberations) that has previously included such spectacles as band performances, video events, Mysterious Theatre 337 and the Just a Minute game show.
The 2020 Masquerade of Mandragora will take place on Saturday night, February 15, 2019. All convention attendees are welcome to the event, which runs usually around 2 1/2 hours. This year's half-time entertainment will be announced soon.
If you wish to watch the Masquerade, simply show up on Saturday night in Program A. No need to do anything further except enjoy the show!
If you are interested in being a contestant in the Masquerade (i.e. if you have a costume you would like to show), we ask that you do the following:
Visit our Masquerade page here on our website for all the rules and information you will need; and
Fill out the Masquerade Registration Form, available closer to the convention.
Note that you may also fill out the form on site at the convention. Please visit the Masquerade Registration Desk which is located at the junction of the convention center foyer and the exhibitor table hallway, and is open on Friday during regular hours, or Saturday morning prior to the participant meeting. You MUST check in with the Masquerade Registration Desk if you wish to participate as contestant/exhibitor in the Masquerade. You must also attend the Masquerade Participant Meeting on Saturday, or speak with the people about the Masquerade Registration Desk about the details if you are unable to make it.
Tell me about Karaoke…
Gallifrey One's late night fun (and by late night, we mean often times going as late as five o'clock in the morning!) is our karaoke club, located in Program B on the lobby level. Karaoke is open to all badged convention attendees throughout the weekend (badges WILL be checked).
In order to make sure that the maximum number of people get to sing throughout the evening, and avoid any appearance of favoritism, we have a very simple policy regarding karaoke participation:
You

must

be signed up in advance to take the stage and sing at any time, either solo or in a group
You may only be signed up for

ONE

item/song/performance at any time on our list
You may only sign up for another performance

after

you have appeared on stage
There are no exceptions to these rules. We do NOT permit audience members to join a performance, either solo or group, without already having been signed up, and your name may only appear on our current and upcoming list once — so no stage rushing, no random joining a song, etc. Once your turn as a participant in ANY karaoke performance is done, you may sign up again.
This policy is enforced entirely so that everyone has a good time and that no one is perceived to appear during karaoke more than any other person. If you have questions, please contact us. Thanks for your cooperation.
Can I help set up the convention?
Interested in helping out Gallifrey One for a few hours? The convention is just around the corner and we once again are asking for assistance both with our truck loading on Wednesday, and setting up on Thursday. We're looking for able-bodied individuals (with convention tickets; we are not offering admission, sorry!) and maybe that includes you!
First: on Wednesday February 12, we'll be packing up our truck at our two storage units; if you're not working that day and available to help us load, let us know! Then, on Thursday at the Marriott, we can always use assistance unloading the truck after 10:00am… if you're able to help lift some pipes and curtain, want to work with some of the people who help make the con happen (before they lose their minds from lack of sleep!) or just want to pitch in, we can always use the assistance. Also, our Art Show will require some assistance with setup on Thursday afternoon as well. Contact us and let us know and we'll put you in touch with the logistics and set-up team! (Please note: for liability reasons all volunteer help must be age 18 or over; thanks!)
How can I take care of myself (and others) at the convention?
Science fiction conventions are notorious for being places where flu and cold germs spread. We ask that all Gallifrey One attendees to be prepare… and be mindful of everyone attending this year's convention, by remembering the following:
Please be sure to wash your hands as often as possible and use hand sanitizer regularly
Getting a flu shot is highly recommended by the Centers for Disease Control
Please make certain to cover your mouth when you cough or sneeze, especially when you are around other people
Most importantly, if you get sick, please consider staying home, so as not to infect others
Gallifrey One, like any convention or large gathering, is a lot of people from all over the US as well as from over a dozen other countries, in a very small and relatively confined space. While we're very welcoming to everyone, we do encourage people to consider the health and well being of all of their fellow attendees when considering their options for attending this year… the convention appreciates it, your fellow attendees appreciate it, and we're sure the Doctor would too!
What's in the Dealers Room?
Gallifrey One's Dealers Room is the stuff of legend… from Doctor Who licensed vendors to jewelry and handcrafted items, books, games, comics, collectables, costumes and prop replicas, guests with their own tables and much more. Our Dealers Room is included in your admission and will be open Friday from 11:00am – 6:00pm, Saturday 10:00am – 6:00pm, and Sunday 10:00am to 4:00pm.
Our Dealers Room is anchored by several large Doctor Who vendors, including Alien Entertainment, Showmasters Events and The Who Shop UK, as well as our TARDIS Photo Area, this year featured by our friends at AZTARDIS. Our Autograph Alley is also in the back of the Dealers Room. If Program A is the nerve center of the convention, the Dealers Room is the heart, and we look forward to seeing you there.
Will there be an opportunity to have photos taken with a TARDIS in 2020?
There are two TARDISes at Gallifrey One. The one on the convention floor is open for photos in the TARDIS Photo Area in our Dealers Room, courtesy its owners AZTARDIS; you can pose for photos at that location, and donations to the owner are accepted. (Gallifrey One's own TARDIS is not available for photos as it resides on our main stage.)
I need special assistance; what are my options?
Gallifrey One's Accessibility Services team is here to help! If you are disabled, have limited mobility or any other special needs that require some assistance, please stop and register by the Accessibility Services table, which is located right next to Convention Registration (there will be signs clearly marking their location), once you have your badge.
Note: if you do not yet have your badge, and have mobility issues including using wheelchairs or scooters, you are welcome to use the elevator to the Convention Center floor (lower level)! We ask that anyone without mobility issues please use the escalators.
Seating in Program A is handled by Accessibility Services at our "Access Point" which is just up the hallway between Program A and the Dealers Room. We will begin assisting our attendees who meet at the Access Point shortly before we open the doors for general seating at 9:30am. We have clearly marked spaces for the visual and hearing impaired, wheelchair and scooter locations, and more.
On Friday and Saturday evenings, as noted above, Program A is closed for setup for The Idiot's Lantern and The Masquerade of Mandragora, respectively. Attendees who have registered with Accessibility Services will be instructed to meet at the Access Point; you will be seated immediately prior to opening the doors for general seating.
For all other program rooms (Program B-F) we will be reserving a few seats in each room for hearing- and visually-impaired attendees as well as access for wheelchairs, although there will be no interpreters present.
Please note: Gallifrey One requests that you understand that we are a non-profit, volunteer-run fan convention with a very limited budget, and so we have to work entirely within the scope of what we can afford for extended accessibility services. We will do everything we possibly can to make sure you enjoy your visit.
Can I donate to the charity auction?
YES! Absolutely. We would very much appreciate your donation, as our auction is entirely of merchandise donated by attendees.
What kinds of auction item donations are we looking for? In short: donations of science fiction, fantasy, comics, horror or genre related material, most especially Doctor Who and its spinoffs. This includes items from many different genres: a few examples include Torchwood, Star Wars, Star Trek, Harry Potter, Hitchhiker's Guide to the Galaxy, Supernatural, Game of Thrones, The Expanse, Stranger Things, Westworld, The Prisoner, Blake's 7, Outlander Buffy, Angel, Firefly, Stargate, Battlestar Galactica, Caprica, Red Dwarf and the myriad comics-related TV shows and films; as well as anything related to science fiction film and television, SF/fantasy literature, comic books, or collectibles. Anything that has a tangential relationship to the SF/fantasy/horror genre which is in at least very good condition. Autographed photos, commemorative items, one-time prints, illustrations, etc. are also welcome. If you find it to be a valuable collectible, chances are good that others will, too. Just be sure: this is not a disposal service for items you wish to throw away!
To donate, bring your donation(s) to the Charity Auction Donation & Viewing Room. The Auction Donation Room will be open during normal business hours starting Friday morning and running until Saturday late afternoon.
We are also going to be doing something a bit different with this year's auction… we'll be doing an open silent bid process to hopefully cut down on the large number of items sent to bid. More on that is coming closer to the event.
And don't forget to join us on Sunday for Gallifrey One's Annual Bob May Memorial Charity Auction. We hope you'll help us raise a lot of money for our charity.
Will there be a convention-wide game?
Yes! We will once again host a scavenger hunt-type game open to all convention attendees; details will be given to you when you pick up your badge. At the end of the game, anyone who completes it correctly will be entered into a drawing, the winning draw receiving two free tickets to our 2021 convention!
How can I get autographs? What do they cost?
Autographs are given by our guests, and most of our headliner guests – like those at other conventions – charge per autograph; this is a cost that helps offset their appearance fees. These autograph fees are charged by the guest and Gallifrey One does not intervene or take any cut, so we can't give you exact numbers. Usually autograph prices start at $10-15 and go up from there, but it is entirely up to the guest. Meanwhile, many local speakers and convention writer guests provide autographs for free. (Note that autographs are never pre-sold at Gallifrey One.) Please respect our guests' rights to charge for autographs at the costs they deem appropriate.
Gallifrey One does not pre-sell autographs at any time; you will need to speak to the autographer for any rates.
Autograph sessions vary by our three types of guests:
Autograph Alley
Direct convention guests, including actors, production people and local area convention guests, who are scheduled into autograph sessions at the tables we call our "Autograph Alley" in the far back corner of our Dealers Room.
Please note that guests involved in an Autograph Alley event will begin signing at the start of the session, but will end when there is no expectation of additional autograph collectors wanting signatures; we will not ask these guests to remain for the entire period if there is no one showing up. Therefore we recommend you get there on time. We expect everyone showing up at the start of a session will have enough time to collect an autograph and have a short experience with the guest.
Sponsored Guests
Many of our guests are 'sponsored' by various organizations including Showmasters Events, Alien Entertainment, Holzheimers Distribution and M&M Famous Faces. This allows us to bring more guests to the convention, while our sponsors cover costs with add-on sales.
Autograph sessions with our Sponsored Guests are set entirely by the sponsors, for a time and duration of their choosing, at their tables in our Dealers Room; often times you will pay the sponsor directly at their table for autographs. It is best to check at the sponsor tables in order to verify their hours of operation as they may change on site.
Fixed Location Guests
Guests invited by the convention directly, but who are given tables in the Dealers Room (often times, with merchandise of their own to sell, books to promote, etc.) These guests maintain their own hours, and can usually be found at their tables during normal business hours in the Dealers Room.
Important Autograph Information
In order to provide our attendees with a positive experience while waiting for an autograph from guests in our Autograph Alley or Dealers Room, we will not permit saving places for friends in any autograph lines, or allow jumping ahead in line to join a friend/relative.
Due to time constraints and our wish to allow everyone possible a chance for an autograph, we will not be able to permit members to ask for photos with the guests during autograph sessions. Our guests may choose to allow the taking of personal photos at other times, and attendees are welcome to have their photo taken during our professionally-run photo sessions in the Photo Studio throughout the weekend.
What are kaffeeklatsches? How do I participate?
A kaffeeklatsch (pronounced "coffee-klatch") is an informal gathering of one or more guests with up to 12 attendees discussing their work; they take place in a small board room next to the elevator lobby and attendees are provided coffee & tea as part of the event. Kaffeeklatsches are very popular at Gallifrey One and take place with several dozen of our guests. All kaffeeklatsches run one hour.
Gallifrey One uses an advance online sign-up process for kaffeeklatsches, to be announced shortly before the convention.
The Kaffeeklatsches Desk opens on Friday morning at the convention to fill up the remaining few spaces, subject to availability. If you haven't signed up for one and would like to, please do so at that time.
VERY IMPORTANT: registering your attendance on the electronic schedule is NOT a sign-up for a Kaffeeklatsch! The electronic schedule we are now using allows you to customize your own schedule and mark yourself as attending things at the convention, including Kaffeeklatsches, but only those people who participate in the advance sign-up process, or visit the Kaffeeklatsch desk on site, will be participating in them.
Can I cosplay at Gallifrey One?
ABSOLUTELY!!! Costumes at Gallifrey One are welcome, encouraged, and beloved, and are welcome at nearly all convention functions at all times (except the sponsored Evening Receptions, where we suggest you might want to dress in more general attire.) Even some of our guests occasionally get in on the act and do cosplay. It's a wonderful part of the convention and encouraged all weekend long.
(Of course, it should go without saying that it's also not a requirement, and the vast majority of our attendees are in regular street clothing – so don't feel bad if you don't cosplay, just enjoy the clever costumes around you. And don't forget to complement cosplayers on their costumes if you like what you see!)
About the Science Workshop…
Gallifrey One's incredibly popular science workshops for children (and their parents) are, at press time, almost completely full! "The Science of Doctor Who: Fourth Semester — Seeing Beyond the Ordinary, Creating the Extraordinary" will take place in two installments on Saturday afternoon, once again hosted by Lindsay Henderson. This special event, taking place Saturday February 16 in Program E at the convention, features convention-safe and totally unconventional science experiments "for the Doctor & Companion" to blend every day science with the magic of Doctor Who!
Sign-up are limited to teams of two only: one adult 18 or over and one child age 6-15, both of whom have tickets to the convention. (If your family has two children, each child must have a dedicated parent per session.) In order to make certain we have enough materials for everyone, there is a nominal charge per child participation, to be announced later.
What's the deal with all the ribbons?
Badge Ribbons are a science fiction and anime convention tradition, and Gallifrey One has been the primary reason why they've made the jump to Doctor Who conventions. It's important to remember that badge ribbons are a totally optional item that have absolutely nothing to do with participating in the convention. They are, instead, small ribbons with phrases or decoration of various colors that people collect at the convention, and attach them to the bottom of their badges in sequence. You can find an article about ribbons and etiquette on our Ribbons page.
Many people purchase their own batch of ribbons and hand them out at the convention; many others bring their own ribbons but only offer them for trade. It's important for people to remember that your fellow attendees pay for their ribbons with their own money; asking for ribbon trades instead of offering them for free is something everyone must respect (although everyone should practice courtesy!) Do not pay anyone for a ribbon; we do not allow people to sell their ribbons.
What is the hospitality suite?
The Gallifrey One Hospitality Suite is a lounge area on the first floor (accessible from the convention center by elevator only, or also by stairs down from the hotel lobby level) open to all badged attendees. In it you'll find snacks and soft drinks provided to all attendees on a complementary basis by the convention. Drop by and grab a soda and a bag of chips at any time – it's part of your convention admission!
Where can I grab a meal/drink/snack?
Gallifrey One has many options for attendees to eat during the convention:
Cafe Trenzalore is our convention-level lunch counter, open 11am – 6pm on Friday and Saturday, and 11am – 2pm on Sunday. The Cafe features salads, sandwiches and beverages for purchase at all hours, with the addition of burgers and other hot food items from 2pm – 6pm on Friday and Saturday. It's run by the Marriott; is located either outside on the convention patio or, in case of rain, the convention foyer; and is a quick and convenient option to eat.
Hospitality Suite open from Friday morning (see above) for sodas and quick snacks
Starbucks is located in the Marriott lobby and is open from early morning until early evening each day for coffee, pastries and snacks. (Please note that Starbucks gift cards are not accepted at this location.)
FOOD TRUCKS! Gallifrey One is thrilled to once again welcome several food trucks to our convention. The food trucks are location on the convention center patio and we will share the specifics about their food options shortly prior to the convention.
Hangar 18 is the Marriott's combined bar and mid-range dining establishment, open for lunch and dinner. You can expect significant wait times during peak hours (especially on Saturday). Hangar 18 opens at 11:00am and closes at 1am. It will be especially busy at night as the bar area fills up. Note that Hangar 18 now opens directly into the hotel lobby.
Social Market Cafe is the Marriott's coffee shop. It sources local and regional suppliers for various types of cuisine, and also has a small bar. Social Market also serves a breakfast buffet every morning.
J.W.'s is the Marriott steak house, open for dinner each night. Reservations are almost always required and fill up for the weekend very quickly.
Gallifrey One Cash Bars are versions of the bar that are hosted on the lobby level on Thursday, Friday and Saturday nights outside the karaoke room (Program B), and on the convention floor outside our main auditorium (Program A). They offer bottled water, soft drinks, beer and wine and limited mixed drink service, and the convention-themed special cocktail (to be announced on site).
M-Club Lounge on the 18th floor is open for Marriott Rewards program customers with high status and has food and beverage options all day and night.
Outside the Marriott, there are many options for food including Denny's and Carl's Jr by short walks, as well as restaurants inside various hotels (plus a 24 hour pizza place in the Hilton!) You can check in at our Member Services desk for information on where to go to grab a quick meal.
Can I videotape anything at Gallifrey One?
Videotaping is NOT ALLOWED in any Gallifrey One program rooms (that is, any of our six main program rooms, noted as Program A/B/C/D/E on site) due to issue with people uploading the contents of our programming to YouTube and other services. This policy will be strictly enforced. If you are found to be making a video or streaming our events – including Facebook live or other live streaming – in our program rooms, you will be asked to stop immediately. If you do not comply, you will be removed from the convention. Please ensure you are comply with this policy; we don't want to ruin your weekend.
Photography and videotaping of other activities outside the program rooms, including hallway chats, general cosplay, personal photos/video with the TARDIS, etc., are acceptable provided that subjects being videotaped consent to it and provided that it does not disrupt events or the flow of foot traffic. Should any convention guest or staff member request that videotaping of a particular item (such as autograph sessions or photo ops) be discontinued, attendees must comply with this request immediately. (Please be courteous and do not stop in the middle of all hallway to make your video.)
Cameras and camcorders/video recorders are not allowed in the Art Show. Photography of art, model, toy and collectibles displays may be allowed with the permission of the Art Show Coordinator and the artist; contact the Art Show Coordinator for more details.
You can visit our Convention Policies page for more information about our videotaping policy and other policies that affect your enjoyment of Gallifrey One.
Are there other rules I need to be aware of?
Yes! Gallifrey One's Convention Policies page has detailed information about our policies against harassment, our courtesy policies and much more. You should familiarize yourself with it if you have not done so. But here's a quick summary:
Gallifrey One does not tolerate harassment, bullying, threats or violence in any form. We will deal with this directly and swiftly including canceling the perpetrator's badge (permanently) and referring to the proper legal authorities. We have a 24-hour hotline for harassment issues (speak to Member Services during the day, or call the number directly at night); we will post the number at Member Services.
Illegal issues such as possession of controlled substances, possession of alcohol by anyone under 21, possession of weapons or other contraband, etc., will be referred to law enforcement. We have ZERO tolerance for this.
We have a very specific courtesy policy: do not bug guests during their down time; do not annoy fellow convention goers with tall hats during panels, talking during events or taking cellphone calls/letting your cellphone ring during panels; please take crying babies/children out of program rooms, etc.
Videotaping in Gallifrey One program rooms is forbidden.
Badges must be visible at all times.
See the Convention Policies page for more details!
What do I do if I have other questions?
Visit our Member Services desk! Member Services is at the convention for you: to answer all your questions and assist you when you are at Gallifrey One. The Member Services desk is located in the heart of the convention, next to the elevator lobby and at the junction of the main foyer and exhibitor table hallway. Visit them any time you have a question.
(Also, pleaser remember that Member Services will also help you if you have an urgent situation, including if you are being harassed by anyone. We take harassment issues and policy violations seriously. And if Member Services is closed, we staff our Operations Room – halfway down the Exhibitor Table Hallway – 24/7 starting Friday morning through Sunday night.)
• • •
We hope this guide for new and returning attendees helps you navigate our convention a little better – and of course we would love to hear your feedback. Contact us and let us know if you have any other suggestions or questions!