We're happy to announce that we have confirmed the dates for the 2022 Gallifrey One convention: Gallifrey One: Thirty-Second to Midnight will take place February 18-20, 2022 at the Marriott Los Angeles Airport Hotel, on our regular Presidents' Day weekend!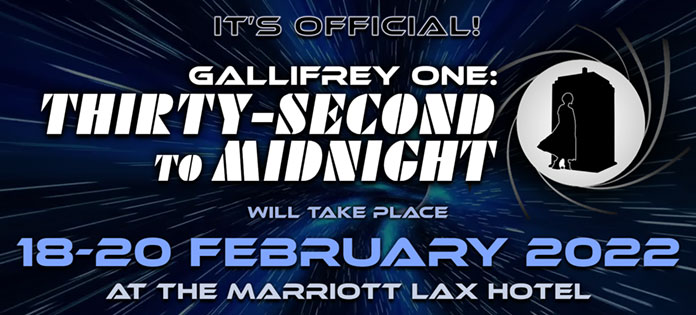 Official pre-convention activities will commence beginning on Thursday afternoon, February 17, with the opening of our Convention Registration desk (for badge pickup). Our 2022 Pre-Convention Launch Party will then take place as always: at 8:00pm on February 17.
The convention proper will begin on Friday morning, February 18, and will run through the late afternoon on Sunday, February 20, 2022.
2022 Convention Tickets On Sale – Click Here!
The Super Bowl in 2022
As we announced last fall when we postponed our 2021 event, the NFL's Super Bowl LVI will be played at the new SoFi Stadium in Inglewood, a few miles away from the Marriott. The tentative date for Super Bowl LVI is Sunday February 6; however, because the NFL is currently in negotiations to extend the regular football season from sixteen weeks to seventeen, there is a possibility that the big game may move to Sunday February 13. There is also an extra complication, in that NBC, which broadcasts the Super Bowl, is also the American broadcaster for the Olympics, and the 2022 Winter Olympics in China are scheduled to take place February 4-20, so the date of the game also has an impact on that.
Because it looks like their decisions are several more months away, we decided to move forward with our plans, and the Marriott was happy to accommodate us. Regardless of whichever weekend the game takes place on, the NFL's hold on rooms at the Marriott ends on Monday February 14. We believe that the same applies to many hotels in the airport area (which you'll want to keep in mind when searching for rooms in the local area.)
Hotel Reservations
For all of you who made 2021 hotel reservations and were contacted by the Marriott LAX regarding the shift of your reservations to 2022, please be patient; there is no need for you to take any action at this time, as you will soon be contacted by Marriott personnel to confirm your 2022 dates. Our long-time event coordinator left the Marriott this past week, but other staff members at the Marriott will be taking up the project of getting our rooms settled over the next few weeks. Rest assured you will have priority reservations for our weekend.
For those who do NOT have Marriott reservations and want into the hotel, we will be speaking with them in the forthcoming weeks to go over how many rooms are left at the standard ("rack") rates. (Our convention-rate room block is full, from everyone who had 2021 room block reservations that were shifted to 2022, so we only expect standard rate rooms to be available.) As soon as we have further details, we will share them on our social media accounts (Twitter and Facebook) as well as here, to let you know when those hotel reservations may open.
Gallifrey One and the Pandemic
At this moment, we are all of course still suffering through some of the worst times of the COVID-19 pandemic. Our world looks almost unrecognizable from the world of one year ago, and we fully expect February 2022 to look different yet again. Thankfully, vaccinations are proceeding across the US and other countries, with the expectations that the majority of the population will be vaccinated by late summer or early fall of 2021.
Even so, we cannot and do not expect next February to be a full return to normal: the economic and social impact of the pandemic will still be felt for many years. There are realities we must face; here are just a few:
Despite vaccinations and some semblance of herd immunity, health officials at the CDC are warning that we may be dealing with the lingering impact of the pandemic for years to come; because of that, we believe it's very likely that face masks will be

mandatory

for all attendees and guests at next year's convention (including, yes, all of you cosplayers, sorry!) As we mentioned last fall, we will follow CDC guidelines and will work with our Marriott partners on this, and will have more info for you later this year.
The airline industry has suffered greatly over the past year, so we have no idea how flights to and from Los Angeles will work out for next year's convention; we are hoping that by February things will be relatively normal, but we definitely encourage you to keep this in mind when planning your trip out next year.
Regardless of the Super Bowl dates in 2022, we do encourage those of you wanting to stay at other hotels besides the Marriott (at reduced rates) to check early and often; it's possible that hotels may fill up quickly later in the year.
Finally, we simply do not know how this will impact our potential convention guests; we expect some potential guests may not wish to travel so soon after vaccinations have taken effect. Nevertheless, we will be working with our convention partners (including our great friends at Showmasters Events) to provide the best entertainment and as many guests as we can throughout the weekend!
More Details Soon…
Please keep checking back on our website and social media, including our Twitter feed and our Facebook page, for further information as we have it. We expect some announcements about our hotel situation in the next month or two, with guest announcements beginning as early as this spring.
Thanks for your continued support of Gallifrey One, and we look forward to seeing you next February!