Gallifrey One: Thirty-Second to Midnight will take place at the Marriott Los Angeles Airport Hotel, which is located at 5855 West Century Boulevard, just east of Los Angeles International Airport (LAX).
Click here for directions and parking information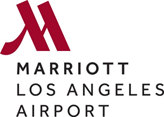 The Marriott LAX has been Gallifrey One's home — and our valued partner — since 2006. Gallifrey One occupies all of the Marriott's programming space (including the entire convention center, located on lowest level) and nearly all of its sleeping rooms. The Marriott LAX serves up its best during Gallifrey One, from the events and housekeeping staff to the restaurants and bars; they've even featured their own badge ribbons the past few years!
The Marriott is only a block east of LAX Airport and is accessible via complimentary shuttle available at the airport curbside. By car, it's accessible via the 405 Freeway at the Century Boulevard/LAX Airport offramp, and is one of the hotels closest to the airport entrance. It's also approximately 20 miles from Hollywood Burbank (Bob Hope) Airport and the Long Beach Municipal Airport, both of which are commercial airports. The hotel phone number is 310-641-5700, and their fax number is 310-337-5358.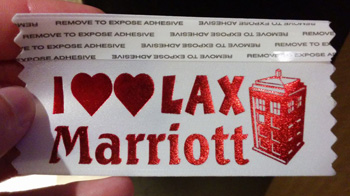 Please visit this page for full details about booking a hotel room, either at the Marriott or at a nearby hotel.
Click here for helpful information for air travelers
Hangar 18 is the Marriott's bar/restaurant space that spills over into the lobby; it's open from 6:00am to 1:00am daily, and features many of the same meal options as in years past. The Social Market Eatery restaurant/coffee shop features food items sourced from local and California-based suppliers and is open for breakfast, lunch and dinner. Also, J.W.'s Steakhouse is open nightly from 5:00pm (reservations required) and there is a Starbucks Coffee shop in the lobby. The hotel also has an outdoor pool, jacuzzi, fitness facility, business center and free wireless Internet service in the lobby (note: wifi does not extend to the convention center.)
Gallifrey One takes place primarily on the lowest floor, the Marriott LAX Convention Center. Access to the convention center floor is restricted during the convention; all registrants are asked to use ONLY the escalator down from the lobby level to get their badges. (The elevators are available for disabled attendees but also have an attendant; we ask your assistance by using the escalators in all but these cases.) Additional convention functions are in the Aviation ballroom on the lobby level (our Program B room). The convention center and all of these other function areas are badge-accessible only.