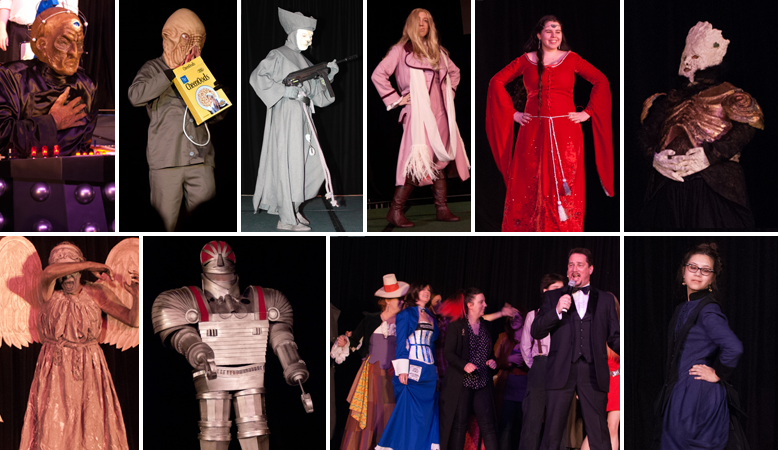 The centerpiece of the Gallifrey One convention is the Masquerade of Mandragora, our annual Saturday night costume competition and fashion show. For over two decades, Gallifrey One has featured the best and brightest from the world of costuming on our main stage, which also features a live "half-time" presentation (while the judges go about their deliberations) that has previously included such spectacles as band performances, video events, Mysterious Theatre 337 and the Just a Minute game show.
The 2021 Masquerade of Mandragora will take place on Saturday night at 8:00pm. All convention attendees are welcome to the event, which runs usually around 2 1/2 hours.
Masquerade Contestant Entry Qualifications
Costumes, depending on how they are created, may be judged for workmanship (done backstage), judged on-stage (presentation*), or shown in exhibition:
Costumes must generally be constructed by the entrant(s) for workmanship competition purposes. Purchased accessories (shoes, wigs, jewelry) must comprise less than 50% of the costume for it to be considered constructed or partially constructed. Constructed costumes are also eligible for on-stage (presentation) judging.
A modified costume that is purchased pieces but has undergone extensive (75% or more) altering/transformation may also compete for workmanship. Which parts are purchased and which are modified/constructed must be clearly identified to the workmanship judges. Modified costumes are also eligible for on-stage (presentation) judging.
An assembled costume that was created by purchasing individual components united into a costume ensemble may be entered for on-stage (presentation) judging but not workmanship. Exception: a constructed accessory or prop in an otherwise assembled
costume may be submitted for workmanship judging, time permitting and at the director's and judges discretion.
If you purchased your costume online or in a store, or paid a person/company to custom-craft your costume, you may enter in the Exhibition category. (No awards, just being able to present on stage.)
(Note that "presentation" judging refers to the fact that the judging occurs while the costume is presented on stage, not to the cleverness of the script/performance.)
The Masquerade directors and staff will help you pick the appropriate judging category if you need assistance.
Other Important Rules:
Costuming/Presentation must be kept to a PG-13 rating.
Entrants must have a ticket to this year's convention. If the maker and entrant are different people, both must have a ticket.
You may appear on stage once, in one costume, for competition purposes. You may appear on stage a second time, in a different costume, as a "living prop" in another entrant's presentation. (Tell the Masquerade Director in advance you're being a prop, though!)
Due to time restraints, the Masquerade Director will cap the entries allowed based on number and size of entries and length of presentations. Get your form in as soon as possible to guarantee your space.
Entry Instructions
Those interested in being a contestant will need to do the following:
Fill out the Masquerade Registration Form either online (when it becomes available) or fill it in on Friday at the Masquerade Registration Desk. If you're under 18, a parent/guardian must sign off on the form.
Attend the mandatory Masquerade Participant Meeting on Saturday. If you're part of a group, only one group member has to attend. Note that missing this meeting entirely will result in your removal from the Masquerade presentation list entirely! (Talk to the Masquerade staff prior to the meeting if you absolutely can't make it.
The Masquerade Green Room opens at 6:00pm Saturday evening and is located in Program C. Workmanship judging and other Masquerade prep will take place in the Green Room.
Presentation and Technical Information
You may incorporate up to three people as living props in your presentation. These living props cannot be a prop in more than one presentation.
Time Limits:

Solo entrants: one minute
2-6 in group: two minutes
More than 7: negotiate in advance with Masquerade Staff.
Please note that living props do not add to the time limit. (i.e., if one one person in a group of 4 is competing, then the presentation has a 1-minute time limit.)

Not allowed as part of presentation at any time:

Materials/effects that will leave a mess on stage, in the Green Room, or on another entrant's costume
Living animals (except for service animals)
Pyrotechnics and open flames
Anything deemed to violate the convention's terms with the Marriott

When not on stage, weapons must be peace-bonded. In addition, weaponry must follow the Gallifrey One weapon policy for size, appearance, etc. If you want to wield your weaponry as part of your presentation, you must let the Masquerade Director know beforehand. (Weapons policy can be found on the convention's Policies page.)
Tech:

No live microphones, no exception. Do not try to project from the stage—it's a huge room and no one will hear you, no matter how much experience you have at it.
Music/soundtracks for presentation must be submitted prior to or at the Masquerade Participant Meeting. Provide the Masquerade an electronic file (one that can be played with VLC) on a CD or flash drive drive labelled with your name and entry name. (Bring a back-up, just in case.) Do not bring a commercial CD; we will not use it. If you don't provide music/sound, you will walk across the stage in silence. Unless otherwise requested, all CDs and flash drives will be recycled after the Masquerade.
Lighting: nothing beyond "lights down" and "lights up" will be accommodated.
Our Masquerade Host will be happy to read brief remarks about your costume or a short script to aid your presentation. Print neatly on the form or provide a script to attach to the Host form.
Skills Divisions and Judging
Skills Divisions
Novice: You have not won a major prize in any other Masquerade. (A "major prize" is an award that doesn't involve the words "Honorable Mention.") Perfect for first-timers.
Journeyman: Have won "Best Novice" in presentation or workmanship at a prior Gallifrey One Masquerade (or other conventions), or 4+ smaller awards as a Novice at these conventions.
Master: Have won "Best Journeyman" in presentation or workmanship at a prior Gallifrey One Masquerade (or other conventions), or 4+ smaller awards as a Journeyman at these conventions. Professional costumers should choose this division.
Young Fan: Entrant 16 or younger who participated more than 50% in the design/construction of the costume.
Exhibition: For those who don't want to (or don't qualify to) compete, but still want to show off their costume in front of a large, captive audience.
Types of Judging
Workmanship
Close examination of costume and/or props, inspecting construction and detail work. This judging is optional; you can also opt to have just one part of the costume judged. Workmanship Judging takes place in the Masquerade Green Room on Saturday night.
Presentation
How does the costume work on stage? Is the presentation appropriate to the character(s)? Does the entrant stay on stage too long—or not long enough? How does the audience react to the entrant? All these questions come into play. Presentation judging takes place on the stage.
Suggestions
The following items we encourage you to pay attention to, to enhance your experience (and the audience's) in the Masquerade:
If you have a large prop or a costume that inhibits your mobility, please provide your own assistants to get you on/off stage.
If your costume is a recreation (i.e. a costume copied from a media source), bring along some form of documentation for the judges. A few photos will suffice—or, go whole-hog and give us a report on how you researched and put everything together. Our judges may not be familiar with the source costume. Turn in documentation before or at the Masquerade Participant Meeting. (Unless you tell us otherwise, the Masquerade Staff will recycle the documentation after the show.)
We look forward to your participation in the Masquerade of Mandragora!