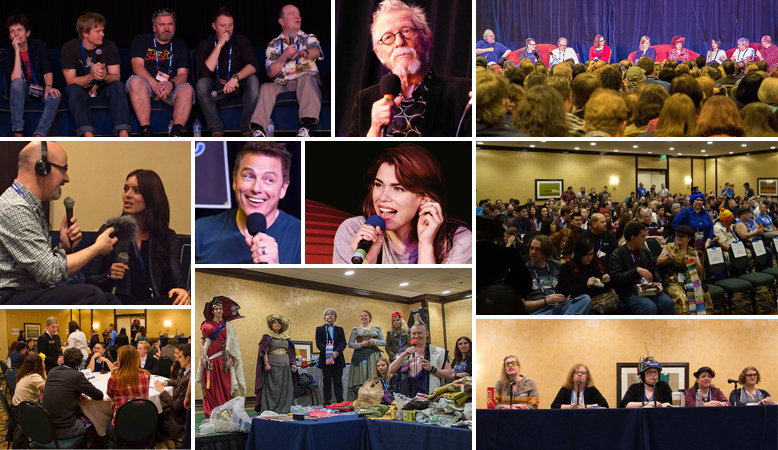 A sampling of the many guests and program items Gallifrey One has featured over the years, from guests including Sir John Hurt, John Barrowman and Billie Piper, to main auditorium guest panels & interviews, discussion panels and workshops, podcast interviews, parties and gatherings, and more!
Gallifrey One: Thirty-Second to Midnight will continue the long tradition of celebration of all things Doctor Who and the science fiction media genre. Attendees to Gallifrey One have come to enjoy a very diverse selection of programming over the years, and 2020 will be no exception. Our program and schedule of activities, which has helped us develop a proud reputation for fun and enjoyment over the years, will be no less than at our previous events… and in fact, much more!
Some of the fun things we're planning for 2022 at this early stage include the following.
Panels, Interviews, Q&A Sessions & Event Programming
Our main ballroom, and our second stage on the convention lobby floor, will feature all of our main guests appearing in both solo and group panels, with a few demos and special events thrown in for good measure. Note that some of our guests will only appear once or twice on our main stage during the weekend, so please be sure to watch for the schedule of events on the website later this year.
Our mainstream convention programming has ranged from interviews to live commentaries, special program events with surprise guests, discussion panels with popular writers and producers in the SF/Fantasy TV & film genres, and even 'event' programming like demonstrations, puppet shows, and our annual kick-off panel hosted by our friends at the Radio Free Skaro podcast.
Autographs & Photo Sessions
Gallifrey One's autograph sessions are all now located in our Dealers Room; meet your favorite celebrities (at either their own tables or sponsor tables), spend a moment chatting with them and get items autographed for a nominal fee (up to the guest). Later, join us in our Photo Studio — moving upstairs to the hotel lobby level in 2022 — where you can have your photo taken with a celebrity (fees to be announced) and have a special photo printed on the fly to be signed later (with a digital copy available after the convention!)
Discussion Panels
Gallifrey One's Discussion Panel track is incredibly lively and a lot of fun, with a mixture of both professionals as well as qualified fans making their cases on everything from Doctor Who to science fiction and fantasy TV & film, comics, gaming, conventions and much more. They're always lively, and often packed to capacity – one of the highlights of the weekend for a lot of people. A list of our discussion panels for 2022 will be available in the fall of 2021.
The Bob May Memorial Charity Auction
Sunday afternoon's annual convention charity event, a great way to support a charitable endeavor and grab some terrific Doctor Who and science fiction merchandise. Named for our dear departed friend Bob May, the Robot from Lost in Space, the annual charity event has raised over $240,000 for local and national charities.
The Masquerade of Mandragora
Saturday night's main stage event, the Masquerade of Mandragora, is Gallifrey One's showpiece event: our annual costume & fashion show brings you the best Doctor Who and science fiction-related costuming in the entire galaxy. Extra bonus: our annual half-time event (while the judges go away to work their magic) which will be announced in the months to come.
Gallifrey One After Hours
Besides the Masquerade, we feature evening events beginning with a special pre-convention launch party on Thursday night at 8:00pm, three full nights of Karaoke thrown in for good measure, fantastic showpieces on our main stage on Friday night and the Masquerade on Saturday night, costume-related presentations, evening programming including a discussion panel track on Friday and podcast shows on both nights, and our annual fully-DJ'd disco. If you miss out on Gallifrey One's nightlife, you're missing a huge part of the convention!
Evening Guest Receptions
On both Friday and Saturday night, our primary guest sponsor Showmasters Events holds limited-attendance guest receptions with a selection of our attending guests of honor. Grab a complementary glass of wine and mingle with 2022's guests in a low-key social setting. (Note: the Evening Guest Receptions are an add-on item for an additional fee; receptions go on sale shortly before the convention.)
Gallifrey One Science Track
More popular than ever, our annual track of science programming brings us experts from NASA's Jet Propulsion Laboratory to discuss humanity's role in space, various missions such as the Curiosity, Cassini, Dawn and New Horizons projects, and so much more!
Also on tap… our special limited-attendance Science of Doctor Who workshops for kids ages 6-15 (with a parent) will be back in 2022, too!
Kaffeeklatsches
Sign up at the convention for these very popular one-hour intimate sessions featuring one or two of our technical or writer/producer guests and up to twelve fans, for an hour of coffee and light discussion about their work. The Kaffeeklatsches are extremely popular and sign-ups will once again take place online a few weeks prior to the convention.
Adventures for the Whole Family
Gallifrey One is definitely a family friendly convention! Our Children's Programming Room, for ages 6-12, is also in high gear all weekend, with Doctor Who and science fiction & fantasy-themed crafts galore. We also host our Science of Doctor Who workshops (as above) and a Teen Social on Friday for making new friends.
Cosplay & Costume Events
Gallifrey One is full of cosplay and we have the program track for it, with workshops and panel discussions about costuming related topics, as well as a full costume repair station for work on your Masquerade costume, and photography backdrops for those amazing photo experiences.
And Much More
Photos with the TARDIS, our gaming room featuring board and card gaming all weekend, Doctor Who themed exhibits and displays, select video events, and so much more! We're just getting started and we'll have much more information for you later in the year!