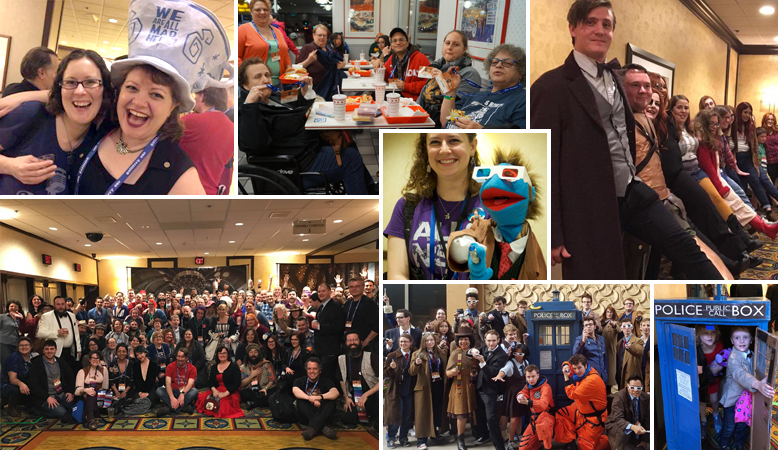 Gallifrey One is one of the most social and friendly convention events around! For long-time attendees and newcomers alike, we have tons of social time with your fellow Doctor Who fans from all over the US, Canada, United Kingdom, Australia, New Zealand and more! Here's a quick look at the social scene of our convention.
Thursday Night Launch Party
It's a golden opportunity to make some new friends… our Thursday night pre-convention launch party usually has over a thousand people who have come in from all over the country to join us for events even before the festivities begin on Friday! It's an ice cream social and tons of fun. You can mix and mingle with your fellow convention-goers all evening, then head to the karaoke or upstairs to the lobby, where it's known as…
"Lobby Con"
Okay, it's not a convention, and it's technically nothing we're involved in, but some of our convention attendees like to call the goings-on in the Marriott lobby by that name. Cocktail service and the open Hangar 18 bar, plus lots of conversation and hanging-out ensues. (We ask that ticket holders please not bring outside friends, even though it's not part of the convention floor, as there are so many people that it can create maximum capacity issues.)
Meet-Ups
Special events with various groups and organizations, including fan clubs, podcasts and cosplay enthusiasts, and a lot more: the convention-floor Meet-Up Lounge has special functions going on all weekend long. Mix and mingle with bloggers, podcasts, local and out-of-state groups, show off your Doctor or companion cosplay, or simply meet up with the like-minded: the meet-up lounge is hopping all three days and the events therein are located on your convention schedule.
Social Gatherings
From the badge ribbon traders groups, to amazing cosplay gatherings like the Pond Paradox and the Hair Club for Ten, there are lots of impromptu and scheduled social events throughout the weekend. The Marriott convention-level outside foyer is a great gathering place for these social times and you'll find lots of fun, costumed or not, at these functions.
The Torchwood Four Cabal Friday Night Party
Strictly for adults only, the Torchwood Four Cabal holds a very popular themed cocktail party on Friday night in Suite 110 on the first floor, featuring eclectic drinks and lots of social fun. The theme is announced shortly before the convention and is featured on our schedule.
Photo Backdrops
Bring your family and friends and take pictures in front of one of our several hallway backdrops featuring Doctor Who console rooms and much more!
Pre-Convention In-n-Out Run
A group of attendees join early Thursday evening every year to make a trip to the local In-n-Out Burger eatery and it's become a Gallifrey One tradition! Gathering in the hotel lobby usually happens at 5pm Thursday (and they always plan to be back before Launch Party happens).
See – there's tons of social fun at Gallifrey One, and it's there for the taking… join us at one of our many social events and make some new friends!