Photos, left to right: Bob May (1939-2009); our Charity Auction Donation Room in 2015; Lalla Ward raising money for the Denville Hall trust in 2017.
It's not just about fun and games… every year, we also like to spend some quality time raising money for a good cause.
The Bob May Memorial Charity Auction, Gallifrey One's annual charity event, has raised over $175,000 for charity over the years for some very worthy causes, including the Foundation for the Study of Infant Death, the Downs Syndrome Association, the American Red Cross, the Dyslexia Scholarship Fund, the Hurricane Mitch Disaster Relief Fund, the War Child Charity, the Afghan Women's Mission, the Pediatric AIDS Foundation, the Juvenile Diabetes Association, the Starlight/Starbright Foundation, the American Heart Association, Actors and Others For Animals, the American Cancer Society, Direct Relief International, Pet Orphans of Southern California, Students Run LA, the Alex's Lemonade Stand Foundation for Childhood Cancer, the Aimee Hoff Memorial Scholarship Fund, the Wounded Warrior Project, and the LUMOS Foundation.
In February 2017, we were thrilled to raise over $18,400 for the Denville Hall actors home in the U.K., the charity of 2017 featured guest Lalla Ward. In doing so, we raised more money than we ever had before at a single convention!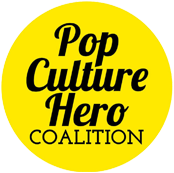 For our 2018 charity event, we decided to go in a different direction than in years past. Bullying, hate crimes and harassment, both online and in person, is at epidemic proportions in America, and there's so much work that needs to be done. And there are very few organizations that can truly say they're determined to tackle the problem… especially organizations that work so close to home for Doctor Who and science fiction fans. One of them has become a mainstay at Gallifrey One, and this year, instead of just providing them with a table and panel, we've decided to throw the complete support of our charity auction behind them.
We are therefore pleased to announce that our 2018 charity is the Pop Culture Hero Coalition.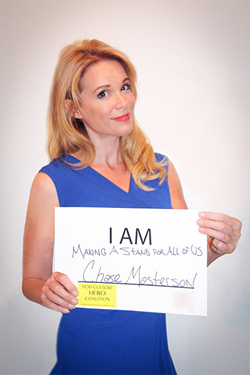 Founded in 2013, the Pop Culture Hero Coalition is the first-ever 501(c)(3) non-profit organization to use stories from TV, film & comics to make a stand for real-life heroism over bullying, racism, misogyny, LGBTQ-bullying, cyber-bullying, and other forms of hate. The PCHC works to educate and support children, teens and adults to overcome bullying and social injustice, and to transform their struggles into strengths, using stories and characters from pop culture TV, film, and comics. They "create, promote and foster a culture free from the injustice of bullying, cyberbullying, hate crimes, and inequality based on gender, race, religion, socioeconomic status, sexual identity or preference, physical disability, mental disability, learning disability, or any other perceived vulnerability."
At its heart is co-founder Chase Masterson. As Chase is a long-time friend of Gallifrey One, we have been incredibly impressed by the work she and her team has done over the years, and what they continue to do for awareness and action against bullying and harassment. From creating a crisis support network for children and teens, to creating research-based curriculum for schools, the PCHC has been making a difference. CBS News says, "They're changing fantasy into the real world with justice and heroism."
Gallifrey One's annual charity auction, which takes place Sunday afternoon at each year's convention, is named in honor of our friend Bob May. Best known for playing the Robot on the 1960s television series Lost in Space, Bob was also part of our convention family — for over a decade, he was a mainstay at our convention as a programming guest, dealer, raconteur, and beloved auctioneer at our charity event. Since Bob's passing in 2009, and with the gracious and continuing support of Bob's family, the event has been perpetually dedicated to his memory, and the proceeds donated in his name.
100% of the proceeds of the Bob May Charity Auction goes directly to the year's target charity.
Auction donations are readily accepted at our convention all weekend! Science fiction merchandise and memorabilia of any kind, both new and collectible, are welcome. You can stop by the convention office during the weekend to donate any merchandise; you will receive a statement for your donation.
What are we looking for? In short: donations of science fiction, fantasy, comics, horror or genre related material, most especially Doctor Who and its spinoffs. This includes items from many different genres: a few examples include Torchwood, Star Wars, Star Trek, Harry Potter, Hitchhiker's Guide to the Galaxy, Supernatural, Game of Thrones, The Expanse, Stranger Things, Westworld, The Prisoner, Blake's 7, Outlander Buffy, Angel, Firefly, Stargate, Battlestar Galactica, Caprica, Red Dwarf and the myriad comics-related TV shows and films; as well as anything related to science fiction film and television, SF/fantasy literature, comic books, or collectibles. Anything that has a tangential relationship to the SF/fantasy/horror genre which is in at least very good condition. Autographed photos, commemorative items, one-time prints, illustrations, etc. are also welcome. If you find it to be a valuable collectible, chances are good that others will, too. Just be sure: this is not a disposal service for items you wish to throw away!
If you have any questions, please feel free to email us.